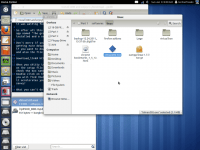 A Few nights ago, I was searching for porn on internet (For which I am very popular!) and I found a great kickass video which I needed to download. Fortunately, I got the direct link for that video, but the file size was too big and I knew that if any interruptions happened then I will not be able to resume my download again.
Then my search for a resumable GUI Download manager started. At the beginning when i shifted to Ubuntu, like all the other desperate windows users I also tried to install IDM using wine but failed. Very little did I know that the real solution was hidden within the same software. It was the start of my mission and That night I was searching for this kind of software everywhere. In Ubuntu software center, I even found an app named 'kget' with the same facilities like resumable download and all that usual shit but it was too big for my Urgent need. Finally, I started feeling hopeless that I would not be able to download this porn, and would forever miss this one.
I don't know how but I felt the urge to crawl online for any other methods or ways to download the files just the way IDM does. And There it was waiting for me in google's Advanced search!
So after all this foreplay what I found is that you can get the same old, same old app named "The great great IDM" working in Linux if and only if you have got wine installed and a setup file of "IDM Version 5.05".
Don't worry if you don't have it then I will get you there. I know that you are getting more desperate as i write each extra word. Without further ado, Click here if you want to download IDM v5.05(of course you do!). Don't worry i am not kidding and also the file size is only 2 mb!
Download_link# http://download.oldapps.com/IDM/idman505.exe
After you shitty internet connection is done with this download, then right-click on the setup file and go in the properties menu. There under permissions tab, check the box named 'allow executing file as a program'.
And you are good to go.
Double click on the IDM setup and go through the normal installation process and you will find that it's working just the same way. On top of that I found out that it accelerates your download speed up to twice as it did in my case! Isn't that savvy?
If you don't know where those files are being installed, don't worry. There are here. Make a copy of the link for that folder if you wish on your desktop. Go to your home directory and there press 'ctrl+H'. That's how you show your hidden files in Ubuntu. Look for a directory named '.wine'. Inside that directory  you will see two folders. Open the folder named 'drive_c'. You are now in your fake windows system drive and you see the familiar folders like windows and program files. Inside the program files you can find the installed files of any software that you have installed through wine.
What you can't do in this Forced installation?
Don't be afraid!, its not like i am gonna write that you won't be able to download anything at all, just to see the IDM window. lol!. Now You don't have the download panel property in this version. So you will need to have a direct download link to download any file. Also Even if you try to Force any download using the 'force download keys' option, its all gonna be a waste.
You will  also need to register this version of IDM if you want to use it longer than one month.
Ok! Fine. I am going to help you here also, but this is the last time. If you have eyes then you must have noticed something glowing in he text below. It's not my effing phone number! GOD! you guys are like kids. Thats the registration key for IDM. In the 'help' menu of you IDM select the 'Registration' option. The registration dialog opens and there insert whatever you wish in the names and email ID, along with the key in the respective boxes(what else did you think were we going to do? huh?). And when you are done you will see that its registered!
Key# HFLUV-FRUKA-2R7U7-GLHQ1
hurrah!
I believe, that after this tutorial(ass whooping) all you of you people are happy and enjoying all the porn, shit! sorry . I mean you are all downloading all that you wish without any interruptions, and time limits. (just the way i enjoyed my night)!
In the end, let's take some credits. Let's see..
1. You had to download only 2MBs instead of 60MBs! that kget needed you to download.
2. You enjoy the whole IDM features and registration just for nothing more than your one visit to Digitfreak.
3. You got introduced to the coolest person alive for free!
4. And add all the things that you want to thank me for in the list that has no end whatsoever..lol
"WHY FEAR, WHEN 'the dude' IS HERE" – Timamirrockdude
[Note: Don't ask me for that porn video link now! Btw it was really nice and HD sized 232MB only!. Ain't that great!]