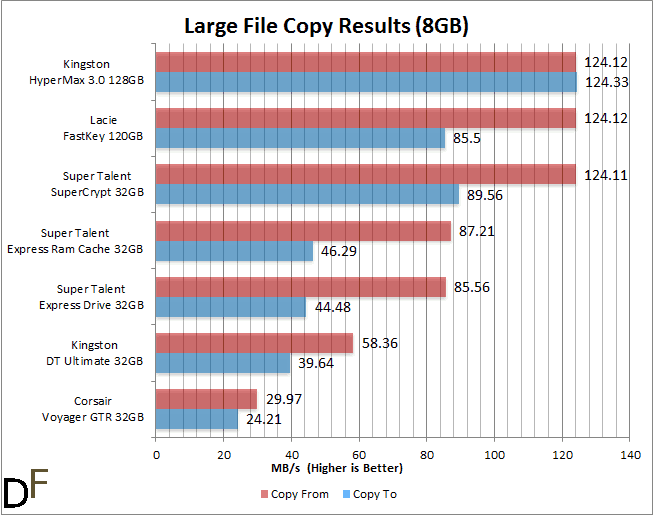 USB 3.0 (universal Serial Bus version 3.0) is a hybrid version of Ubiquitous Universal Serial Bus, Created in 1996 by a consortium of companies led by Intel to dramatically simplify the connection between host and the devices. If we fast forward to 2009, we will find that USB 2.0 has been firmly entrenched as the de-facto interface standard in the PC world for ages. Almost 6 billion (and still counting) devices has been sold ever since. But, we now belong to the era where data transfers @ 100 MBPS is still not enough. With faster computing hardware and ever greater bandwidth demands again drive us where speed is only thing that matters.
Earlier In 2007, Intel demonstrated Ultra High Speed (which was known as SuperSpeed USB) at Intel Developer Forum. It was version 1.0 of USB 3.0 (confusing Isn't it? well i know that.). It was only on November 17, 2008 when They came up with final specifications. The USB Implementers Forum (USB-IF) has taken over managing the specification and publishes the relevant technical documents necessary to allow the world of developers and hardware manufacturers to begin to develop products which uses USB 3.0 Protocols and Technology.
Speed
There are currently 3-speed modes defined by the latest (known to us) USB 3.0 specification according to the context. They are SuperSpeed, Hi-Speed, Full-Speed. Now the words I am going to write now are stunning. The new SperSpeed mode has a transfer rate of 4.8 Gbps. While the specification retains Hi-Speed and Full-Speed mode, commonly known as USB 2.0 and 1.1 respectively (now you must be wondering, The names are even more confusing), they operates at 480Mbps and 12Mbps and are kept to maintain backward compatibility.
To illustrate how fast the USB 3.0 drives whether they be flash drives, 2.5″ portable drives, 3.5″ desktop drives, we plotted their RichCopy real-world benchmark data in bar graphs so you can easily tell the performance leader in each storage peripheral subcategory.
Flash Drives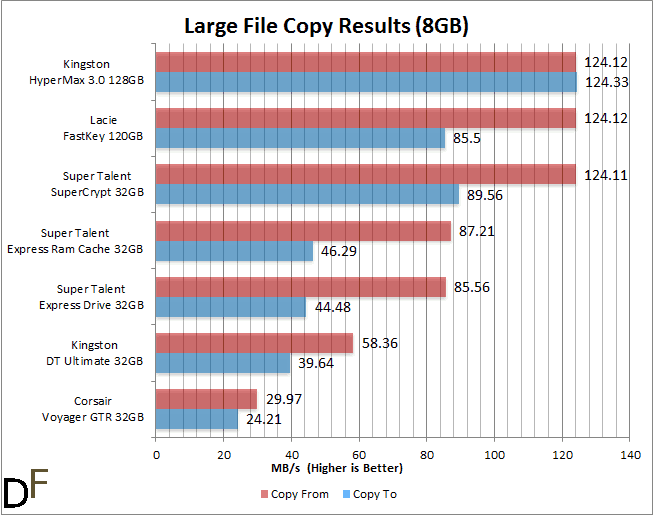 2.5″ Portable Hard Drives

3.5″ Desktop Hard Drives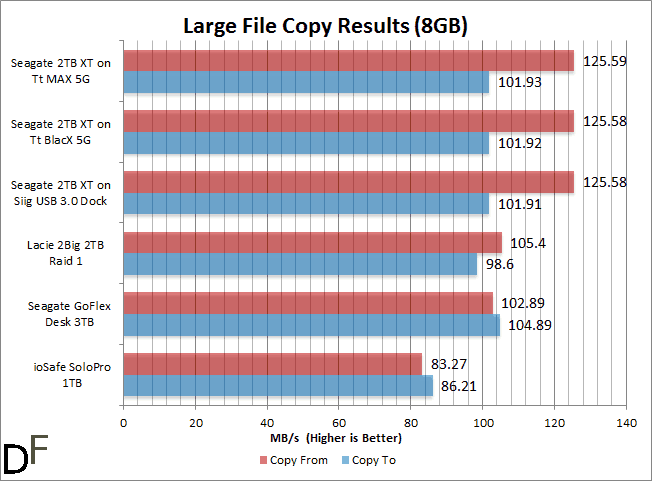 Isn't USB 2.0 fast enough?
Well, yes and no. Usb 2.0 is fast, but not that fast which could meet the requirement of speed demand of today's generation and higher computing processors and devices. However, with today's ever increasing demands placed on data transfers with high-definition video content, terabyte storage devices, high megapixel count digital cameras, and HD video capture and portable media players, 480 Mbps is not really fast anymore.
The truth is, no Usb 2.0 connection could ever come close to the 480Mbps theoretical maximum throughput, making transfers at around 320Mbps (40MB/s) – the actual real world maximum. Similarly, 3.0 connections will never achieve 4.8Gbps either. We will likely see areal-world maximum rate of 400 MB/s with overheads. At this speed, USB 3.0 is a 10x improvement over 2.0
Applications
In a nutshell, any high-bandwidth device that works with USB 2.0 will become better if updated with USB 3.0 support. At the moment, devices that tax the throughput of USB 2.0 include:

External Hard Drives
Full HD Video Capture Solutions
High resolution webcams, surveillance cameras
Video display solutions – e.g. DisplayLink USB video technology
Camcoders
Digital Still Cameras
Multi-Channel audio Interfaces
External optical media – i.e. Blu-Ray Drives
High-end flash drives can also push USB 2.0 pretty hard, and oftentimes if multiple devices are connected via hub, throughput will suffer.
USB 3.0 Comparison
How does USB 3.0 compare to competing interfaces?
USB 3.0 versus Thunderbolt
Developed by Intel, the 10Gb/s bi-directional interface is technically PCI Express on a cable. It was originally designed to use fiber optics, but Intel later went with copper wiring as a mean to reduce cost and to supply power. The expansion bus can support both hubs as well as a daisy chain of up to 7 devices. Thunderbolt, which essentially takes over the Mini DisplayPort, is making its way into all Mac laptops and desktops.
While Thunderbolt is widely reported as USB 3.0 killer, it is not really a competing standard. Rather it is more a niche interface, whereas USB is more of a mainstream port. If you do have multiple RAID arrays and need to push large amount of data to and from it on a daily basis, then yes ThunderBolt is a viable option for you. For everyone else, Thunderbolt may not be cost effective. Just look at all the marketing spin and hype around USB 3.0 being ten times faster and how hard it is actually to get that. Ten times faster is more like 400MB/s as USB 2.0 averages at 40MB/s. To achieve 400MB/s, you need a $500 SSD. Now imagine how much more expensive it will be to get even more speed than what USB 3.0 can deliver and how much additional benefit you'll get.
USB 3.0 versus USB 2.0
USB 3.0 (5Gbps) is theoretically 10 times faster than USB 2.0 (480Mbps). You can expect three-fold to ten-fold increase in performance with current generation of USB 3.0 devices but your mileage varies depending on the type of device. In real world, you're going to see a SandForce-based flash drive topping 250MB/s and a 5400-rpm portable drive reaching 100MB/s. USB 3.0 also provides more power, 900mA up from 500mA of USB 2.0. This will allow some demanding devices, namely USB monitors and RAIDs, to be powered with just one cable.
Despite the USB 3.0's advantages, USB 2.0 already serves as the ideal interface for a number of applications as it provides ample of bandwidth in these situations. USB 3.0, in this case, isn't necessary and could increase the cost. For the reason, the market for USB 2.0 devices of all types isn't going to dwindle in short to medium term.
USB 3.0 versus Firewire
The interface has long been the "forgotten" mass market, high-speed interface standard. Previously available in Firewire 400 or 800 flavors, it has gradually fallen in popularity as USB 2.0 has surged. Apple, the inventor of the original IEEE 1394 "Firewire" standard, has repeatedly sent mixed messages with the ditching of Firewire first from iPods and more recently from the mainstream MacBook laptops (except for the lowest-end MacBook, oddly enough).
In late 2007, the 1394 Trade Association announced Firewire 3200 (S3200) that builds upon the existing Firewire 800 standard that was released in 2002. Utilizing the very same connectors and cabling that is required for Firewire 800, S3200 is basically a drop-in replacement once the internal system components are updated in devices. To date, S3200 has not gained much traction, even in traditional Firewire markets such as digital video.
Firewire's main claim to fame is that it is a highly efficient peer-to-peer, full-duplex, non-polling data communications protocol with very low overhead. Firewire delivers much higher actual throughput than USB 2.0 and can achieve much closer to its theoretical 800Mbps data rate than USB. Where a Firewire 800 7200-rpm hard drive can deliver sequential transfer rate of around 90MB/s, USB 2.0 hovers more around 40MB/s and USB 3.0 averages at 150MB/s. It remains to be seen what impact S3200 will have on the computing landscape, but with Apple backing Thunderbolt, there's little hope for Firewire.
USB 3.0 versus eSATA
Brought to market in 2004 as a consumer interface targeted directly at the crowded external storage market, eSATA successfully address the issue of the interface bottleneck, and allowed fast hard drives to leverage their performance potential when located external to a server or PC. eSATA supports a data rate of 3.2Gbps, which is more than enough for the fastest hard drives, which can transfer about 120MB/s, easily better than USB 2.0 and significantly better than Firewire 800.
eSATA is not without drawbacks, however. Cable length is limited to a mere 2; it cannot supply power to devices connected on the eSATA bus, and the connectors are neither small nor terribly suitable for consumer devices where aesthetics are important. Over the last several years, eSATA has steadily eroded both USB and Firewire market share in the data storage space, although its applications are limited, and really not well-suited to the portable device market.
USB 3.0 versus ExpressCard 2.0
The notebook-exclusive slot interface was practically released the same day as the USB 3.0 specification (November 2008) and promises to enhance the ExpressCard standard for the increased speed requirements of today's mobile technologies. Closely tied to both the PCI Express and USB 3.0 specifications, ExpressCard 2.0 supports a variety of applications involving high throughput data transfer and streaming. Maintaining backwards compatibility with the original ExpressCard specification, the hot-pluggable interface standard for I/O expansion in smaller form-factor systems will by definition coexist with the world of USB 3.0 devices. [source : Everything USB]
USB MILESTONES
2012
Intel integrates USB 3.0 into chipset

Windows 8 begins USB 3.0 support
2009
NEC ships first USB 3.0 silicon

SuperSpeed USB logo introduced

Linux begins native USB 3.0 support
2008
USB 3.0 specs released
2005
Wireless USB 1.0 specs released
2002
Windows XP SP1 supports USB 2.0 natively
2001
USB OTG specification released.
2000
USB 2.0 specs released

USB started to gain reputation as a mainstream bus technology
1998
Apple shipped iMac with USB ports

USB 1.1 specification released
1997
USB-IF membership increased to over 400 companies

Over 500 USB products were in development worldwide
1996
USB 1.0 specs released

First USB product introduced.

First USB Plugfest compliance workshop held.
1995
USB Implementers Forum (USB-IF) formed with an initial membership of 340 companies

Intel introduced the first USB silicon.
1994
USB core companies assembled
In a nutshell, USB 3.0 promises the following:
*Higher transfer rates (up to 4.8Gbps)
*Increased maximum bus power
*New power management features
*Full-duplex data transfers
*Support for new transfer types
*Backward USB 2.0 compatibility
*New connectors and cables
The enhancements to SuperSpeed USB are not just for higher data rates, but for improving the interaction between device and host computer. While the core architectural elements are inherited from before, several changes were made to support the dual bus arrangement, and several more are notable for how users can experience the improvement that USB 3.0 makes over USB 2.0:
More power when needed
*50% more power is provided for unconfigured or suspended devices (150 mA up from 100 mA), and 80% more power is available for configured devices (900 mA up from 500 mA). This means that more power-hungry devices could be bus powered, and battery powered devices that previously charged using bus power could potentially charge more quickly.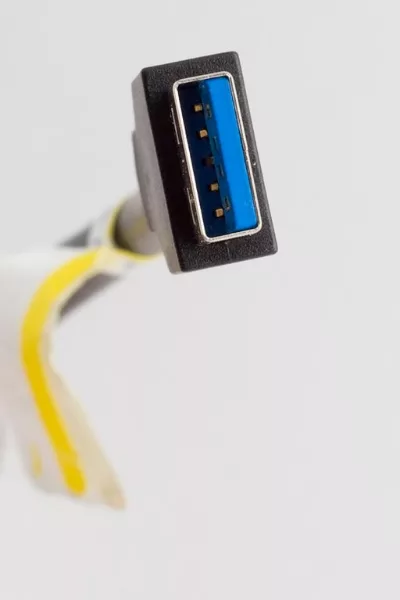 *A new Powered-B receptable is defined with two extra contacts that enable a devices to provide up to 1000 mA to another device, such as a Wireless USB adapter. This eliminates the need for a power supply to accompany the wireless adapter…coming just a bit closer to the ideal system of a wireless link without wires (not even for power). In regular wired USB connections to a host or hub, these 2 extra contacts are not used.
Less power when it's not needed
Power efficiency was a key objective in the move to USB 3.0. Some examples of more efficient use of power are:
*Link level power management, which means either the host computer or the device can initiate a power savings state when idle
*The ability for links to enter progressively lower power management states when the link partners are idle
Continuous device polling is eliminated
*Broadcast packet transmission through hubs is eliminated
*Device and individual function level suspend capabilities allow devices to remove power from all, or portions of their circuitry not in use
#Streaming for bulk transfers is supported for faster performance
Isochronous transfers allows devices to enter low power link states between service intervals
#Devices can communicate new information such as their latency tolerance to the host, which allows better power performance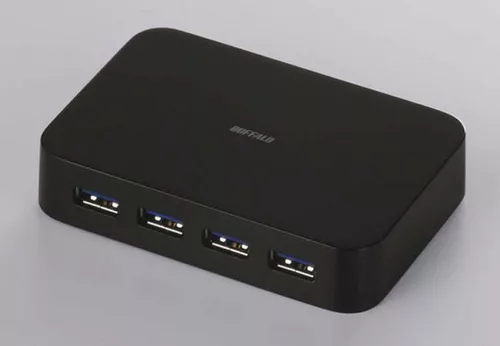 Additionaly, I would like to mention that some SuperSpeed USB hardware, such as hubs, may always be more expensice than their USB 2.0 counterparts. This is because by definition, a SuperSpeed hub contains 2 hubs: One that enumerates as a SuperSpeed hub, and a second one that enumerates as a regular high-speed hub. Until the USB hub silicon becomes an integrated SuperSpeed USB + High Speed USB part, there may always be a significant price difference.
Some unofficial discussion has surfaced on the web with respect to fiver-optic cabling for longer cable length with USB 3.0. The specification makes no mention of optical cabling, so we conclude that this will be defined in a future spec revision, or left to 3rd party companies to implement cable extension solutions for Super Speed USB.