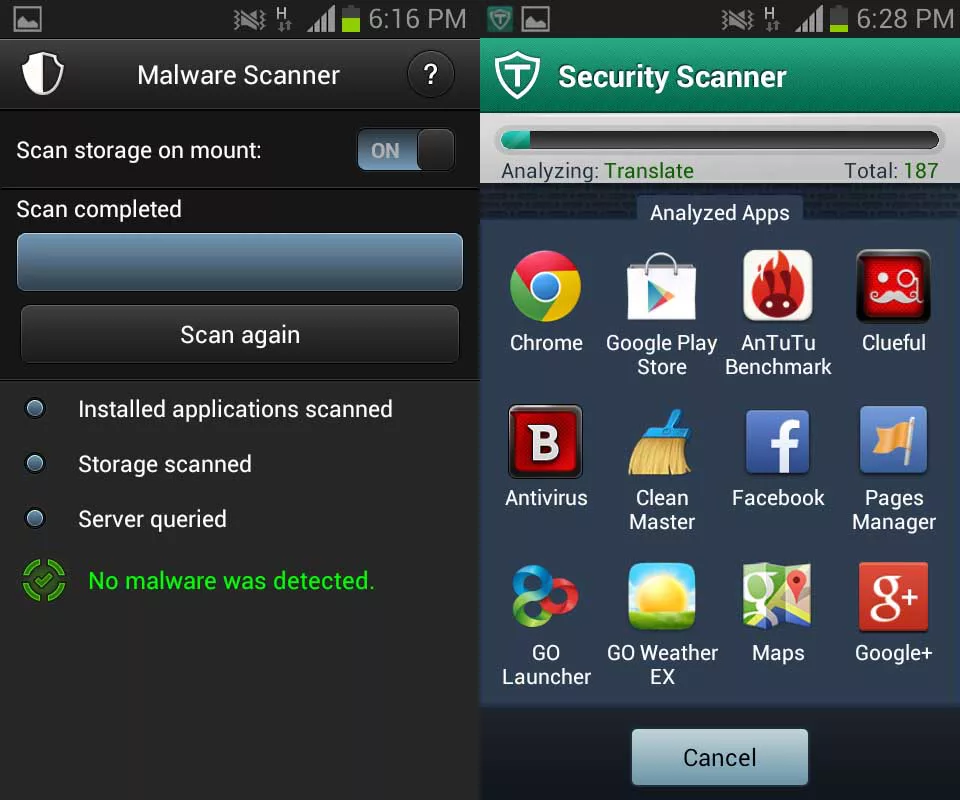 TrustGo is the one of the most popular free mobile security for android platform, while keeping the things little far at the good side – the security tool is pretty effective. On, the other hand bitdefender provides faster and light weight app, which is full of features, but comes at a price.
Lets determine which one proves to be a better option for a range of users based on different factors.
1. Scan Speed and impact on user's device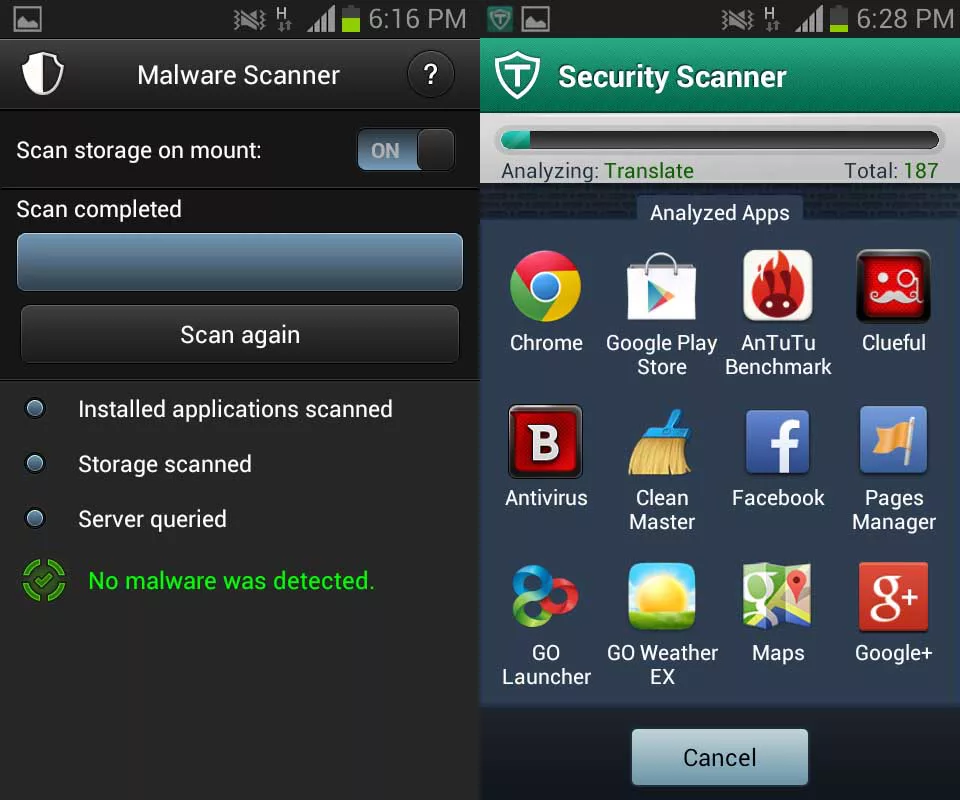 Unlike any other antivirus or malware detection tool – TrustGo tries to detect malware and other virus intrusion, based on apps installed on your device. The security tool scans the installed apps on the device and matches it with the database of trusted apps, which has been approved by TrustGo using the information gathered from 400 app marketplaces around the world. This gives the app faster scan speed and better protection from malicious apps being detected before they are actually installed.
Bitdefender, on the other hand uses the traditional virus and malware detection algorithm that scans the full system files and apps in order to detect any intrusion or security breach.
It took TrustGo an average of 39.02 seconds to scan 187 apps and other assorted files while a dozen other apps were running. This was well behind the much faster Bitdefender, but still fast enough to where it wouldn't impact the user.
However, Bitdefender scanned all my files on the device within 17.38 seconds while I was playing subway surf to kill the time for a while. That almost seems surprising because Bitdefender's on-demand scanning is so fast that I wasn't entirely sure it was doing anything at all. The developer explained that during a scan, Bitdefender extracts information from only the files that could harm your device—apps, apks, and others—and then performs the analysis on the cloud.
As nearly all other Android security apps, Bitdefender automatically scans any new apps loaded onto the device. When loading a suspicious penetration testing app, I noticed that it took two seconds before Bitdefender's warning appeared on the screen. Be careful not to move too fast, or you might launch a dangerous app – which is not the case with TrustGo, as it is app dependent antivirus.
I would give 3/5 for TrustGo for comparatively slower scan speed and 4/5 for blazing fast scan speed & impact on user's device.
2. Download size and Bootup time
Both device comes with the pretty small file size to be downloaded from playstore – 3.89MB (TrustGo) and 2.44MB (Bitdefender) for a security tool is really sleek. They don't bother users for updating the app annoyingly and can perform the job silently at the background.
Both security tool doesn't slow down your device, provided your gadget has enough ram to handle some extra tasks. I never experience any lag on my Samsung Galaxy S4 during general tasks and boot up time. I even installed both apps at the same time and I could play any game on my device without any issues.
With the TrustGo installed, it takes an average of 22.3 seconds to boot up the phone, and only another five seconds after that before the TrustGo logo appears on the top bar. Likewise, rebooting the phone with Bitdefender installed took an average of only 22.1 seconds, about as long as it takes to reboot a Galaxy S4 with other security software running.
TrustGo : 4/5
Bitdefender : 4.1/5 (due to low app download size on Google play)
3. Identifying and removing suspicious files/apps
To see how TrustGo handled potentially malicious apps, I installed a penetration testing app that is frequently flagged as malware. After I installed the test app, TrustGo popped up a warning which I was pleased to note categorized it as a low threat, and also included information about the app. Most security apps do not provide information about why they flag the apps that they do. However, enough time had elapsed that I could have easily opened the suspicious app before TrustGo's warning appeared.
From this warning I could uninstall the app or add it to my list of ignored apps. Once ignored, TrustGo will not include the app in its list of possible threats during a system scan. Tapping delete here, or in the scan results, opens the Android uninstaller and removes the app.
On the other hand, Bitdefender automatically scans any new apps loaded onto the device. When loading a suspicious penetration testing app, I noticed that it took two seconds before Bitdefender's warning appeared on the screen. Be careful not to move too fast, or you might launch a dangerous app.
Other apps require you to run a system scan before generating an alert on the security app's main page. However, Bitdefender immediately altered its main page to warn me of the suspicious app before I performed a system scan. Once a threat is identified, Bitdefender makes it easy to uninstall the offending app.
TrustGo: 4/5
Bitdefender: 4/5
4. App control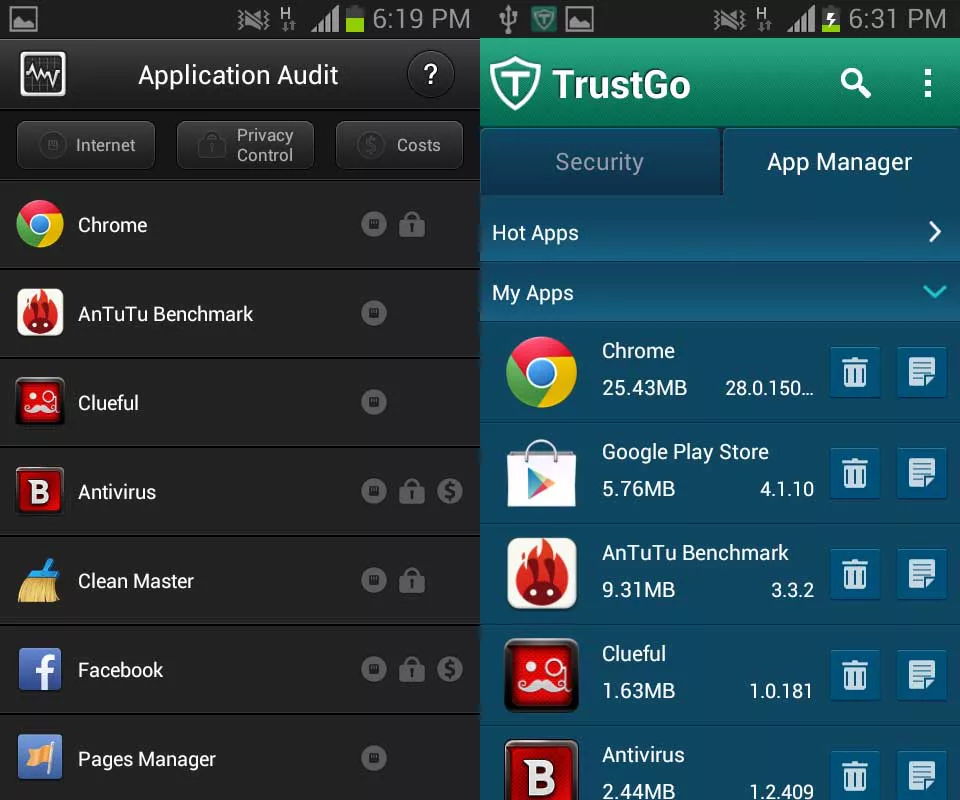 Both security tool provides extensive way to manage your apps and determine which one might be harmful for your smartphone under a different name. Bitdefender organize and lists the app under the "Application Audit" tab where as TrustGo provides similar function in "Manage App" tab.
Bitdefender has some interesting filters implemented at the software audit window and users can filter the app according to – internet, privacy control and costs. As the name suggests – "internet" lists the app that requires internet connection to perform various task, "Provacy and control" lists the apps that requires certain privacy and device control with-or-without user's permission and "cost" lists the app that might require payment for the service.
On the other hand, TrustGo lists the app on two simple sub-drawers – Hot Apps and My Apps. "Hot Apps," lists apps trusted by TrustGo and "My Apps" lists currently installed applications on your device. You can view details by clicking on the little document icon or remove the app by clicking on trash icon.
You'll be presented with a list of popular apps that TrustGo has scanned and certified as safe to use. According to TrustGo, the company scans 400 app marketplaces around the world, and gathers information from users to stay abreast of new Android apps. For users this is a first line of defense against malicious applications.
Both app management system is pretty impressive providing the users control on the overall privacy and permissions.
TrustGo : 4/5
Bitdefender : 4/5
5. Antitheft and other options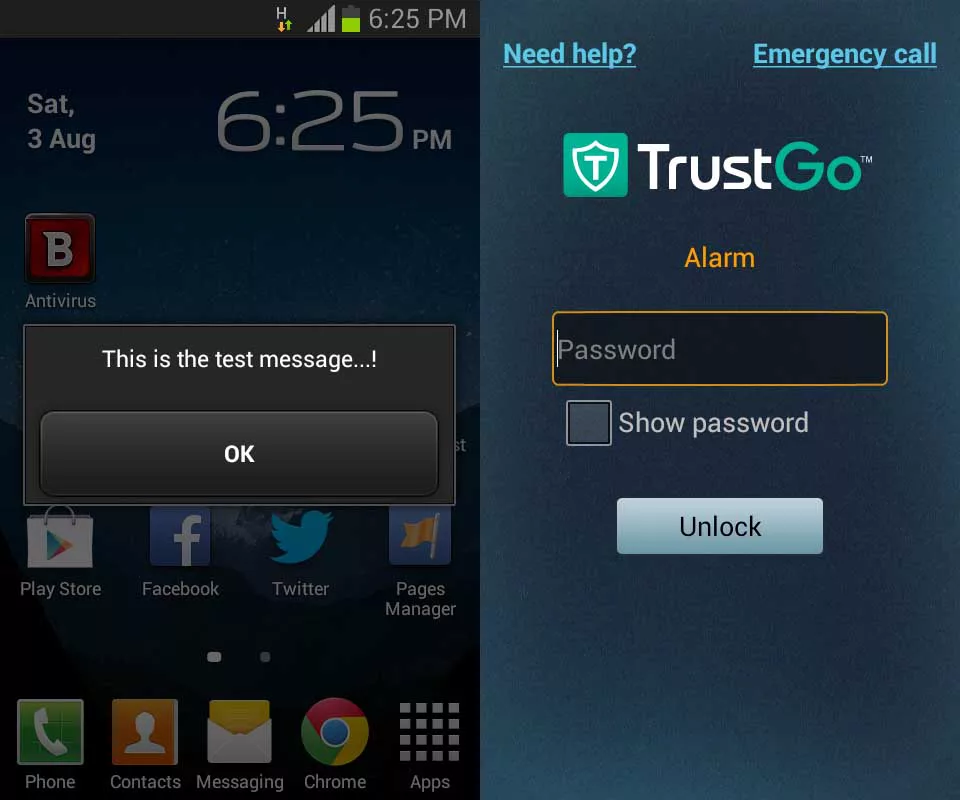 Similar to the Privacy Guard information, TrustGo pulls some of Android's security-related settings and puts them in one easily accessible spot. From the System Management button, you can set limits on your mobile data, see your overall data consumption, and see how much data has been used by individual apps.
Bitdefender provides some basic options and features, which can be customized according to user's requirements. However, it doesn't implement the options as we saw on the TrustGo, that tries to unify the android settings into TrustGo options list.
Anti-thefty, often is the main area where user focuses while opting for a premium security tool for portable device after the malware detection capacity. Getting such features from the free application is like getting a free desert at the restaurant.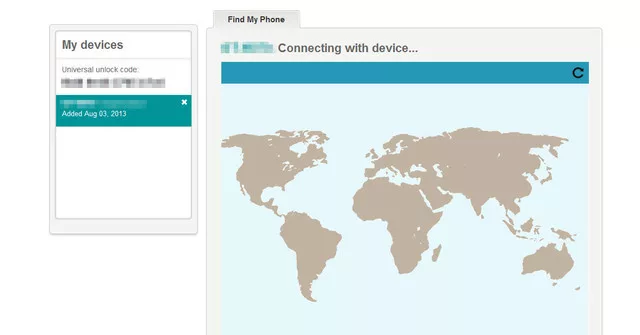 TrustGo and Bitdefender offers several anti-theft features accessible from a web portal or SMS commands. From here, you can track your device's location, lock it, activate an alarm, or wipe its memory.
I was little confused when I first signed in to TrustGo's web portal because I couldn't find my anti-theft options. It was hidden behind the My Phone section of the Trusted Cloud menu. Another issue I found was that the TrusGo's device locator couldn't detect my device even when I tried it multiple time. These were the only bumps on the road.
TrustGo's remote device lock and alarm with message worked flawlessly and I was able to lock my device without any problem. Activating alarm with 140 characters, custom message is really helpful. You can mention your phone number and owner's name at the same time.
Unlike other security tools available for android devices TrustGo allows users to undo any remote commands that they can manage at their webportal. I was able to instantly enable or disable any remote command for my device.
If someone fails three times to enter the correct unlock code, TrustGo will activate the device's front-facing camera and snap a photo, which is then sent to the email address associated with your TrustGo account. While I'm glad to see this included in the app, I prefer having the flexibility to take photos on demand.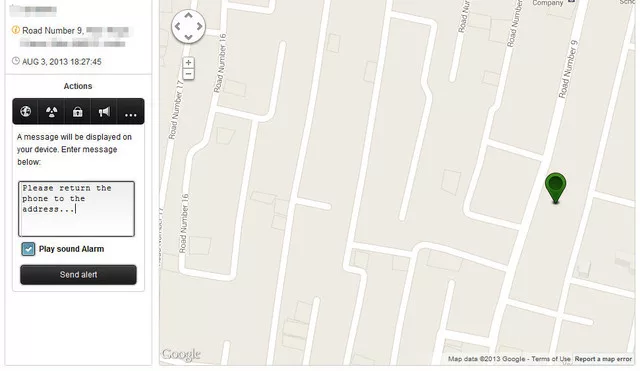 Bitdefender also offers similar functions like TrustGo. I was very pleased with their fluid web portal interface, which was very informative and nicely organized. It detected my device without any problem – however, it took a little while before it could show it on Google maps.
The alarm was activated quickly and though quite annoying (my colleague described it as "like dubstep"), it's not as loud as TrustGo's offering. It can also be dismissed by tapping a dialog box. This would definitely scare and annoy a thief, but it's probably better for locating a lost device.
Most security apps give you some granularity about what information to remove during a remote wipe –It's all or nothing. I was disappointed that Bitdefender did not include a spy camera option to surreptitiously snap photos from the device's front facing camera.
TrustGo : 3.5/5
Bitdefender : 3.5/5
So, which one is better?
TrustGo is the free tool, comparing it with a premium security component is insane. However, being a completely free tool, we can say that it provides a good competition to the premium version of bitdefender mobile security. TrustGo provides top-tier malware detection built around an ambitious app scanning scheme. It rounds out its features with system management options and handy metrics which are convenient and easy to use—especially for new Android users. Weigh those benefits and its price tag against bitdefender's security features and option which comes at a price tag.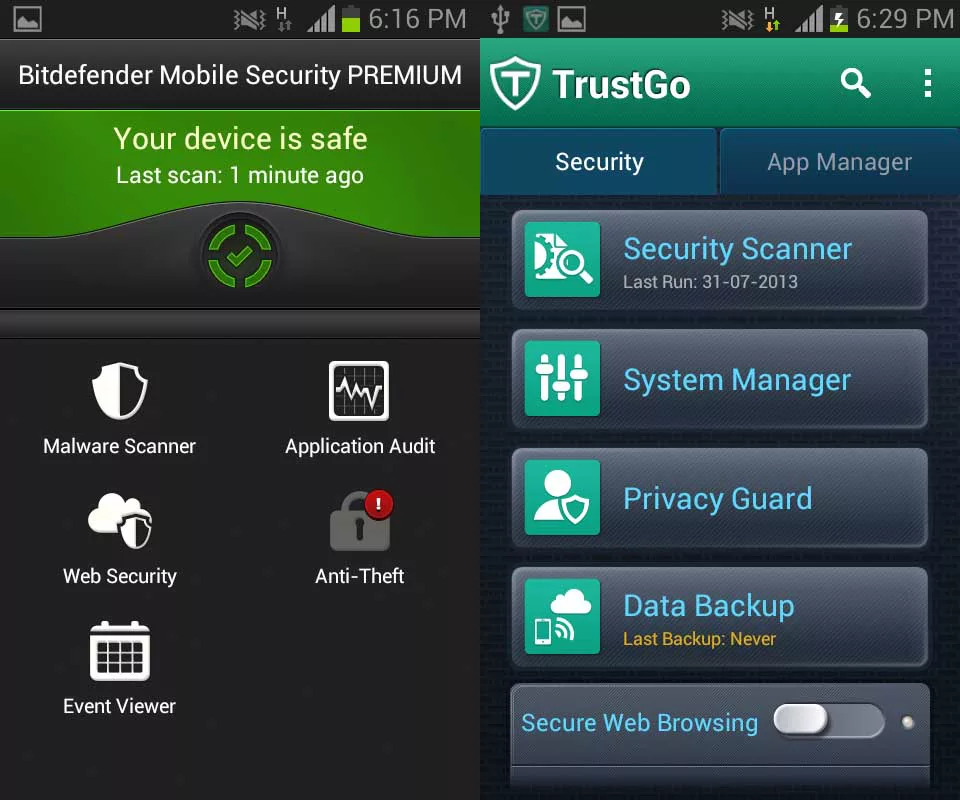 I was little disappointed that bitdefender doesn't provide spy camera feature bundled with the app but I was really impressed with app's other anti-theft features – particularly the lock screen which prevented all the interaction with the device.
Bitdefender provides some nasty security tools by SMS commands and seemingly organized and integrated web portal but lacks scheduled scanning while providing smart unobtrusive continuous protection.
However, the bitdefender app does lack a beatiful interface – you might be surprised if you have just installed it on your device while reading this article, but if you go through the manual scan screen and other areas of the app you will notice empty spaces all over the place. TrustGo is strong with its flawless interface design.
If you are looking for a security app that can monitor the application's behavior and intrusions in your device without spending any bucks – TrustGo might be your clue. Security apps are a very competitive space, but Bitdefender offers security and peace of mind, all while remaining unobtrusive, and at a price that won't crunch your wallet.