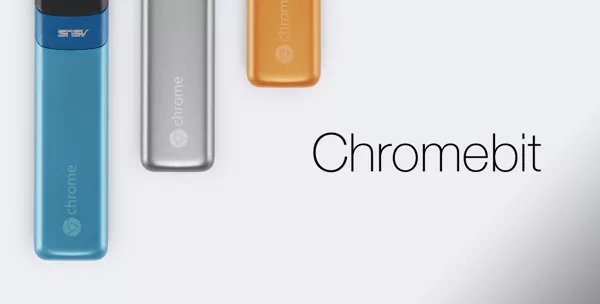 PC sticks are something that are arguable the future of computing. The comfort of carrying your PC was a concept on which Laptop was constructed, and with the current trend of making everything smaller, PC sticks might well be the best way forward. May be that is why this concept is attracting most of the leading innovator over the globe.
Google ChromeBit
Google who along with Asus have launched a whole new series of hardware a dongle that basically when plugged into any kind of display transforms itself into a fully working PC. It is named as Chromebit and it isn't something that can be only used when there are no other option available, but it is a full fledge computer which one can use to take care of daily tasks. Google Chromebit comes in three attractive colours black, orange and blue. By the look of it, Chromebit is a very small elegant and cute dongle but in totality it has some real hardcore stuff inside its funky exterior.
The device runs on a Rockchip Rk 3288 processor which is actually has a quad core Mali 760 graphic unit and has a 2 GB of Ram along with a 16 GB of internal storage. Along with this it has a 802.11ac 2×2 dual band WiFi, one full sized USB port and Bluetooth 4.0. Google have rolled out their own browser based OS with the device. The main area of target for the makers is first time PC users and they are hoping big results from Indian market. It is not the best PC Stick available in the market, but considering that it launched at $99, it certainly something that is very much worth for the price at which it been launched. This is only the device in the current market which will not possess Windows Operating system
Intel Compute Stick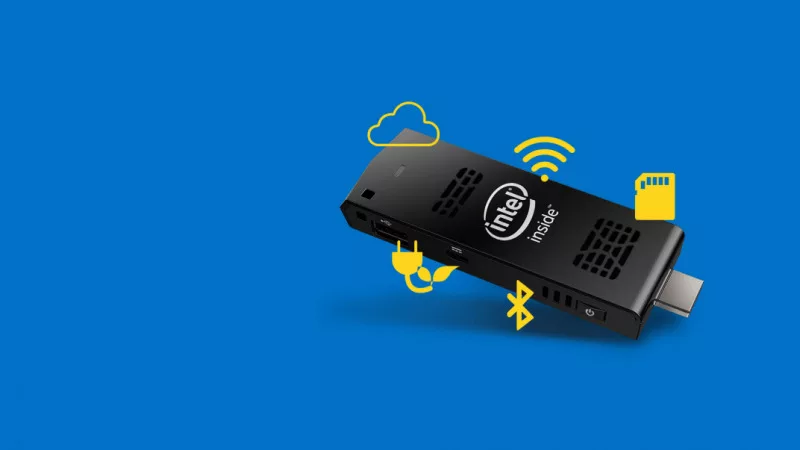 This is probably the most expensive PC Stick of the lot and with a price tag of $150 it won't offer anything different from the others. Compute Stick is also powered with the Intel's Atom processor and has 32 Gb's of internal storage and 2 GB RAM installed in it. Device has a Micro SD slot and memory can be extended up to 128GB. It will have a USB port along with wireless deskset. It will possess a Bluetooth 4.0 and a WiFi connectivity to connect to your internet. Stick will run on full version of Microsoft Windows 8.1 and can be upgraded to Windows 10 when the device will be launched. Compute Stick will have Intel Iris HD graphics that will enable the user to enjoy HD videos, photos and also all the leading HD games. The device will let the user view videos in 4K display and give a more vibrant picture. It will also have a integrated audio card installed in it.
Lenovo Stick 300
Following the footsteps of Google Lenovo has launched their own bettered version of the Chrome Bit. This more slightly bigger device is powered by Intel's Atom Processor Z3735F and has 2 GB of memory along with a 32 Gb of internal ROM. Lenovo has done a tie up with Microsoft and launched this device with a preinstalled version of Windows 8.1 which can be upgraded to Windows 10 once it gets launched. Lenovo has also launched a cheaper Linux version of the device considering that most of the use of it is going to be from the offices. The Device has capacity to connect to any display using a HDMI port and can convert it into a fully working PC. It can be handled using a 2.4 GHz of keyboard and mouse. Stick 300 will also have inbuilt speakers installed into it which will give the user liberty to listen to music. Lenovo's Stick 300 is going to be launched at price tag of around $149 which is slightly higher price than the ChromeBit. The Linux version of the Stick 300 will be tagged at about $89 a piece. This is a whole new market of Lenevo as they are already No. 1 in worldwide PC's and No. 3 in Smartphone's.
iBall Splendo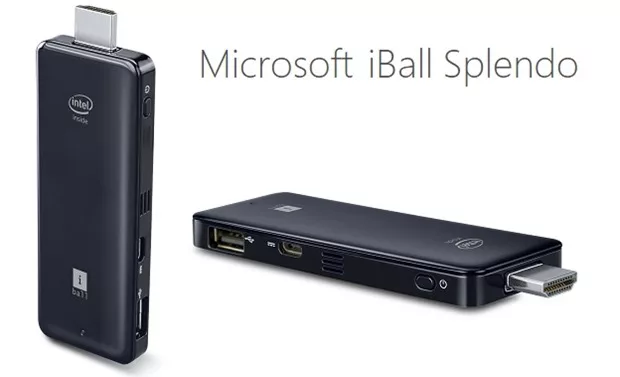 iBall along with Microsoft have introduced this compact device that will come with a wireless deskset and will be powered by Intel Atom quad core Processor and will run on Windows 8.1. It will possess RAM of 2 GB's and a 32 GB of internal storage space. There will be a SD card slot present to increase the storage when required. Along with this it will possess a normal USB slot, WiFi and Bluetooth 4.0. There will also be a Micro USB port for additional connectivity. It will be a fan less design and will be launched with a price tag of Rs 8999 in India.
See Also: Turn Your TV into Smart TV: Microsoft's PC-on-a-stick iBall Splendo
The most premium use of these PC sticks is that they can straightaway replace all the poorly working conference room PC's. They are sleek and are very easy to carry around which makes it a perfect choice for all of you who's work profile involves a lot of travel. Replaceing them with laptops might not be possible but it can be effectively used to take care of all the daily work routines such as editing or creating any kind of document or surfing on the internet and much more. It can also be a effective device for multimedia use and can be perfect way to telecast photos, videos or can even be used to play games on TV.