Its only a matter of time when Google reader seizes to death and abandons all of the news enthusiastic for nothing. All about-to-be-former, "Google reader" users are searching for an alternative, including me.
If you think there are lots of alternative to Google reader – you might just wrong. Yes, there are many feed syndicator available, but they all are not so promising and are different from the experience, Google reader used to provide.
The new Feedly (a magazine type, flipboard style reader) which tripled its user base in last 3 months, sure is rich in graphics and can be very friendly for users who just needs to be updated with the latest news from few of their websites.
But, for the tech savvy like us, who used to dig into lot deeper to dozens of websites everyday using Google reader – must be disappointed because we don't have much options.
See Also: New buzz suggests Facebook is building a Flipboard style rss feed reader
Facebook announced that they are going to launch a new social feed reader for mobile phones powered by android and iOS, and sources confirms it will be another flipboard-styled socially-optimized app which is customized for that particular user. – This isn't we tech guys looking for.
After following the news on AOL, trying "the old reader" and many other alternative, I couldn't agree more that "digg reader" is something I was waiting for quite a long time.
See Also: Digg to launch Google reader alternative (public beta) on June 26
"digg reader" is now open for public. I am few of the lucky ones, who got early access to the reader as a beta tester. Here is my experience:
Login in and importing data from Google reader
Importing your Google reader Rss feed list has never been so easy. You just have to click on "Import Google Reader" when you login to the website for the first time – and god! it was too fast and easy. All my feeds and lists are intact and they are listed the same way it used to be on Google reader.
I can even manage my feeds and sort them into folders and view the most popular ones at the same place. The in-built popularity meter comes very handy when you want filter your feeds.
So far, it looks promising enough.
Adding Feeds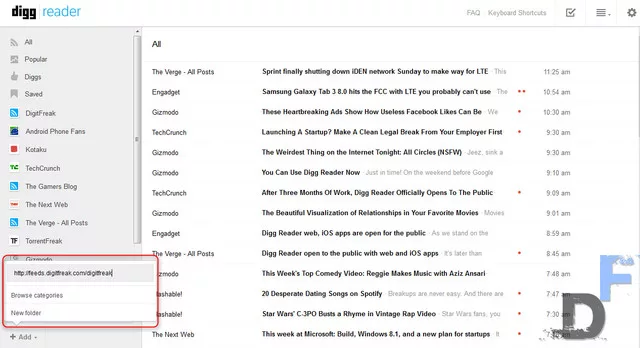 My first curiosity was to figure out how digg manages the feeds and displays output. I must say, it didn't disappointed me. Adding feeds to digg reader is easy, you just need to click on "Add", which is located at the bottom left corner of the webpage and paste the RSS/Atom feed url and press enter.
You can select the specific category if it is mentioned in the feed and sort them accordingly. The new feed will start collecting information from the website immediately.
The UI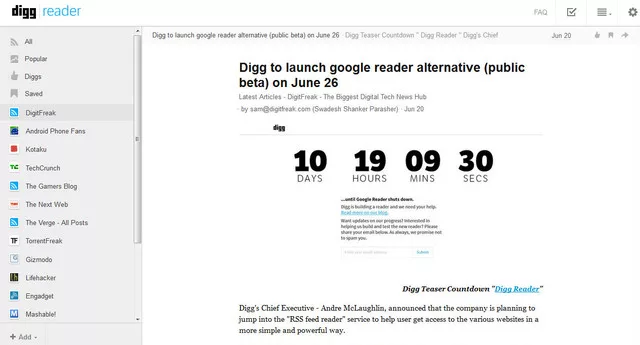 Interface is pretty basic and resembles that of "Google reader" but in more "digg style". It is almost perfect and minimalist – loads quick, you will feel like home again. Digg manages to bind the former Google users to the service and it is quite promising.
You'll get two important viewing options available – "List View" and "Expanded View". List view – shows your feeds content title without the summary or any other details, you can click on the title if you want to expand to the summary – quite useful if you don't want to load everything in one go. Expanded view – as the name suggests, it will show all the feeds with full content and graphics.
KeyBoard Shortcuts
Well, if you have been juggling with your feeds on Google Reader with the Keyboard shortcuts like me – then you will be happy to know that it replicates almost the same keyboard shortcuts as we used to have on Google. It makes it so easy to use and it feels like you are already familiar with the digg reader because it just has everything you used to have with additional features.
Tightly integrated to digg
Digg reader, obviously is tightly integrated with the main website digg. You can digg your feeds right into the reader and give them addition boost. You can tweet the feeds or share them on your Facebook account.
Settings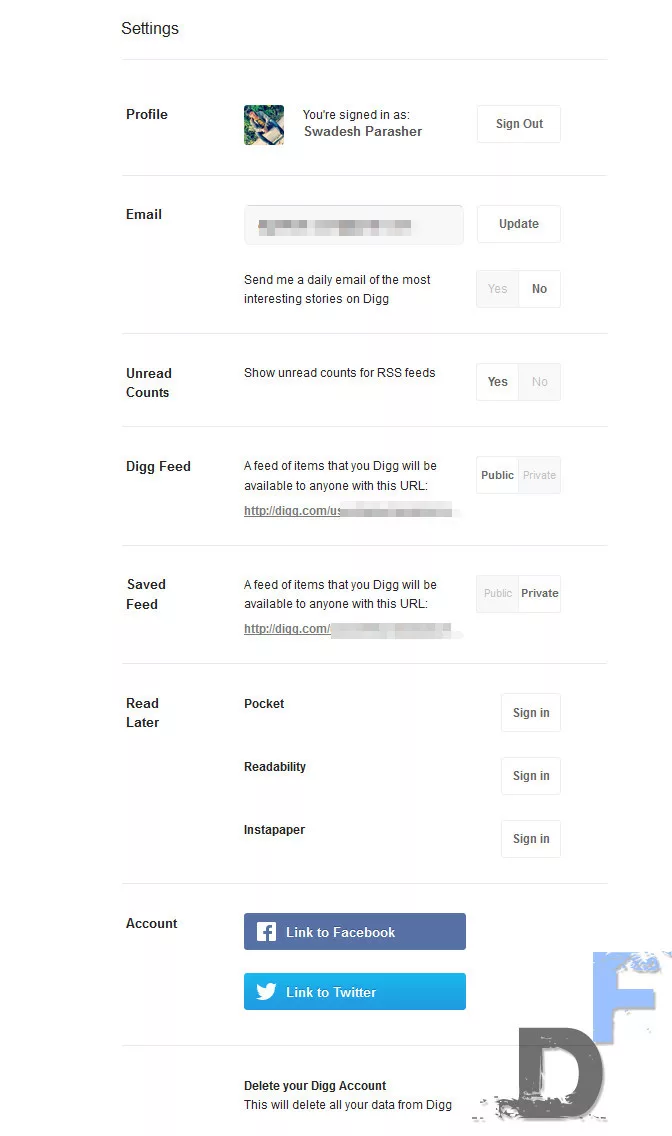 Digg provides some very basic settings for the users to manage – so you don't have much of the things to worry about, just little tweaks that you can set and forget about. The basic settings allows you to update your email ID, set unread counts (the unread feed item counts as we used to have on Google reader), share your digg feed page to anyone or share your feed list.
Read later block – enables you to add instapaper, pocket and readability. You can link your facebook or twitter accounts for easy access to the website.
and the last one – which is going to be the least used option – "Delete your Digg account".
Portability
Digg reader promised to get it users a portable experience on their mobile phones and tablets. Currently only iOS app is available for download but digg team promised to release the apps for other platforms too, including Android.
So, this is it?
If you are looking for the alternative for Google reader which resemble your favorite feed syndicator in every possible way – this is it! You can dig all your news and articles from all over the internet like you used to do it before. If you are tech savvy like me and likes the old-fashioned way to keep in touch with – "What's going on the internet" and the things you are interested in, "digg reader" can be your home sweet home.