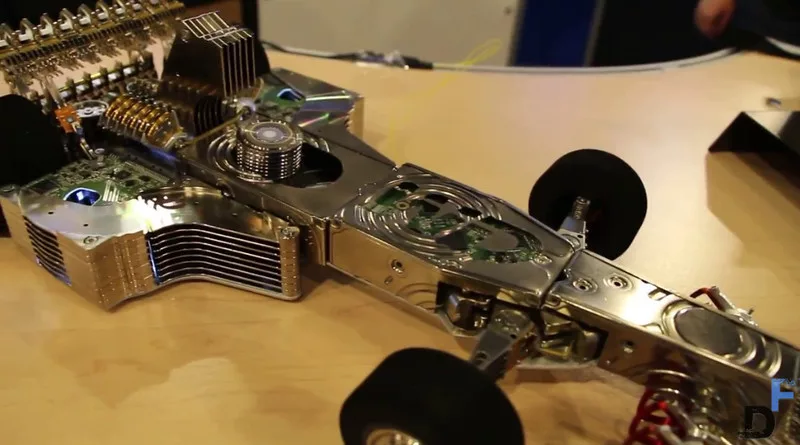 CyberPower's new PC packs a liquid cooled 4GHz Intel Core i7 4790K processor, Gigabyte Z97 Mini-ITX motherboard, five SSDs, one 2.5-inch har drive, a Blu-ray drive, a full-size 500-watt power supply, and a full-size GTX 890 graphics card… but that's not what makes it stand out of the crowd. — You would certainly ask if this powerful spec is not something that would make you buy this powerhouse than what makes it so special? Well, it's the sheer beauty that lies within the intelligently designed PC.
Cyberpower's Fang Trinity Gaming PC has a unique design that we never saw before. It looks more like a futuristic space pod than a computer, but make no mistake, this is real PC.
The ingenious design packs these power components in three segments, which is connected through the central trunk. One pod contains the motherboard, CPU and cooler, another the PSU and most of the storage drives, and the final pod holds a full-size video card with three SSDs behind it. The segmented structure promotes modular design, which also allows it to be individually assembled by the user.
The shell is made using thick and heavy metal. Each pod cover actually weighs about 8 lbs.
Build quality, design, and execution are good. I'm concerned about the 90mm fan's abilities and noise, rotating a hard drive on a 120* angle, and the general size and post-build accessibility. You won't really be moving this around. The price is too high for most builders, but the same people who can afford a D-Frame would likely be interested purveyors of the Trinity. I am legitimately impressed by the vision for the Trinity and found its tooling to be well thought-out, despite the obvious price and mobility obstacles that limit the audience. Builders with a massive budget and an eye for the unique should be paying attention to the Trinity, especially with DeepCool backing it.
That being said, let's watch this awesome design and how things are packed inside it: