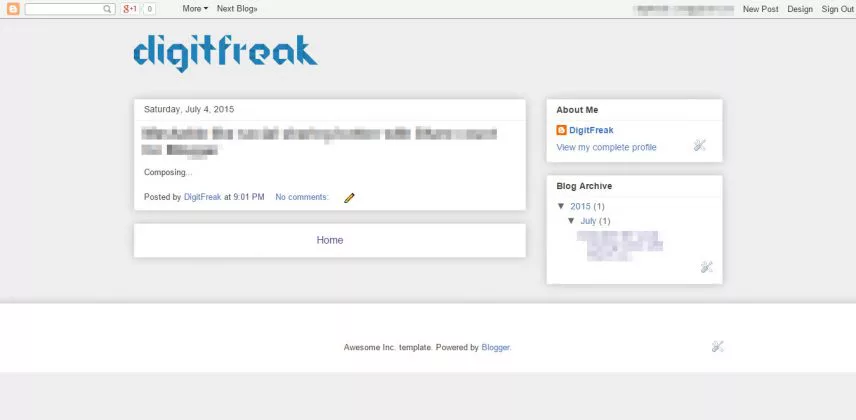 I started my journey 6 years ago on blogger as well, and I do recommend this platform to any new blogger who comes to me for advising. I did share my side of the story and how I started my journey with DigitFreak, what were the initial mistakes and how I choose to be a full-time blogger/writer. If you didn't read it, you can find my post here. This is the first post in the series where I will disclose how to establish a successful blog — one post at a time.
See Also: How I am turning my blog into a successful business, and you can do it too!
Choosing the right platform for your first blog is essential as it is going to be your laboratory to test and adapt things that pile up as a secret of becoming a professional blogger over time. In fact, DigitFreak started its journey on Google blogger service (called blogspot back then) and everything that I learned was because of this platform. Being able to create a website with your personalized logo, and capability to write about almost anything and observing the users visiting the website from around the world is something that comes as a perk at 0 (zero) cost with blogger.
New bloggers often gets confused while choosing their first blogging platform, worrying they will miss out features and flexibility of other advanced options available and ability to scale the design and structure of the website when the time comes . Guess what? You're not going to need any of these advanced features at the beginning. While there is truly nothing you should be worried when choosing the blogger for your first blog, but to answer the query — You can easily migrate from blogger to any other popular CMS out there, whenever you want.
I will not populate this post with Pros and Cons of having a blogger over other platforms/CMS, as my main goal is to teach the readers how to start with blogging and turn it into a successful business. This is the first milestone of becoming a blogger, which I am outlining in this article.
Why Am I suggesting everyone to start with blogger?
To point out few – it's free, secure, easy to understand, highly adaptable, and newbie friendly ( doesn't mean he's non-tech savvy). In so many cases, blogger is much better than WordPress or other CMS platforms out there — it's simply blogging.
While starting your first niche blog, you should always opt for blogger platform even if you are tech friendly and learn things quickly. Blogging is not always about how good you're at managing websites, it is about the content. Keep in mind we are talking about a specific stream of bloggers, who want to earn money from the quality content they can deliver.
The things that I evaluated to conclude my suggestion:
Whether the platform is focused on serving beginners or experts: blogger is super noob friendly.
The cost of using the service: the cost to run a blog on blogger is $0 (zero).
customizations and scalability offered in the price constraints of service: You can make your blog stand out from others If you have little knowledge of CSS/HTML/java. Don't worry if you don't; there are the plethora of themes available for blogger targeted to almost any type of website.
There are the points you should keep in mind while opting for any platform. Remember that it can be easy to upgrade to a better platform in most cases, so starting with an easy-to-use option is great for anyone just starting out in the blogosphere.
The fact that blogger qualifies the above-mentioned guidelines, you can easily crown the winner for new bloggers. Starting your blogging career with blogger is just a click away. You just need to have a Google account.
Some things to keep in mind
Don't hesitate to choose blogger: This is the best blogging platform you can have for your first blog. This is the opportunity to move fast and break things without losing anything. There are other websites who would suggest that new bloggers should always go for WordPress or other CMS which is more popular, but the truth is your popularity or ability to earn money doesn't depend on any platform you choose. As a beginner, you probably wouldn't want to spend much, and blogger offers just that.
Learn things quickly: This is the time you spend to learn the common principles, way to create viral quality content and how to drive traffic at your website. Create a user base and continue writing about what your readers like the most. This is how you get to know where you should head in the future.
Be expert in your niche: Now based on the analysis over time you will figure out what topics you should focus on and what your readers wants to read. This is the time to learn new things about those topics, and provide tips and resources for your readers that would solve common problems or give value to them.
Don't wait to monetize your blog: Some experts suggest that you should not bombard your readers with advertisements when you are just starting, but my experience has been a bit different. While it is true that most of us don't like ads, but almost every internet user is now familiar with advertising model incorporated on websites and has adapted to banner ads. If you add Adsense ads on your blog even before publishing your first article, they wouldn't notice it – why? They simply don't care. In fact, if they don't see the ads they would probably think your blog is inactive or not so popular.
Edit: Monetizing your content shouldn't be confused with allowing paid content on your new blog. I wanted to suggest selling the available ad spot to contextual banner ads and rewarding yourself some cookies for spending time to write quality content for your readers. You should not accept paid content advertisements at the beginning, no matter how much the advertiser is willing to pay. More on this topic in my next article.
Be ready to move on: Once you start receiving more than 2,000 unique visitors every month, it's time to move on and ditch blogger. Now you are getting bigger, your readers need better user experience and better website structure. Time to invest some money in your new business and move to the self-hosted platform.
Get yourself a custom domain right away
Most of the experts suggests that you shouldn't worry about having a custom domain right from the beginning, but I beg to differ. As we are opting for a business model over the personal blog, it only makes sense to get your blog personalized before publishing your first article. Custom domain or web address is the unique identity of your brand — http://www.yourblog.com sounds way better than http://yourblog.blogger.com
It is true that you can have a custom web address at any point after establishing your blog, but it is advised to use a custom domain if you want to earn serious money from your blog.
Introducing Blogger Lab by DigitFreak
To share my journey and experience from the past, I have registered an account on blogger again. It's been so long since I last used blogger, there are so many new exciting features and options available now.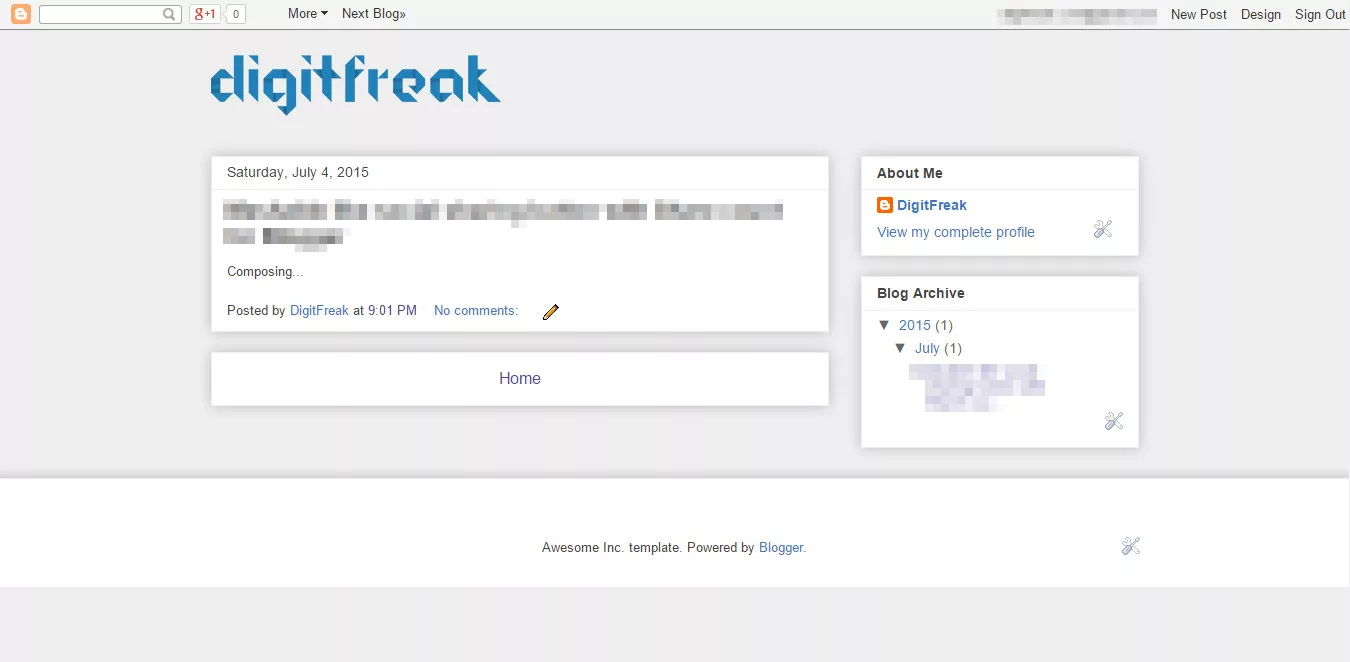 I will be sharing all my custom widgets, tools, blogging tips and tricks at Blogger Lab – DigitFreak. It is going to be our laboratory for testing and sharing awesome tricks that you can use on your blog to make it unique. We are already working on some widgets and basic design of the blogger lab. It is currently closed, but we will open it soon for everyone to visit.
No, we are not going to post articles on that blog directly. Rather we will be using it to showcase our codes and scripts that we will share over time.
Subscribe to our newsletter for updates. Just put your name and email address (no registrations required) to receive notifications whenever we post next article.