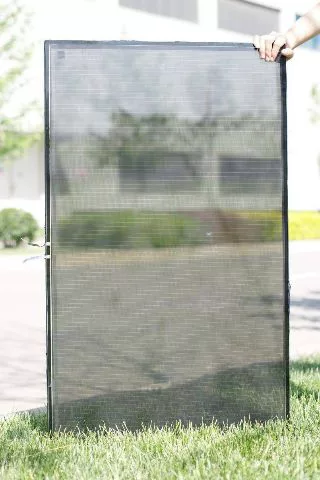 There has been a wide range of developments going on, which aims to create more eco-friendly buildings around us. Todays modern large and tall buildings has wider surface area for solar energy to be converted into the electricity — some scientists are working on the experiments to utilize this fact.
Transparent photovoltaics have yet to grace the face of your smartphones, but UCLA researchers are working on a new see-through solar cell that showing potential.
The new design uses a new type of polymer solar cell, which can help you design the solar window glasses to power the entire building efficiently in the future or manufacture a better solar collecting smartphones to charge them up automatically.
The team has been able to build a device that converts infrared light into electrical current. Current prototypes boast 4 percent energy conversion efficiency at 66 percent transparency — not so crystal clear, but certainly clean enough to peer through.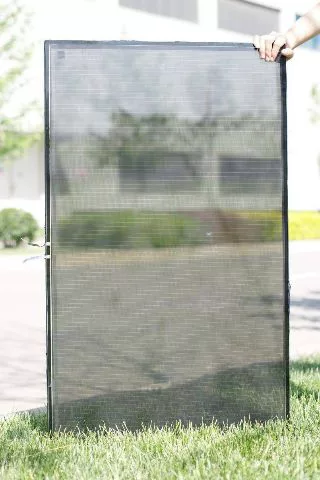 The technology is still a new kid – waiting to get into the adulthood — but we sure can expect a great amount of results from it. UCLA team said in a press release:
"These results open the potential for visibly transparent polymer solar cells as add-on components of portable electronics, smart windows and building-integrated photovoltaics and in other applications," said study leader Yang Yang, a UCLA professor of materials science and engineering, who also is director of the Nano Renewable Energy Center at California NanoSystems Institute (CNSI).

"We are excited by this new invention on transparent solar cells, which applied our recent advances in transparent conducting windows (also published in ACS Nano) to fabricate these devices," said Paul S.Weiss, CNSI director and Fred Kavli Chair in NanoSystems Sciences.
The team has to get some major issues to be fixed in the long run – like conversion rate per square meter and cost to manufacture the transparent photovoltaic cells. A 4% conversion efficiency equates to around 40W per square metre during the brightest part of a very bright day. Far too low for phone screens and even car roofs. The only way this technology can be made viable is if it can be applied to glass on the million-m² scale.
Whatever it is going to be, we sure are going to witness some futuristic technology undergoing the process of development.
what do you think? the technology can bring a wide range of possibilities for humans? or is it just another bunch of innovative idea which will never work practically?
[via engadget]