The "Byramangala Lake" we are talking about here is a polluted lake now. It feeds into the Kaveri river downstream. It is currently being ruined even more tragically as you keep on reading here, flushing your toilets. Not only you, but he factories keep on fuming as per their own convenience. There could be many more factors involved in this, and why shouldn't there be, when the major participant is such a big city as ours. Bangalore.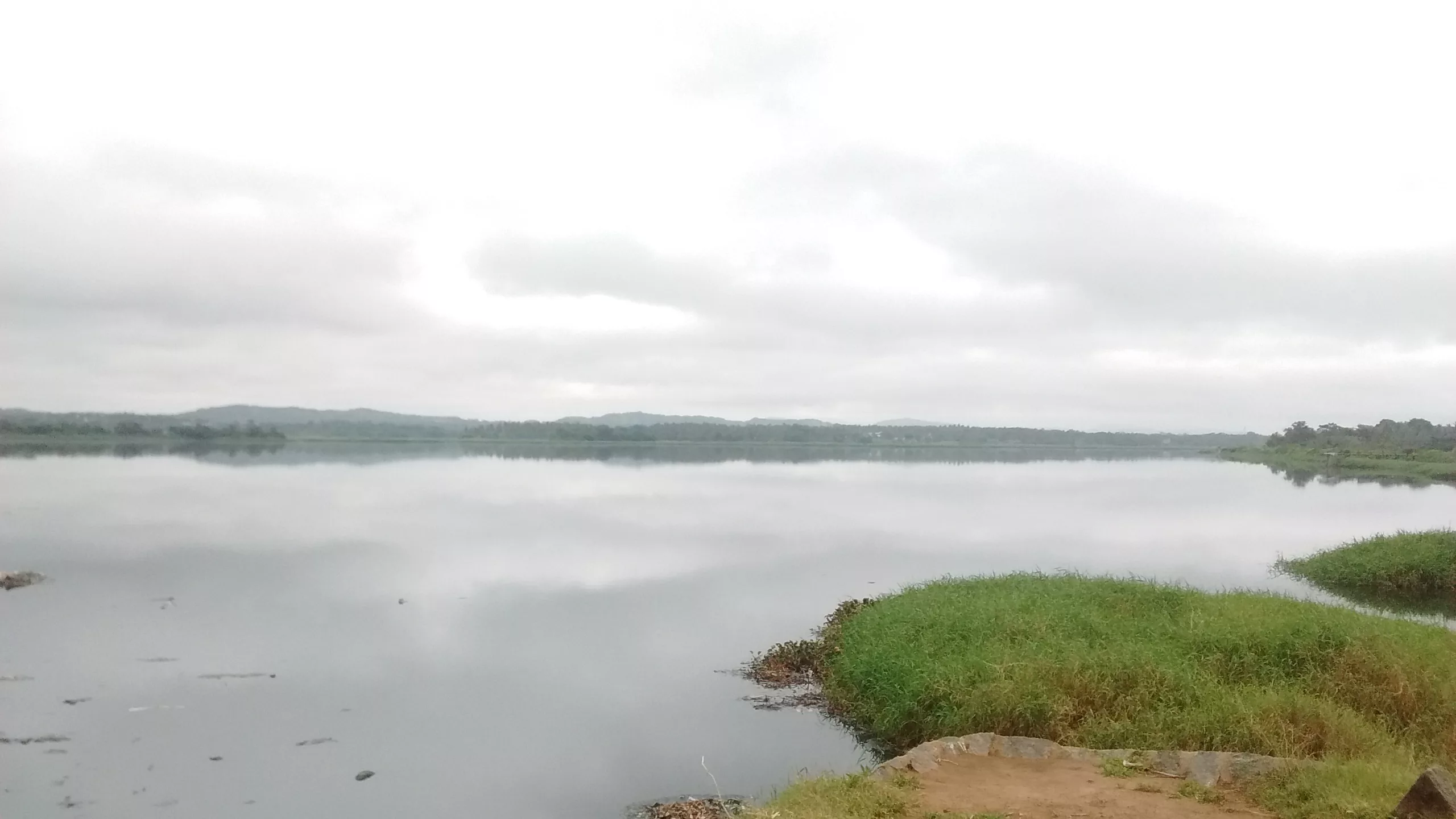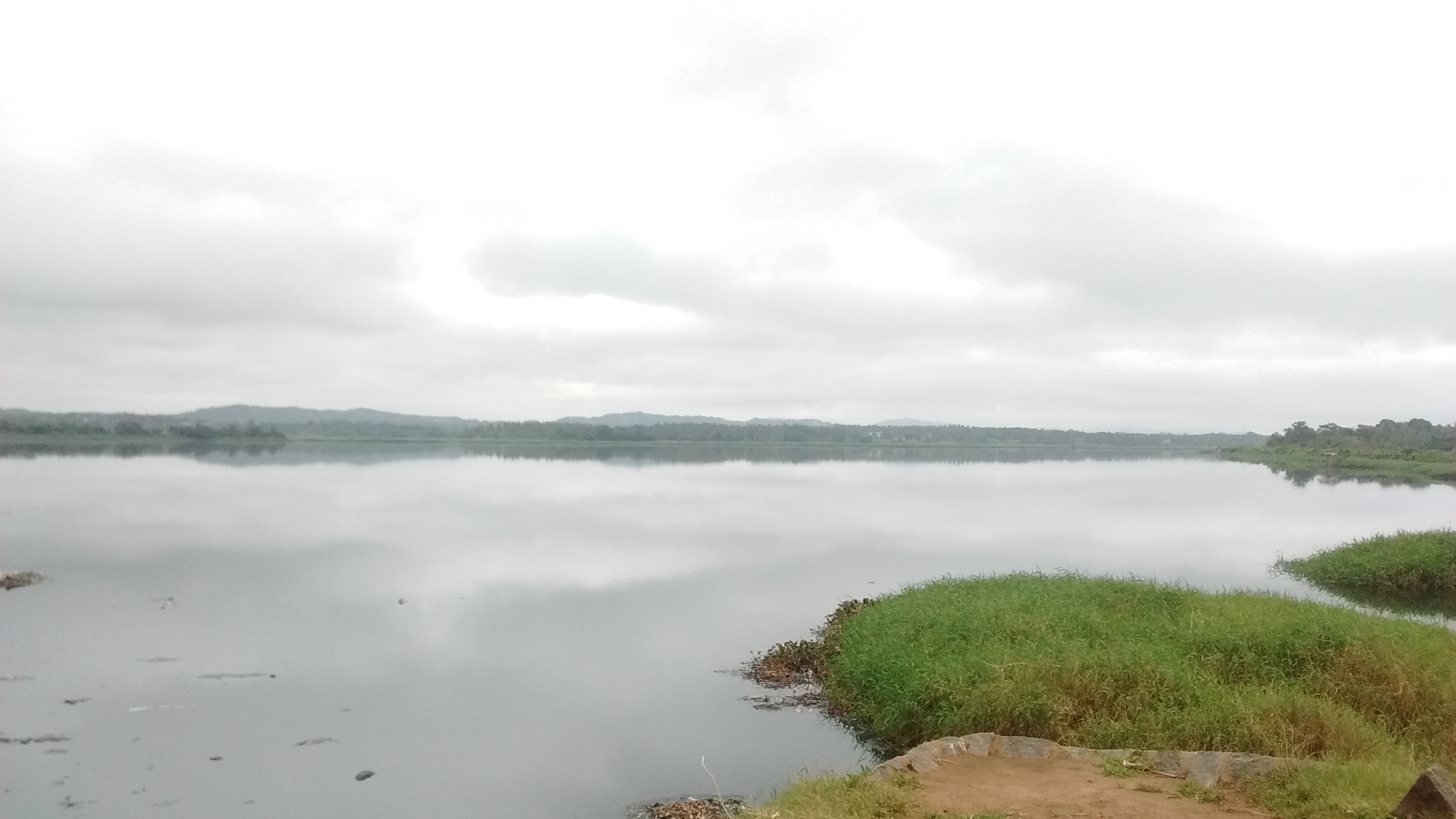 Destination
Byramangla lake, bidadi, Ramnagar (on Mysore highway from Bangalore)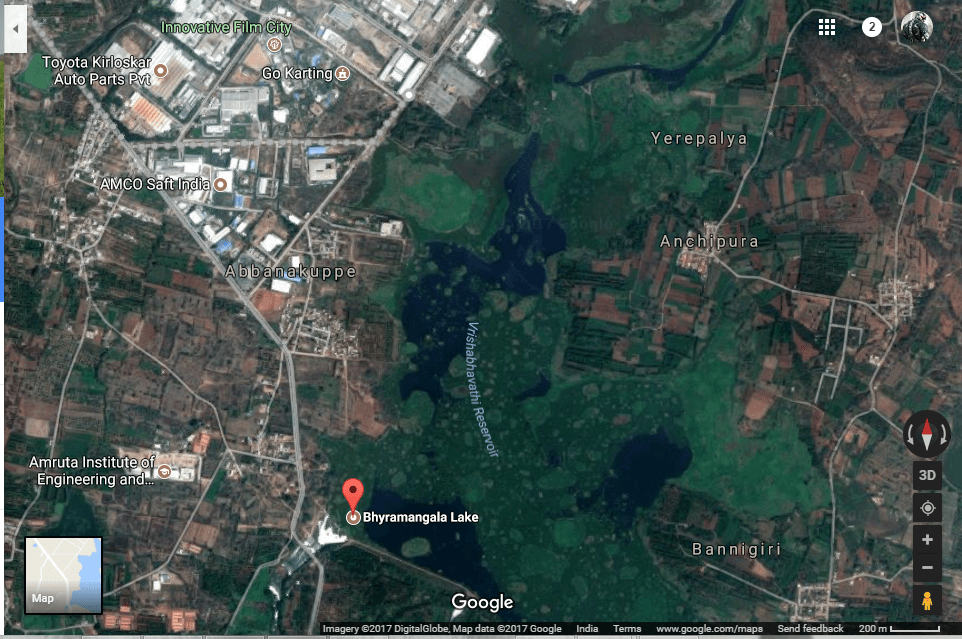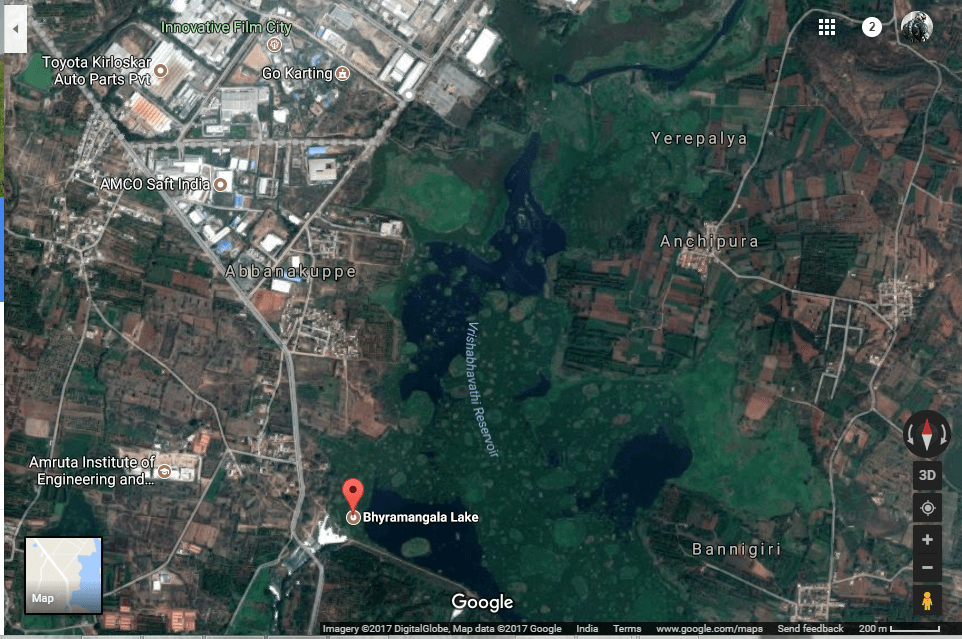 On the way downhill
The journey starts when a normal IT guy, usually drunk and high, on one fine Sunday morning decides to take a ride on his newly bought geared cycle. What he expected, he got it all. Fresh air, soft music, less traffic, good roads. All seemed good and green to him. And then he realized that the journey seems easy as the road was going downhill. Yes, Bangalore is kind of on top of a hill, a big one as a matter of fact. This explains why all our shit is going down this way, and you will understand this pun later.
After Reaching 30 km and he realized that he could see a big lake on Google maps named "byramangala lake". well he thought
"let's see. I've already come this far. I can surely go some more."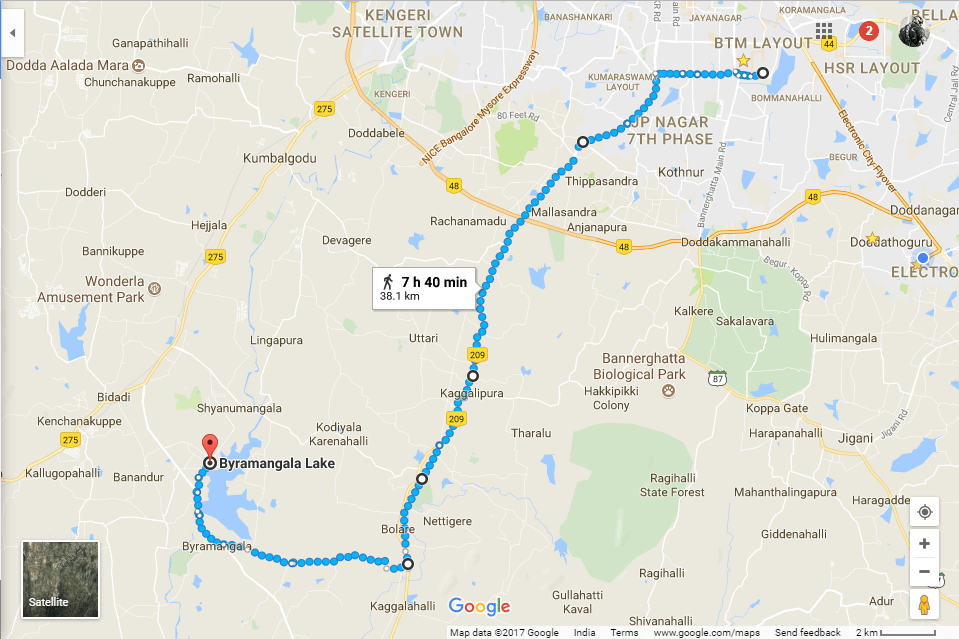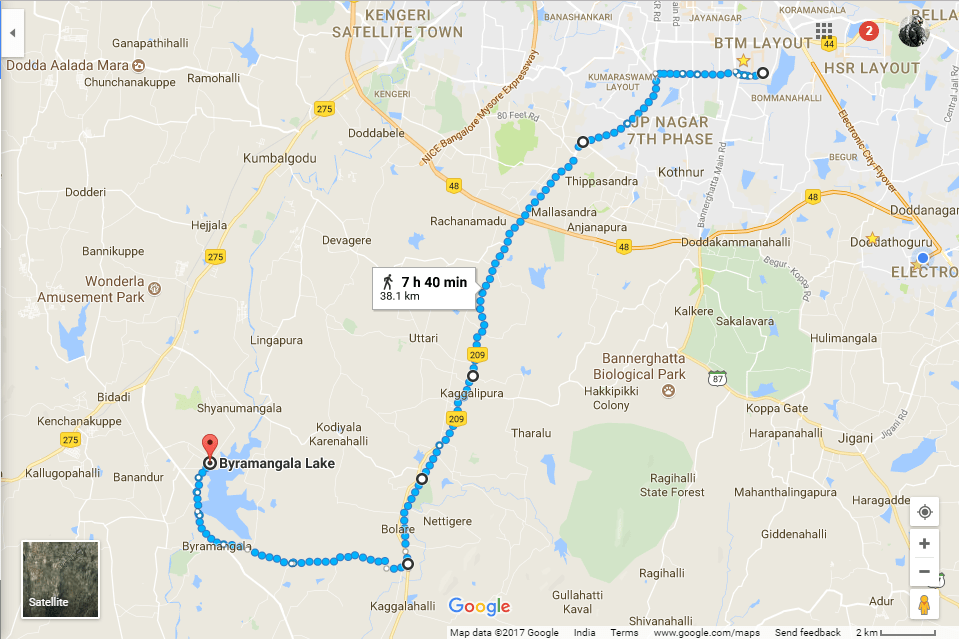 Now there were uphills, and he struggled even if he was extremely tired just so that he could have that clean few breaths on the shore of a big lake. He would finally find a place with nature singing in harmony and healing his scarred mind, body and soul. but this was not his destiny at all.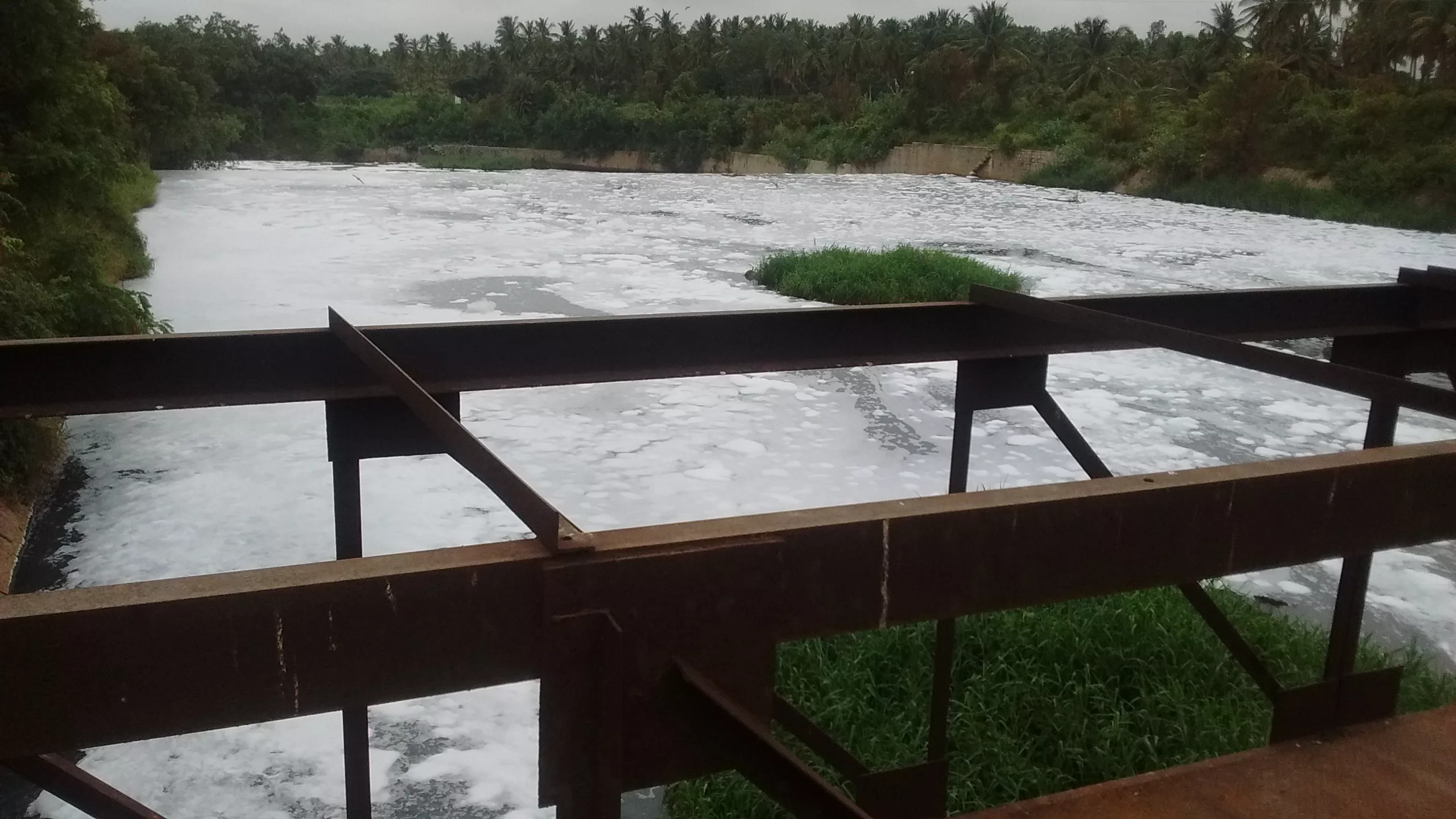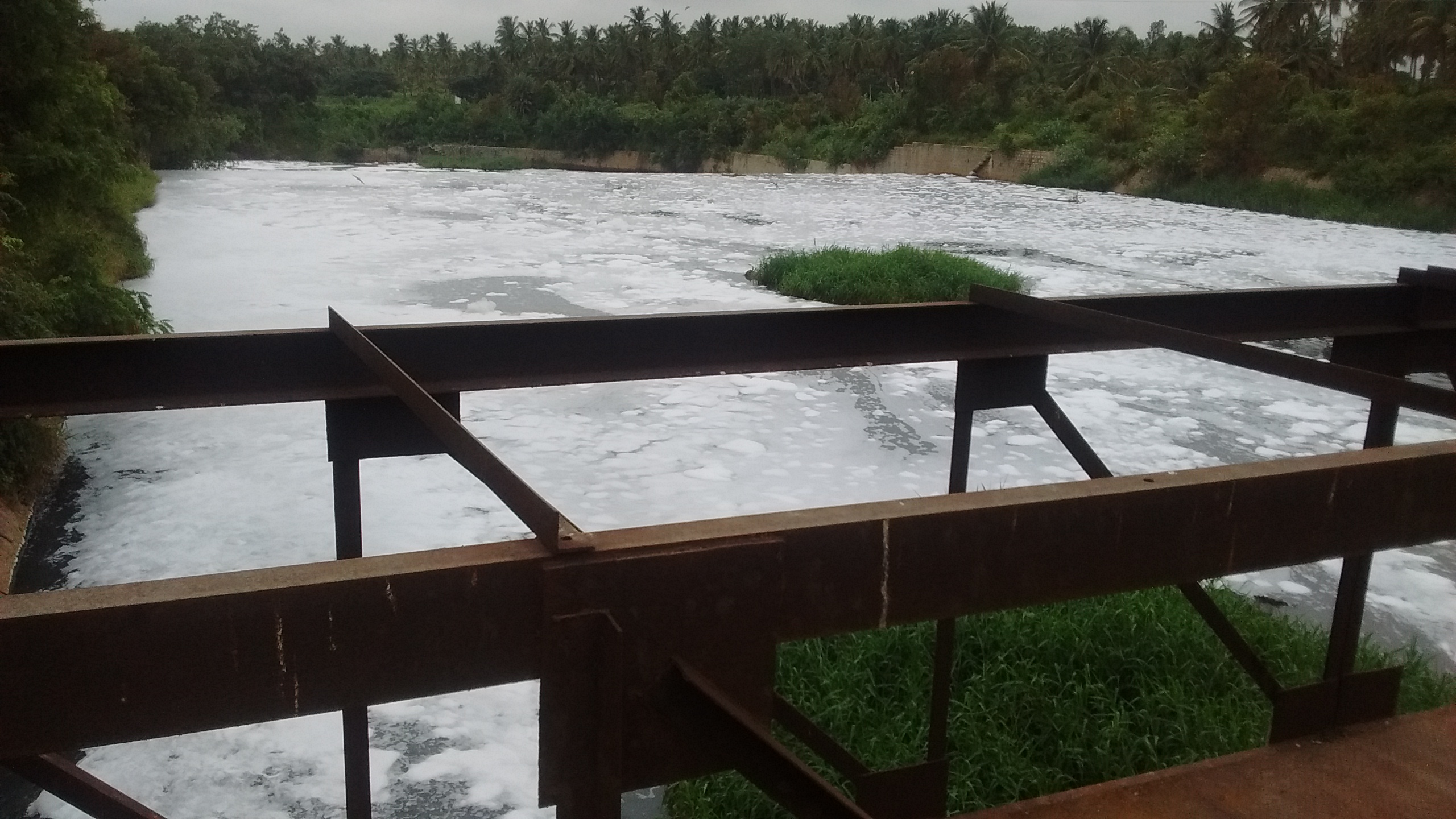 As soon as he crossed the bridge over the river, he knew something was wrong. but what he saw was far worse than he could have ever imagined. For a moment he was lost. he thought it was ice floating so daftly over the water.
"wow! I love it! wait, what?"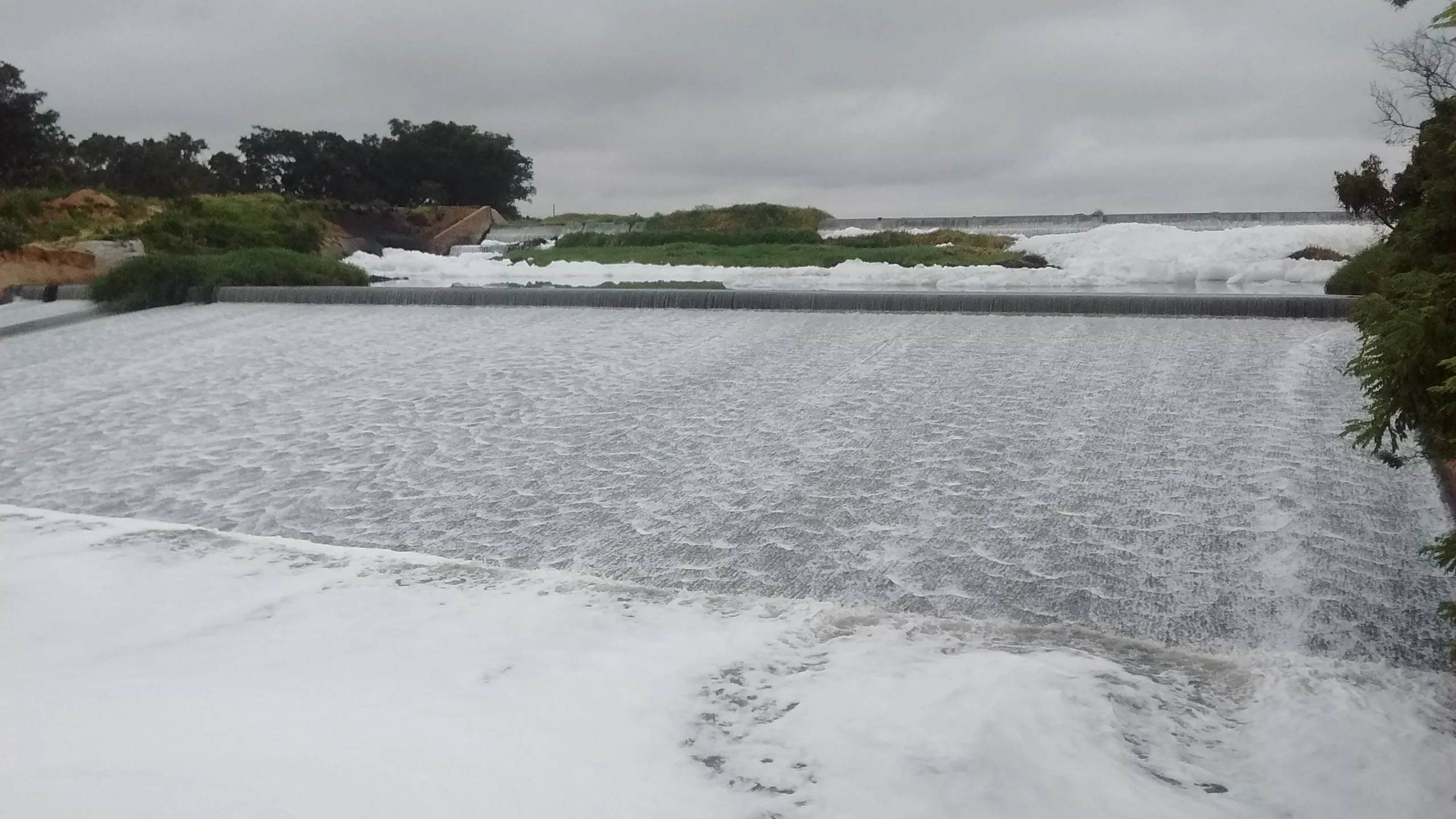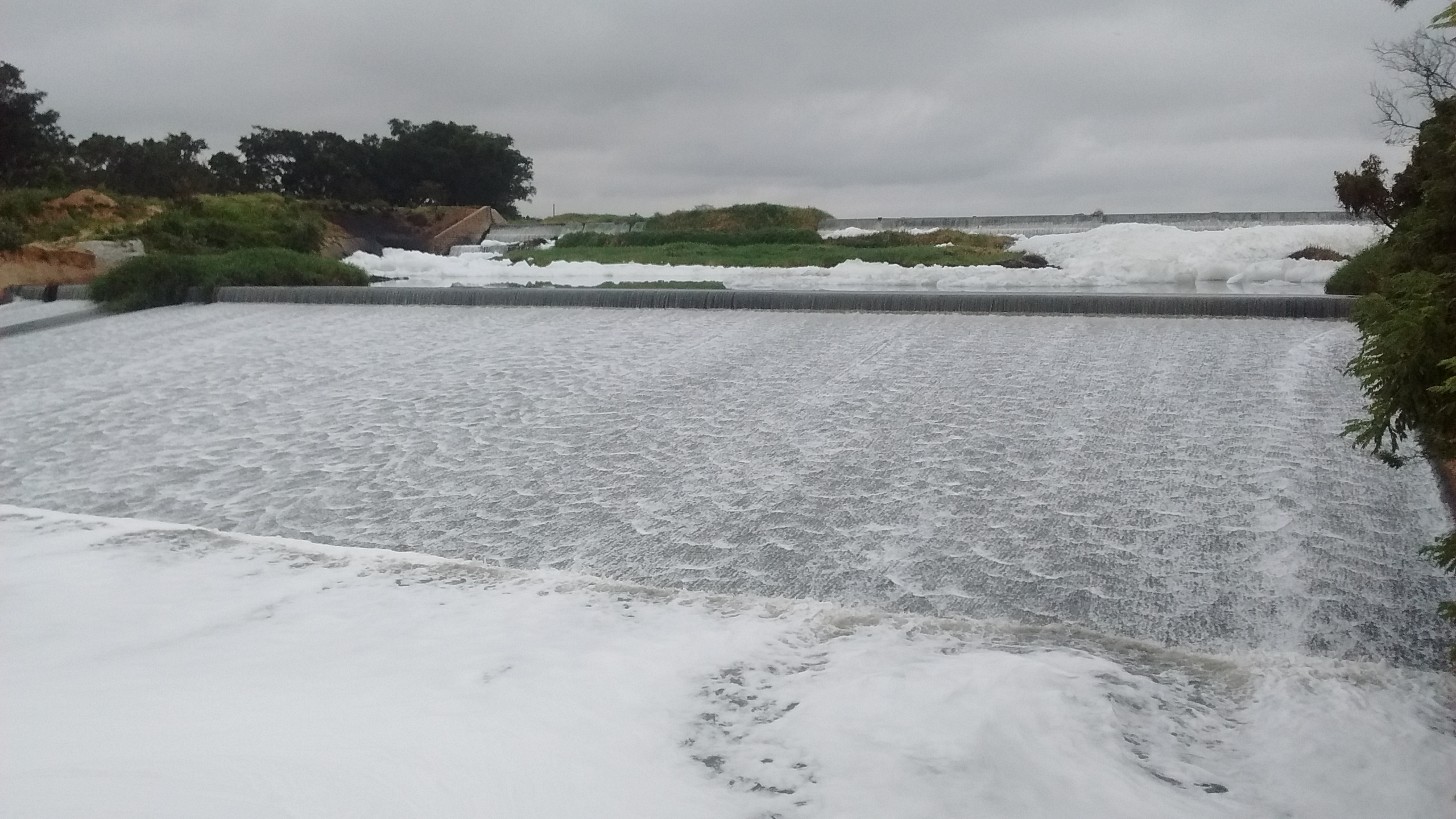 And then his body working slowly under alcoholic effect realized something.  There was a certain kind of smell lingering in the air. It is not even a fall of 10 ft, from water of the byramangala lake over the dam into this so called river. The force of waterfall had already gathered up foam, almost to the same height as the fall itself.
The shock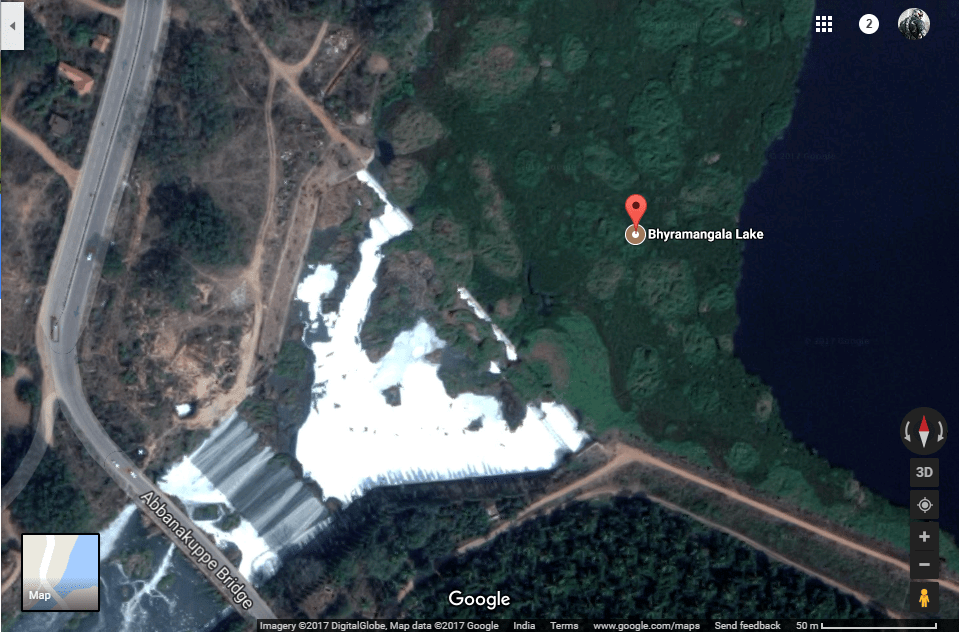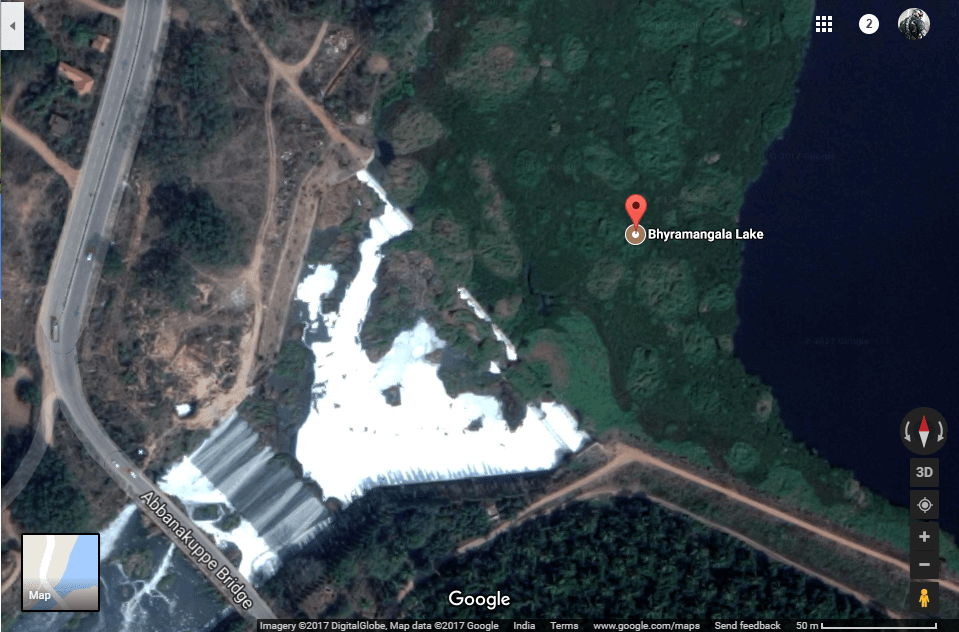 It was beautiful, and sadly nothing more than an illusion for him now. He mustered up some courage and went off track to see things in a closer manner. What he observed was weird. Everywhere the foam or the dirty water from the polluted lake reached, was left with a thick layer of black deposit with chemically foul smell. The foul smell had started to hurt him. Being a smoker and also cycled this far, his body needed oxygen. He felt discouraged, angry, betrayed, guilty, dizzy, weak and sad all at the same time. All of it had been in vain.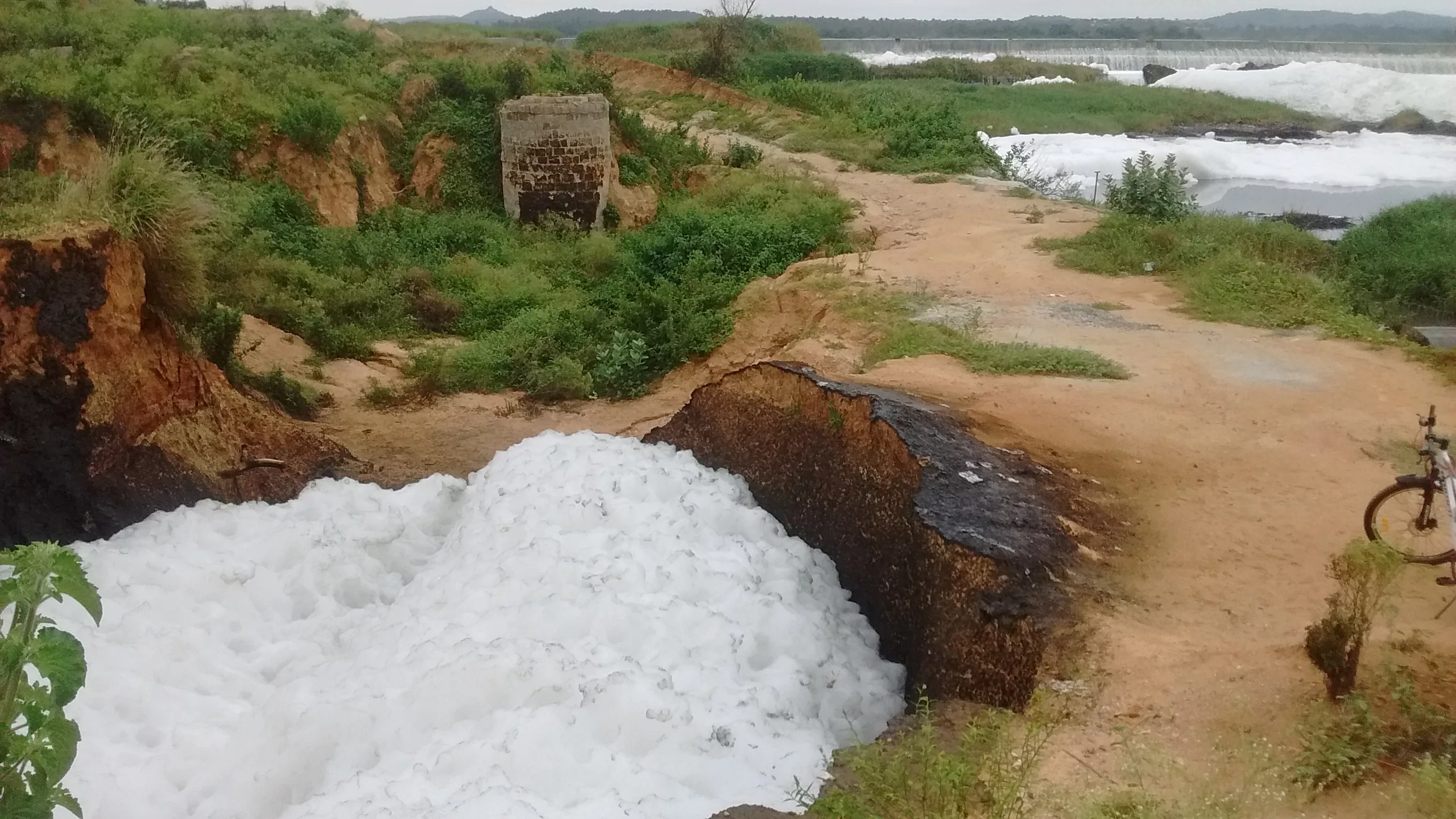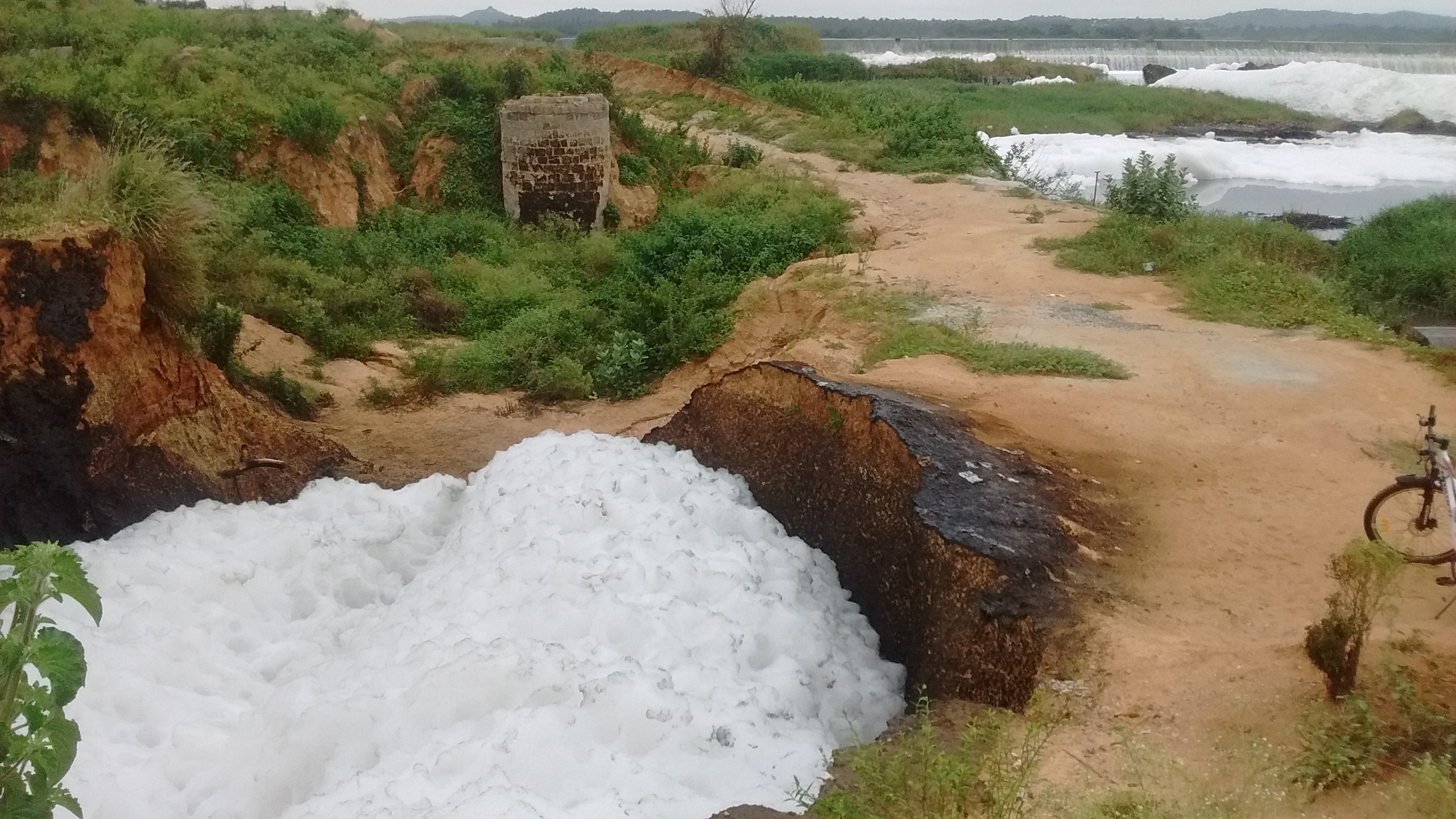 With the feeling of hatred, he looked around with desperate eyes to see if he can find anybody who could help him understand what he saw.
"What is this agony?"
Think of what would have happened to the flora and fauna around it. The nature around this kind of water stream must really feel like they are living a ghetto of some kind, in their own terms. He thought instantly in a moment about how frequently he has to clean his own fish bowls to keep the fishes alive.
"Who the fuck comes to cleans this mess?"
"How to clean this fish bowl ?"
The action plan
Without further ado, he made small videos and clicked a few pics which could be considered as proof. He could have explored further and gone on about it, like a casual tourist. But he stepped off towards his journey home with his sad heart, his tired body, the guilty soul, a punctured cycle from the off-roading near lake and a deep impression on his mind.
Talking to people
He had to do something, he just had to. so, he went about to nearby shops and in the fake act of casual relaxing, smoker. Talked to a few people. He did not get anyone's attention. It was just not that interesting for them as it was for him. Hell! they all understood him but always kept repeating that "they didn't understand him at all". then a drunk guy comes to the same shop, and luckily there were options to buy alcohol tetra packs even at 8 in the morning at that place. When the other drunk guy could not even stand properly, our drunk cyclist went and asked him about the lake. To which the local replied in broken Hindi and Kannada. The lake has been like this since the time of his grandfather's, meaning almost 100 years.
He did not trust this drunk guy's verdict. Next up was the lady shopkeeper. She reluctantly answered to his questions in a bad tone "It's waste water from Bangalore". He replied in a furious tone, "What about the large manufacturing factories around here?". she calmly answered, "Yes, why not. them all are responsible". He could not understand what she tried to imply.
The way back up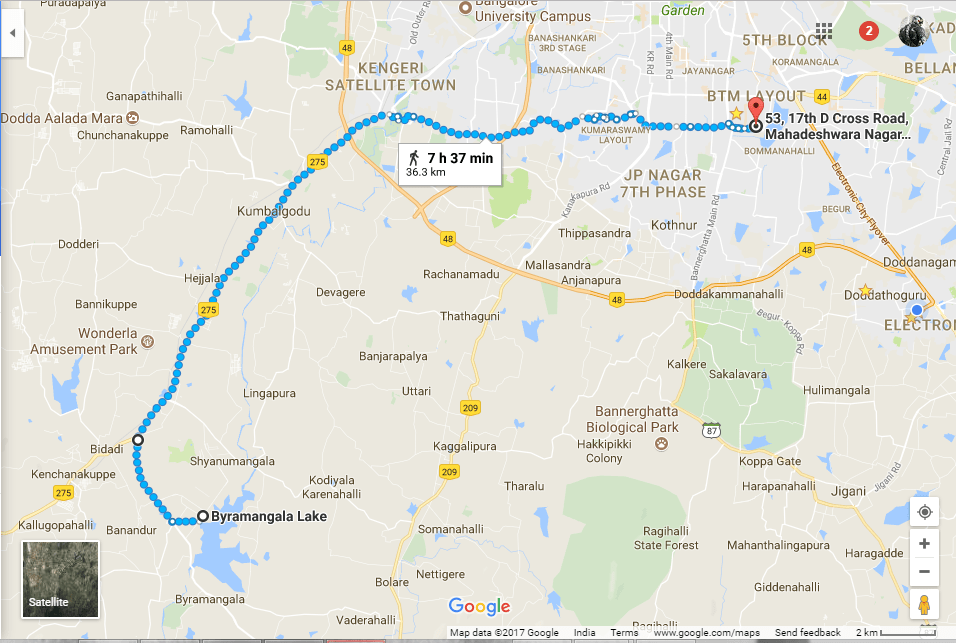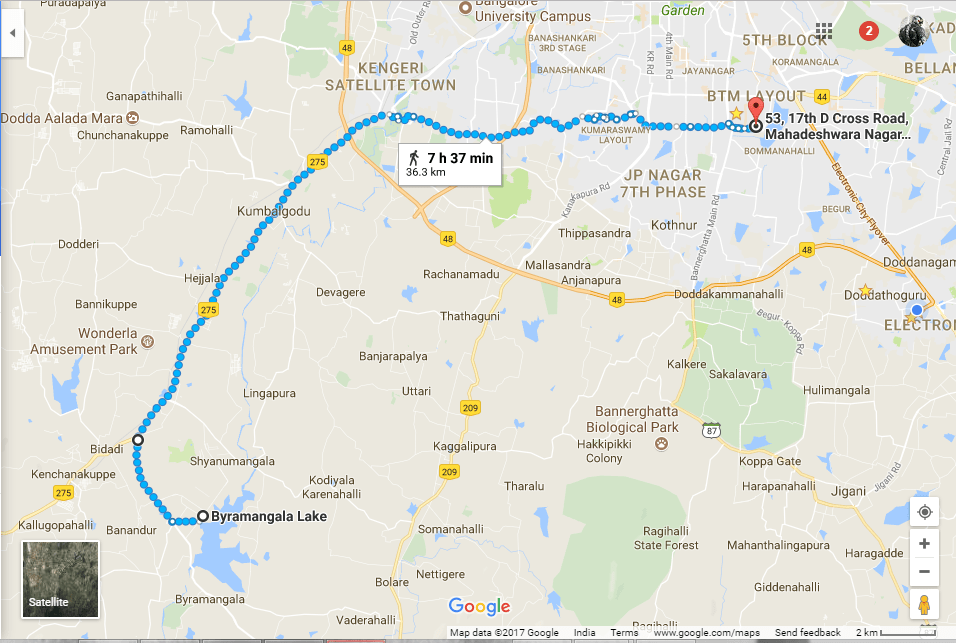 On his way to Bangalore, after the smoke stop, there came a large stretch of highway. Then came a very small lake on the left and then a small city with people bustling around quietly. Throughout the way between these two stops, he could only see different big factories. They all had big names like Toyota, coca cola, Ashok Leland, Maruti, and many other power plants, chemical and rubber plants manufacturers.
Guess what they could be putting into the fish bowl as per se, every new sunny and beautiful day. What a blissful day it was!
At this small stop, he felt hungry unusually, and had a snack. But the whole time wondering what is wrong with us all. Maybe we are all this way on big or small levels. For example, he noticed a person well dressed enough to know English having breakfast on the same table. He struck a weird conversation where the other person was not willing to talk. He was a worker in Toyota too, and when asked about the lake, he grew suspicious and started talking about the nearby small lake as if he did not know about the big one is right over the corner. Another Liar.
Realization
He somehow reached back to Bangalore and bought several clean mineral water bottles. In every bottle, he could only taste the water of the polluted lake, and in every gush of wind, he could only smell the foul smell as was around the lake. He was once again lost in the life of a mega city. Lost in its rush. Lost in its life. In the beginning, it was a big thing for him to talk to people about this, but the topic always twisted itself into something or the other, and never continuing on to the main solution or reason about improving the situation of this polluted lake. Maybe this could be one little step from his side.
He never did fully understand, who is the fish and where is the bowl.!
@[email protected] [email protected]@ .. @[email protected] !
Think about it, and if possible, do something little on your part to stop this.