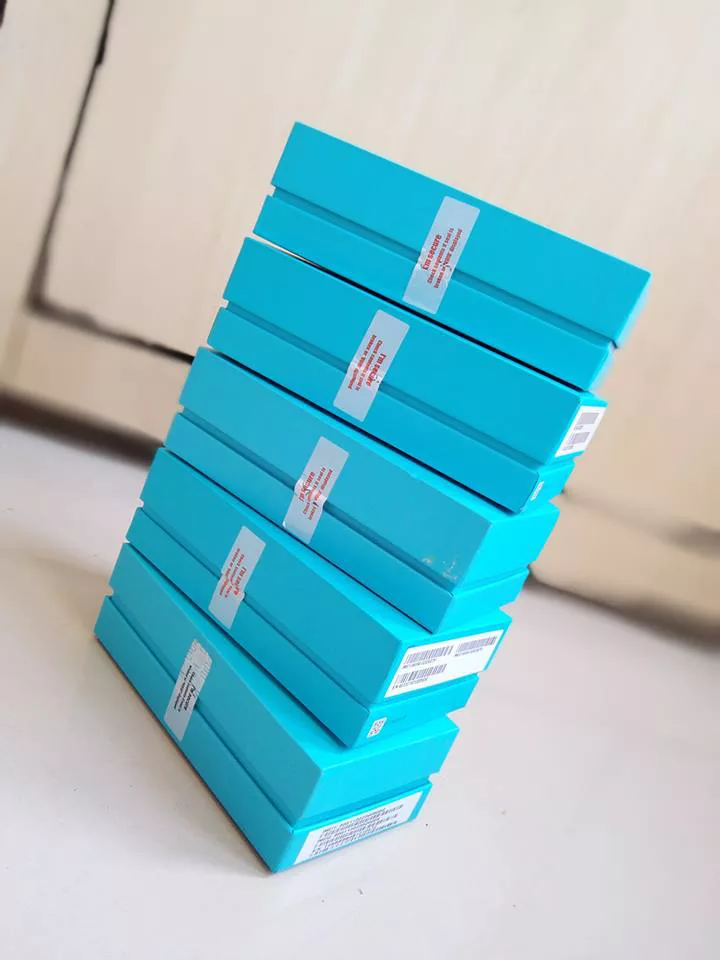 Huawei is not a name that requires an introduction anymore. It has established itself as a popular brand — thanks to their latest smartphones with outstanding features at affordable price. We had Huawei Honor 6 Plus as our primary smartphone, as we received 5 of them and here's what we think.
The new smartphones launched by the company including Honor and Ascend series performed really well in the market. Now that company has a great consumer in India and most parts of Asia and Europe, it is thriving to deliver the best to its customers and Huawei Honor 6 Plus seems to be the right step in the direction.
So what makes this phone successor of it's popular variant Huawei Honor 6? We spent 5 weeks with the device to find out where it stands in real world scenario.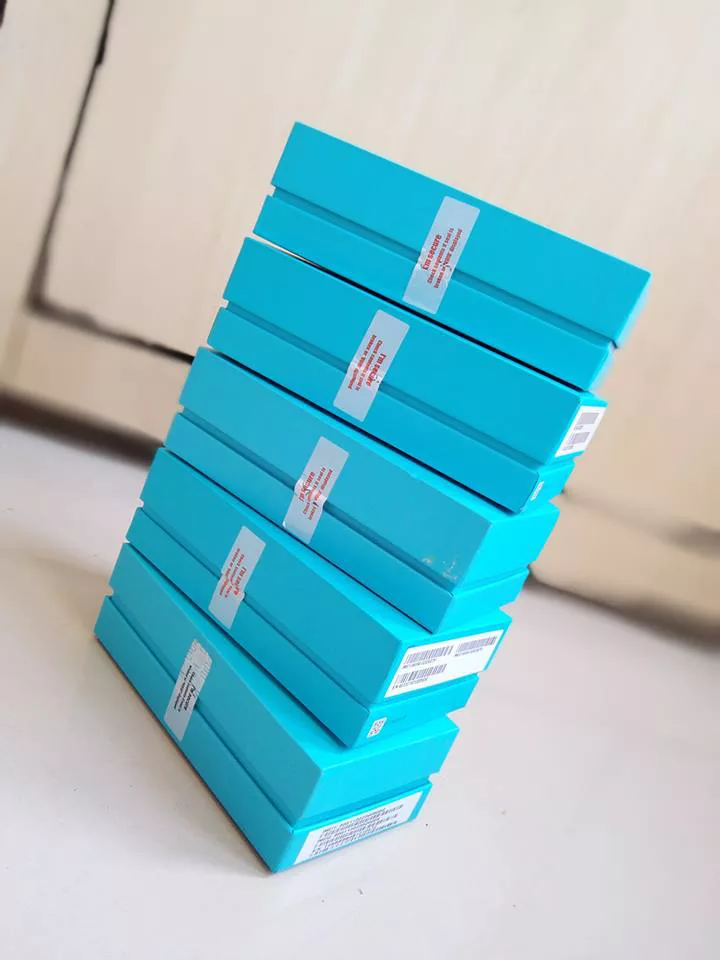 Unboxing
Unboxing of Huawei Smartphone has become a little bitter in taste because every phone they ship usually have the same packing and in-box accessories. This is true for Huawei Honor 6 Plus as well. The phone comes with Huawei's standard box, with same in-box accessories that were bundled with Huawei Honor 6.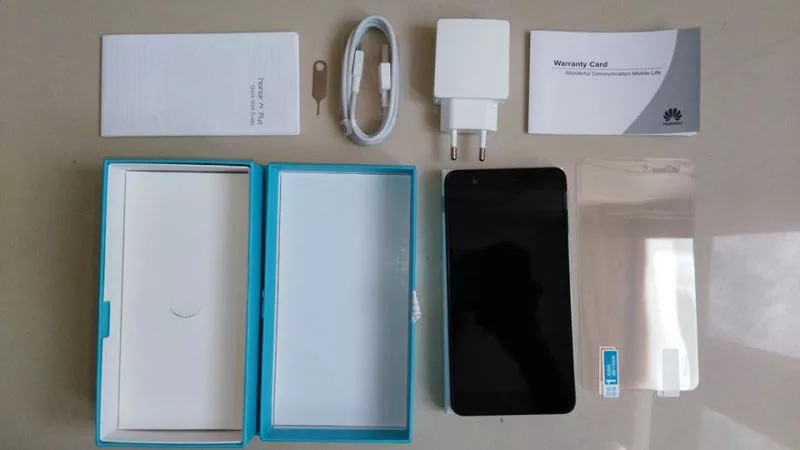 The box contains Huawei Honor 6 Plus Smartphone, A Travel Adaptor, USB cable, Sim Card Tray ejector, Warranty Card, Quick User Guide and Two scratch guard films (One for display and other for the back). There is no earphone in the box, which is pretty standard for a Chinese phone, but at this price range it could be included in the package.
However, to make us happy Huawei did some creative stuff with the packaging. We found this smiling right back at us.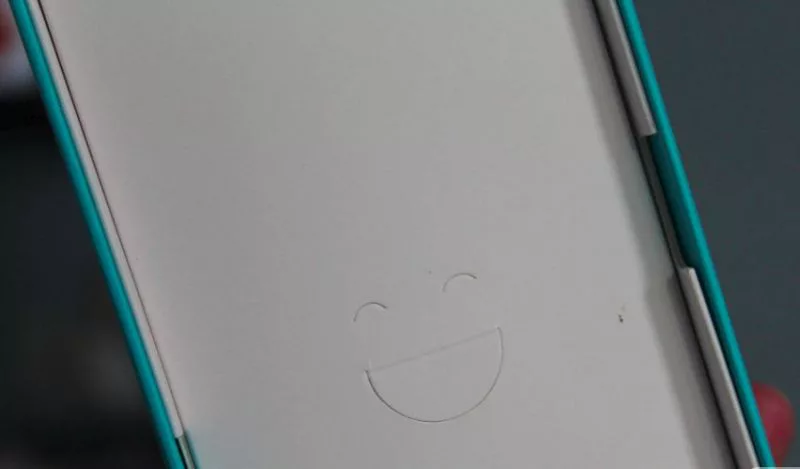 Build Quality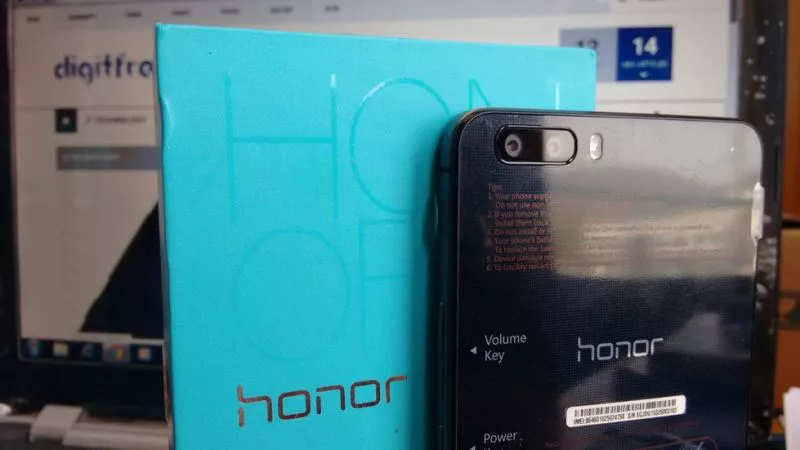 When we opened the box for the first time and held the phone, we observed a slim beauty (well not that slim, but it still felt better than most of the phones) that somehow felt really nice to hold. The look is very similar to its predecessor but, it felt premium and less plasticky. Our first impression was really good, and we felt this is the phone which can really bang on the edges.
This rectangular piece had a distinguished look. Despite the fact that it feels very similar to the iPhone 4 and Xperia Z3, it feels sturdy in hands and comfortable to hold (thanks to the slightly curved edges).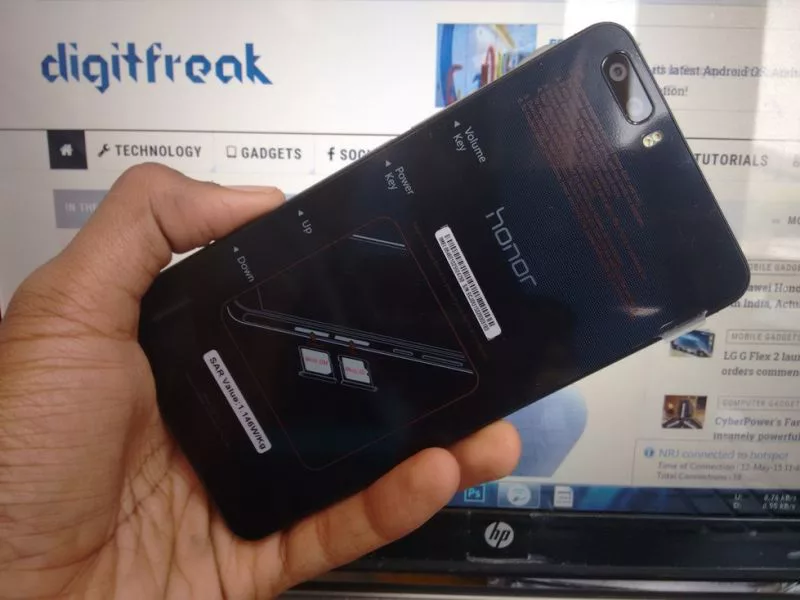 The side panel is metal alloy unlike its predecessor, which gives it a premium feel. Huawei claims that this phone has super strength and is solid. So solid, in fact, the Huawei states that the glass back of the phone is "bulletproof" – we will strongly suggest not to try it yourself. No, we didn't try it as well, fortunately we don't have a gun at the office but, I did drop this phone couple times during the testing period and, unfortunately, it got a crack at the top side of the screen. Not so strong after all?
Measuring 150.5 x 75.7 x 7.5 mm and weighing 164 grams, it is stocky but still oddly comfortable to hold and use. This is mostly due to the rounded edges at the bottom, which do not dig into your palms like most angular phones do.There's a 5.5 inch 1080 x 1920 pixels IPS LCD display, which equals a pixel density of about 401 ppi.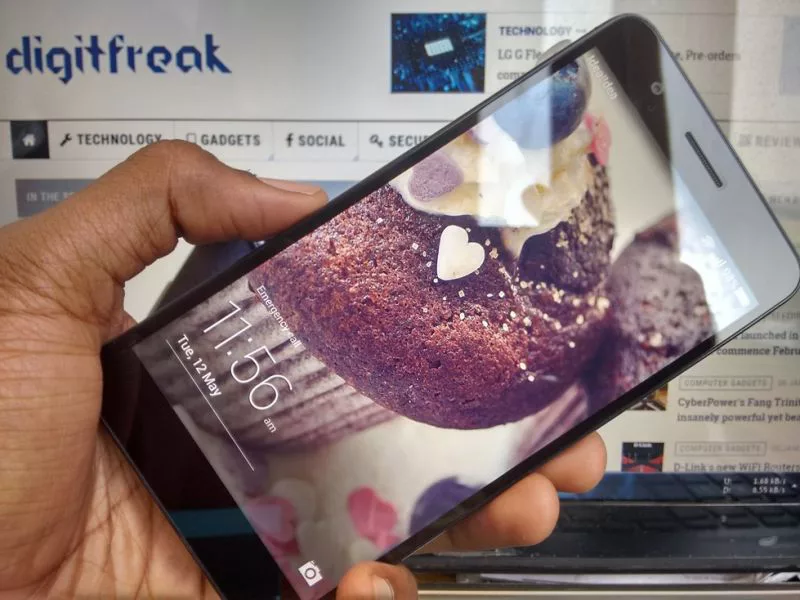 There is quite a bit of bezel all around (2.36mm slim on the sides), so it doesn't look as slick as it could have, but Huawei still managed a somewhat decent 73.2 percent (approximately) screen-to-body ratio.
The 5.5-inch Display is protected by Gorilla Glass 3, and back has multi-layered transparent panel with a beautiful text beneath it. It sure is a unique touch, and that beautiful text with blue-ish tint looks really great which attracts attention. The phone has 8MP dual rear camera, which according to Huawei has been placed linearly to each other for better depth perspective.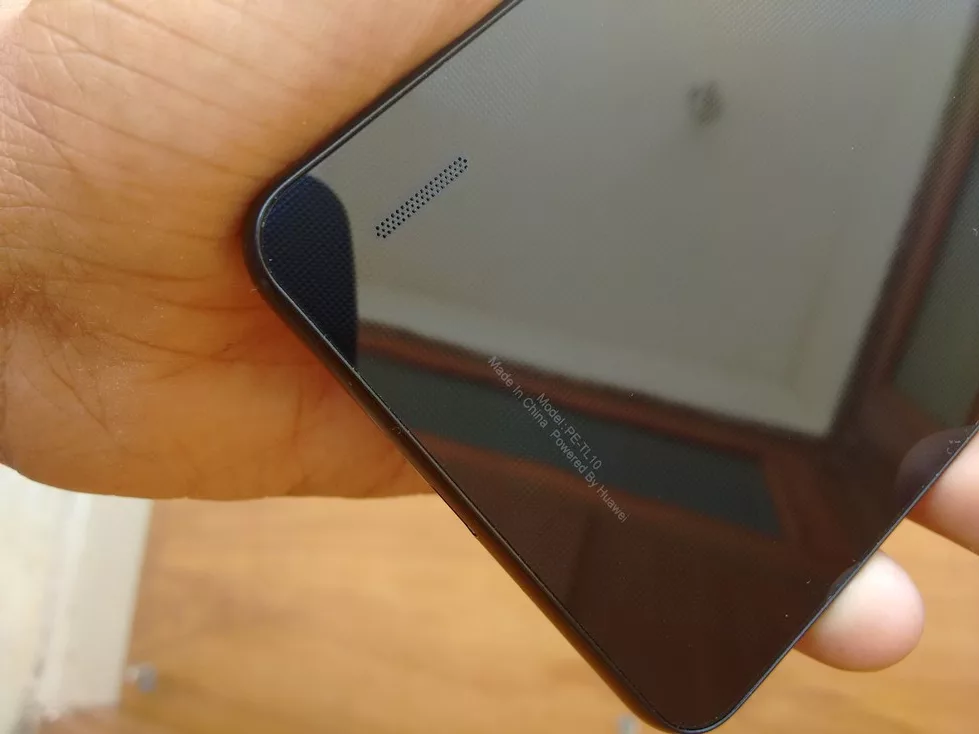 We tested the phone for almost 2 months and it turned out the rear camera setup is more of a gimmick than a feature. We will talk more about it in the camera section.
Moving on, the phone has 3.5mm Audio Jack at the top and an IR blaster at the center (which is used for remote control), there is also a noise cancelation mic right beside it.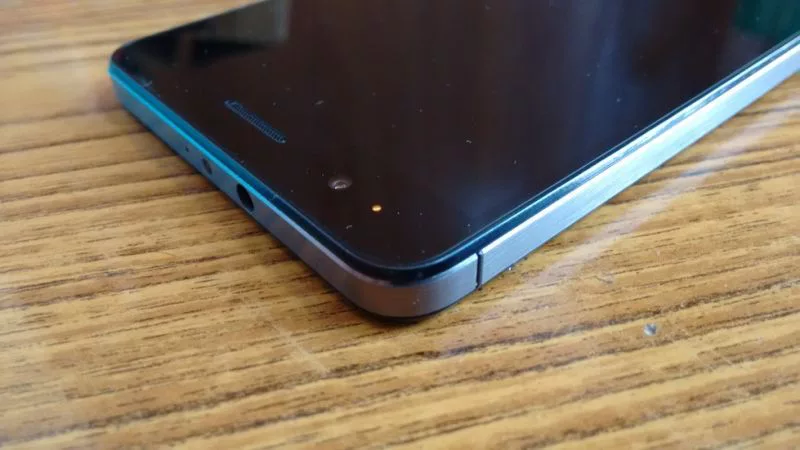 There is nothing on the left side, where as a power button and volume rocker on the right side. The buttons are really good and responsive, it also has a smooth texture which feels good while using them.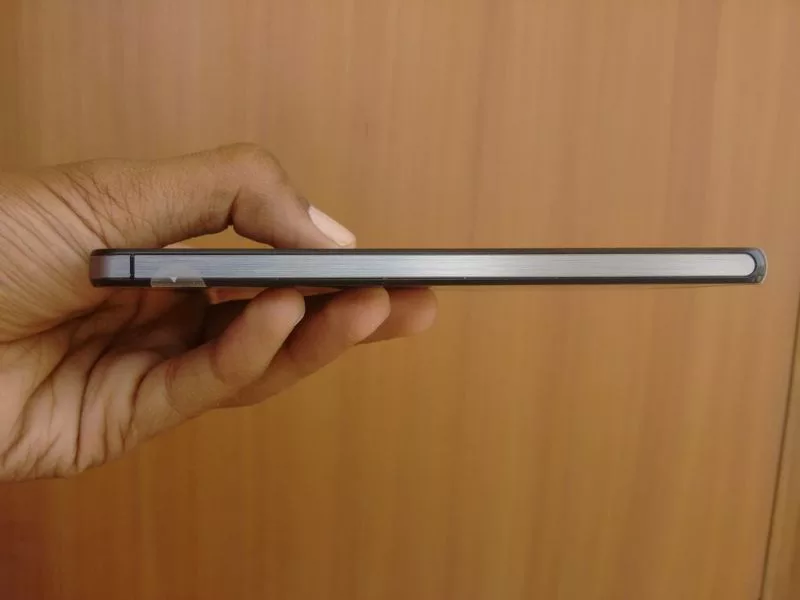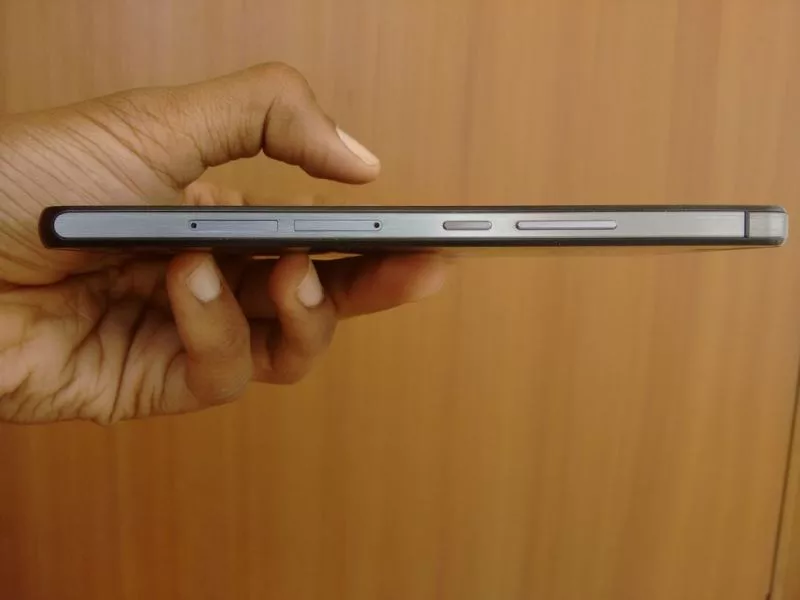 The bottom has a USB port, which can be used to charge the phone or to transfer data. OTG is supported by this phone, and you can easily use your pen drive as an external storage on this phone.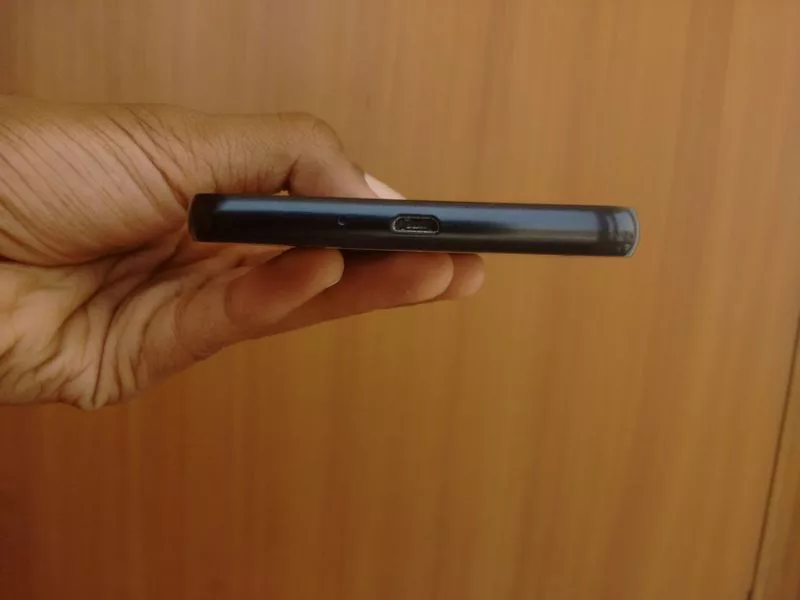 This device is little on the heavier side, and it still struggles to bring the premium touch that you can have with high-end devices. The Sim card slot didn't accommodate the Sim card tray properly, you would feel that something is not right when you place the tray into the slot. It might be only with my review unit, but again we have 5 of them. Precision and finishing touch is missing on the phone, it seems like Huawei did make these in a hurry.
Don't get it wrong, the phone works perfectly and delivers what it claims (with minor issues, which can be easily fixed). Lack of craftsmanship and precision makes us little sad, for a flagship device they could deliver much better.
Display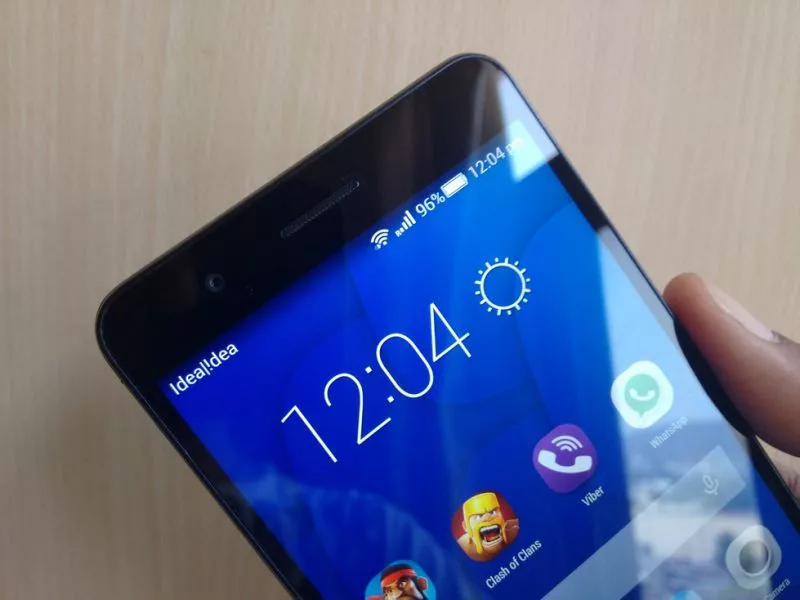 Huawei Honor 6 Plus has 5.5-inch (13.97cm) 1080p in-cell TFT display that produces 16.7M colors, and is bright and crystal clear. There is nothing wrong at this segment. It produces really sharp and clear images on the screen, which has really great viewing angle. Surprisingly, if we could see everything on the screen clearly when we stepped into the direct sunlight.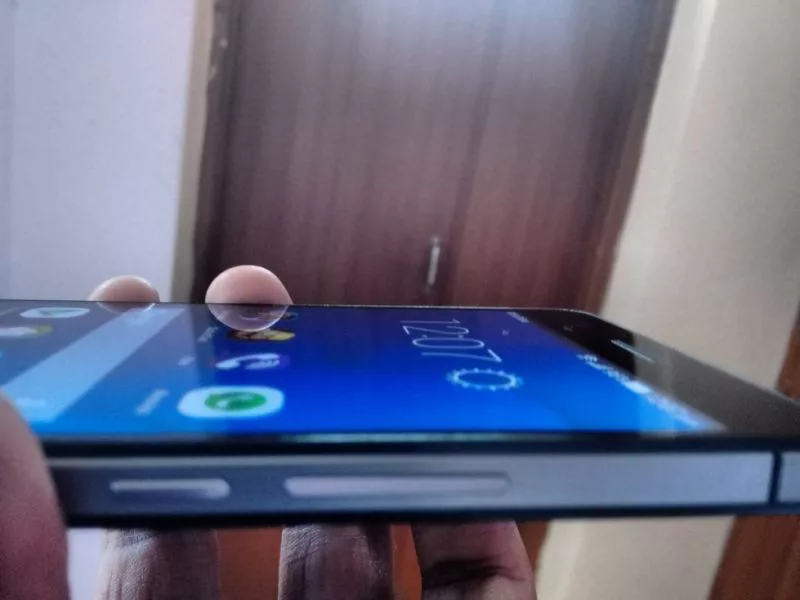 The auto brightness mode is a little buggy, it gets too dark or too bright in non-favorable conditions. While indoor, the phone's display can get too dim, that you have to strain your eyes to read the text properly. And sometimes it just doesn't lit up the screen bright enough in direct sunlight. It is sure a software bug, and will be addressed on the next update.
When you turn off the Auto brightness mode, Man! this phone can go really bright. If you monitor closely, the display has hexagonal like structure, which comprises of neighbor pixels and makes it even cooler. I don't know what to call it, you have to see it yourself.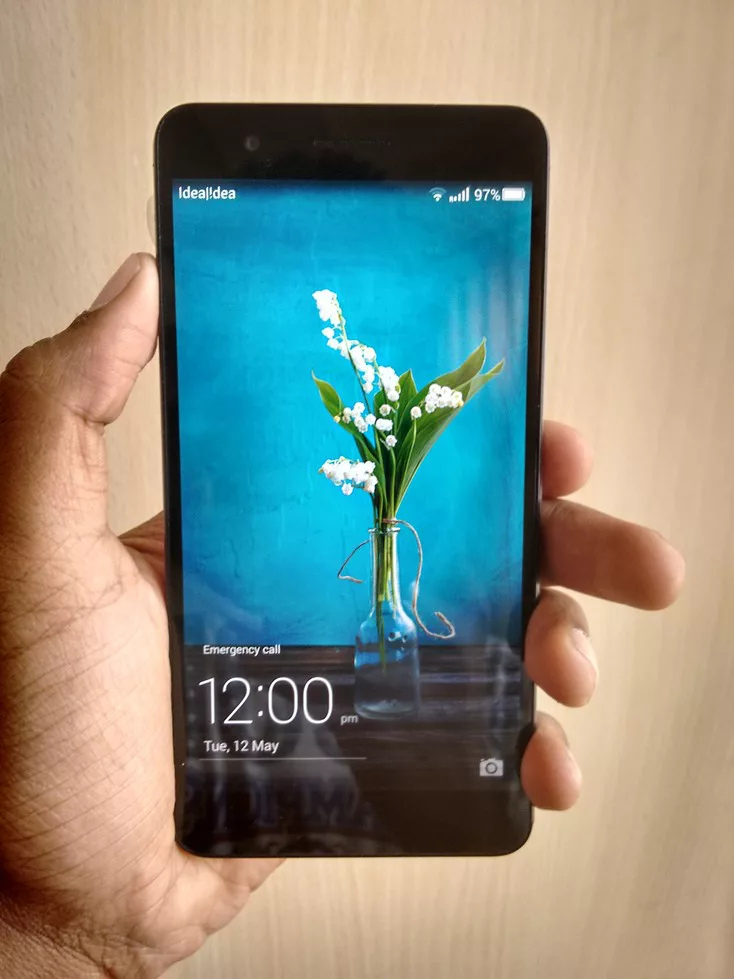 It might not be as bright as Samsung's patented Super AMOLED Technology (which is something I really like), but it won't feel anything less than any other device available in the market right now. We really liked the display of this device and you can go ahead and buy it if you are looking for something you can read online content or e-books.
Camera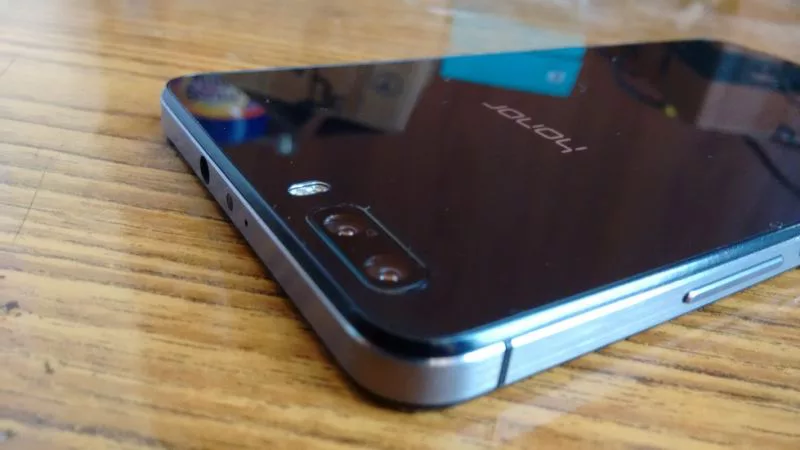 One of the key selling points of the Honor 6 Plus is the unique 888 camera setup with two rear 8MP combining to offer some interesting defocus effects. The two rear cameras allow you to place the handset on a steady surface, capture an entire scene and then change the focal point of the image in post-processing.
This is why most of us wanted to test this device on the first hand. The so-called "First in the world" Technology — dual linear camera. It is really something so special that can make this device stand out? We used the camera over a long extensive period and our impression wasn't what we can call something "astonishing," or "marvelous."
But Huawei boasts so much about it! So where it really went wrong? Why?
We have few reasons, first 8MP rear camera doesn't deliver some out of the world aspect of the photograph. Everything that Huawei claims it does, is mostly controlled by the software. Wide Aperture mode is another feature which doesn't quiet cut it. The photos taken are always hit and miss and doesn't always end up same as what you see in the preview after taking the shot.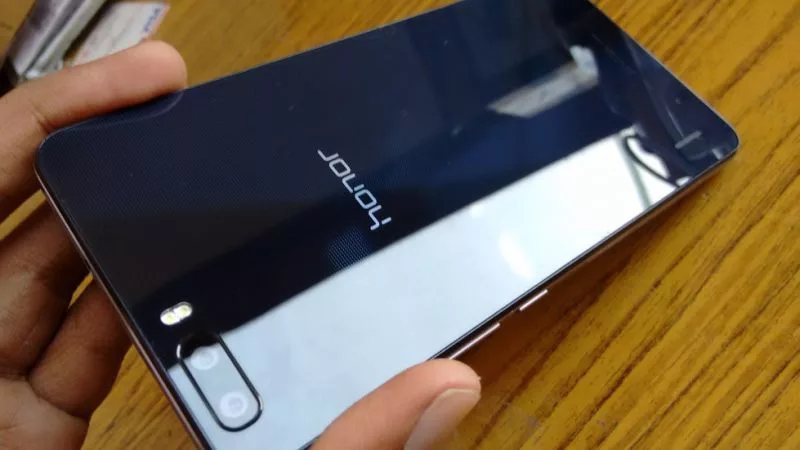 That being said, the pictures are clear and this phone can take a DSLR-like images. It is powerful and can take some shots, where other cameras would simply back away.
The dual camera setup has one huge benefit, it allows double the light to enter into the lens than other camera phones out there — which in turn deliver way better images in low light scenarios.
Just like the M8, the dual rear cameras record depth information in a scene, allowing the ability to set a focal point after you've taken a picture. Unlike the M8, both the rear cameras on the Honor 6 Plus are 8-megapixel shooters.
The main one is an auto-focus camera with f/2.0 aperture while the secondary one comes with a f/2.4 lens and is fixed focus. I couldn't find solid specs about this anywhere, but apparently the maximum aperture of the rear camera is f/0.95.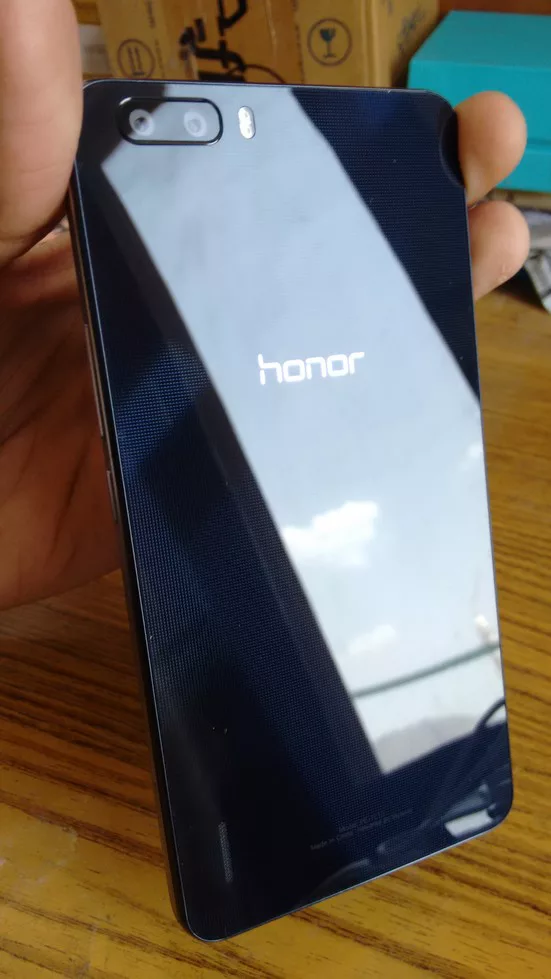 These work together to capture that depth information, and can also capture different exposures for a single scene, allowing the Honor 6 Plus to be very quick at taking HDR images. To achieve this all, Huawei uses a powerful ISP with a 'triple IE' (3IE) graphics engine that the company says it has been working on for some two years. It is also worth mentioning that the sensor is the newest Sony BSI IMX214 sensor, just like the one in the OnePlus One or Oppo Find 7.
Huawei's camera UI is similar to other camera apps, with most of the screen acting as a viewfinder. Swiping on the right side of the viewfinder allows you to go between photo, video or 'wide aperture' mode.
Whereas on the left side, you'll find a toggle for the flash and front-facing camera, as well as a button on the side that gives you access to more scene modes, including a Beauty mode, 'Audio Note' mode, 'Best Photo' mode, watermark mode, HDR, Panorama, and even a 'Super Night' mode that really seems to work for dark shots.
Rear Camera Samples:
Rear camera sample (wide Aperture mode):
Front Camera Sample
Hardware
This phone is definitely a beast when it comes to the hardware features it has to offer. It beats many high-end smartphones, which are priced fairly high. It is bang for the buck if you are looking for a device that can deliver performance with stable battery backup.
Just like Samsung, Huawei also constructs their own processors and chips, which most recently were used in their flagship smartphone, the Huawei Ascend Mate 7.
Huawei's HiSilicon Kirin 925 powers the Honor 6 Plus, and it offers pretty high-end performance, resulting in the UI being very smooth and quick overall, with very rare instances of lag.
It's hard to explain the performance quality of Huawei's architecture in comparison to Qualcomm's Snapdragon processors or MediaTek processors, but the Octa-Core processor (combination of 1.8GHz quad-core Cortex-A15 & 1.3GHz quad-core Cortex-A7) is supposed to be on equal footing with the Qualcomm's Snapdragon 805 processor, which we saw on the Moto Turbo.
Which is why it is no surprise that there are no hiccups or stutters at any point on the Honor 6 Plus. Even the most intensive 3D game played just fine, with no frame drops (except in extremely dramatic, taxing moments). Here's a couple benchmarks to give you a better idea of how capable that processor is: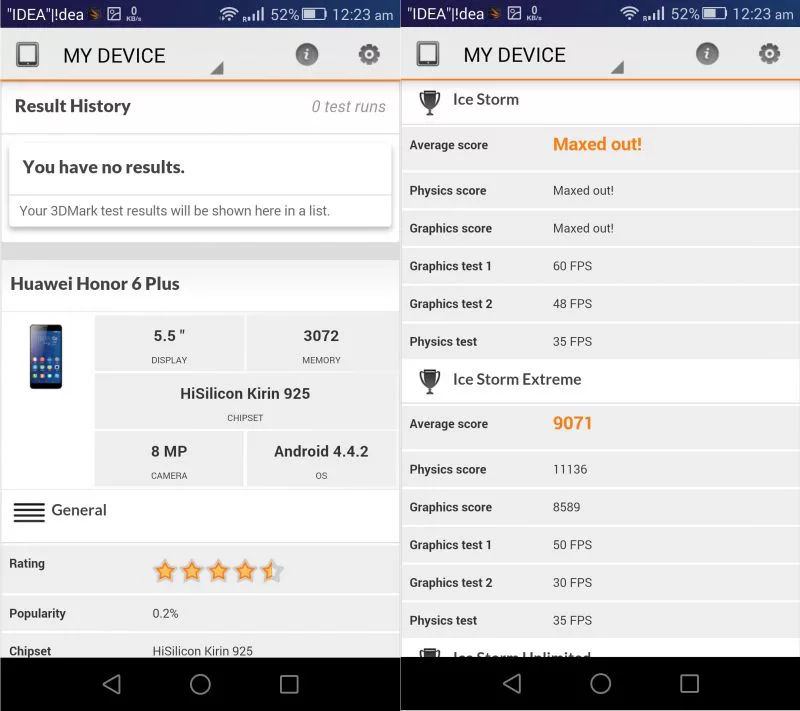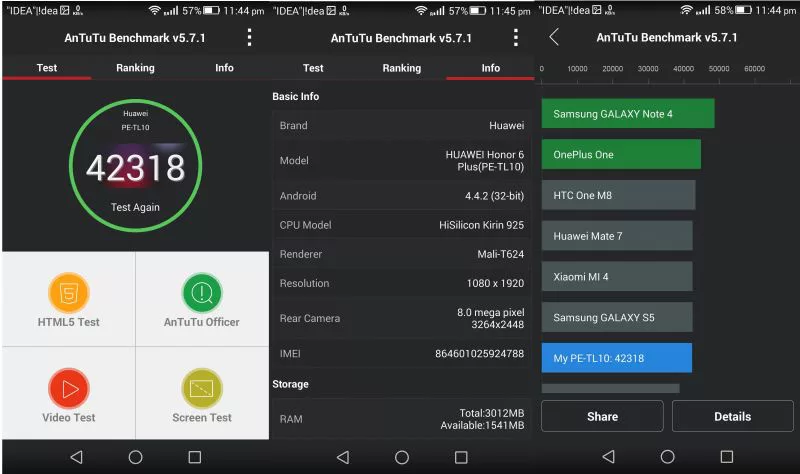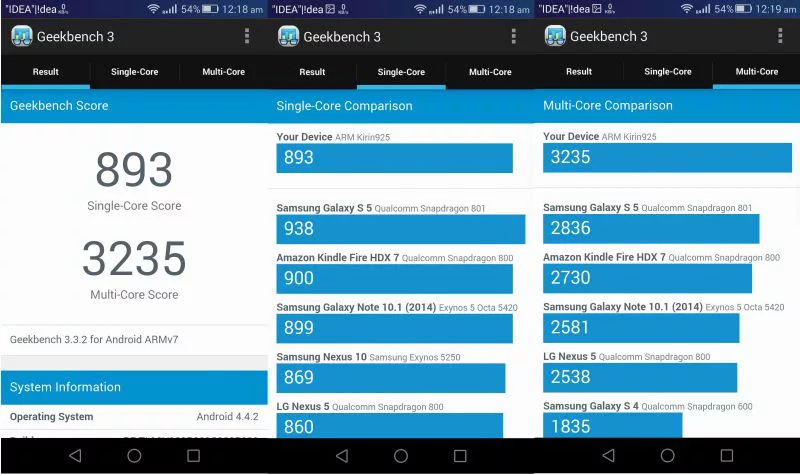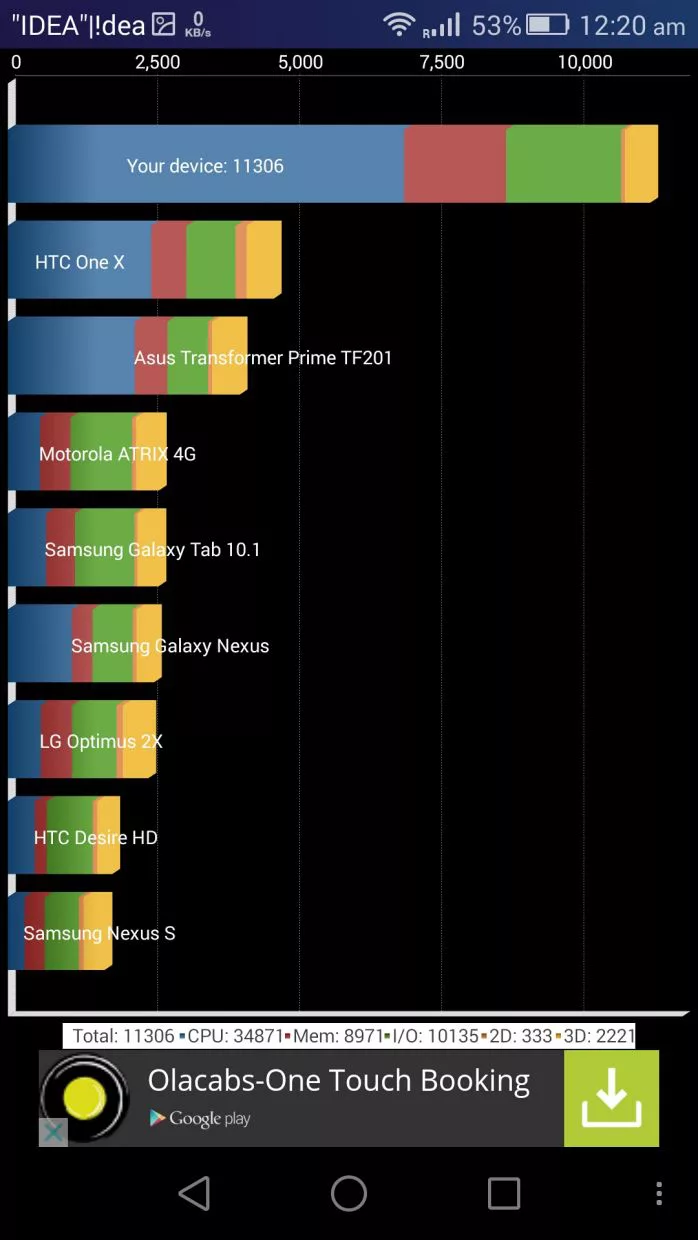 There's 32GB of internal memory, out of which around 25GB is available to actually use. There's even the aforementioned microSD card slot available as well, which you can sacrifice to use as a nano-SIM card slot for dual-SIM functionality (but unfortunately, not in the version sold in India).
Software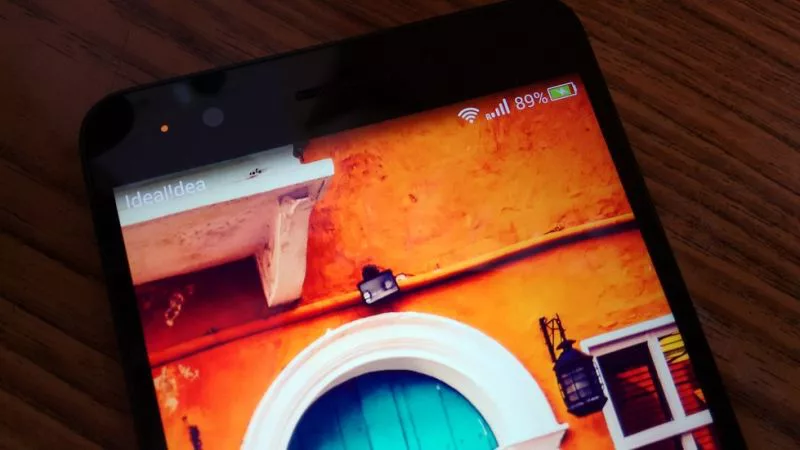 The Honor 6 Plus is running Android 4.4 KitKat with Emotion UI, but it's possible that a Lollipop update will arrive in the future. There aren't any particularly outstanding software features, but it's not completely Vanilla. There's no app drawer, for example, so you'll have to rely on folders like you do in iOS which will appeal to some but not everyone.
The Emotion UI's graphic design also divides opinion and is sometimes described as childish, but we enjoyed the ability to change the theme of the design, and there are many additional free themes to choose from.
In a nice extra touch, the image sees on the lock screen will change every time you wake it from sleep, which we found we really enjoyed.
Battery
This phone packs 3600 mAh battery under the hood, which is more than sufficient to carry out your daily work. If you consume a great deal of multimedia content and play games on your smartphone, this phone won't disappoint on the battery side. It packs enough juice to give you an extra boost on the backup, so you can add more hours of work on the phone.
On our daily use, we found that device offered pretty stable battery backup — with around 18-26 hours of battery backup with moderate usage, that includes email, browsing, listening to music – WhatsApp – facebook – twitter (while on public transit), voice call, occasional video calls, games and text messages (rare).
The phone never failed to give us good batter backup, we just had to charge it once before going to bed and it would stay alive for rest of the day very easily.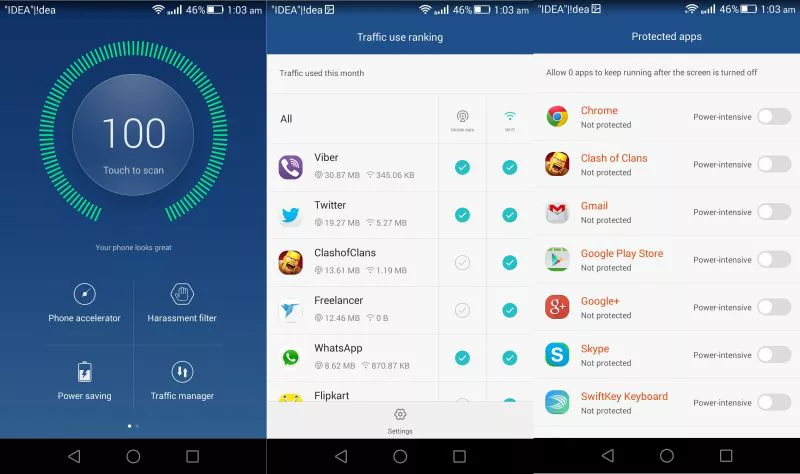 Few thing you have to checkout to get best battery backup, mark all the applications in your app "Unprotected" in Huawei System so it doesn't wake up phone frequently when it is in deep sleep mode, when screen is turned off. You can also restrict applications from using your mobile internet or WiFi.
What do we think?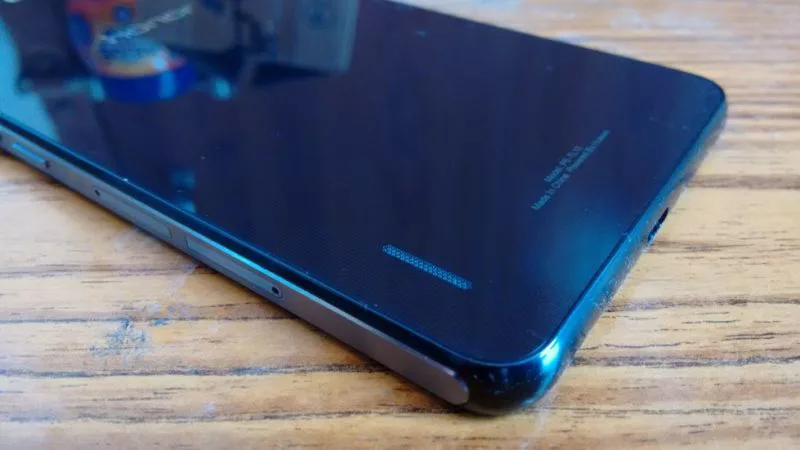 Huawei Honor 6 Plus is definitely not just another Cheap Chinese rip-off of some other popular brand, it sure does look like one (or different brands fused into one), but when we look under the hood, it has so much to offer at very affordable price. You can always clear your path straight to a popular brand and pay a little high for some features that you probably won't use in your daily life.
During our test session, we never felt that we are using some non-high-end phone, which isn't from some established and popular brand. It had some heating issues at the beginning, which was quickly sorted out by following few 100%-0%-100% battery cycle.
The camera is somewhat hit and miss sometimes, but it certainly does very well in low light scenarios. We felt like it did outperform most of the smartphones in it's range and some offended some of the really high-end smartphones. The hardware is superb and software (EMUI 3.0 on top of KitKat) doesn't disappoint much. Huawei does try to copy the behavior of Apple devices, but at the end the smartphone is unique and gives refreshing experience.
The battery didn't disappoint us during one month of usage, and we easily carried out our daily work with a relief that we don't have to carry a charger to our office. At the beginning (our first week with the phone), we were curious and did managed to exhaust all the juice within 5-6 hours with continuous usage and running some tests, but it is pretty safe to say that average users will get 1.5 days or more with the juice that it packs inside the hood.
That being said, we can up vote this phone as one of the best phones in its segment that you probably never heard of before.
GENERAL FEATURES
Brand
Honor
Business Features
Pushmail (Exchange)
Handset Color
Black
Form
Bar
SIM Size
Micro SIM
Call Features
Loudspeaker
Model Name
6 Plus
Touch Screen
Yes
SIM Type
Single Sim, LTE
Model ID
PE-TL10
In the Box
Handset, Quick Start Guide, Eject Tool, TP Cover, Charger, USB Cable, Battery Cover Protective Film
MULTIMEDIA
Sound Enhancement
DTS Sound
Video Player
Yes, Supports RV7-10, XviD, VP8, H.264, RM, MP4, H.263, 3GP, WMV 9, WMV, ASF, MPEG4, RMVB, Full HD
Music Player
Yes, Supports AAC, WMA 9, MIDI, OGG, AAC+, FLAC, AMR, MP3, RA, WAV, AMR-NB, PCM, WMA, eAAC+
CAMERA
Video Recording
Yes, 1920 x 1080, 30 fps
Other Camera Features
Auto Focus, Flash Support, Shooting Function (Wide Aperture, Panorama, Best Photo, Beauty, Watermark, Audio Control, Touch to Capture, Capture Smiles, Burst Shoot, Ultra Snapshot)
HD Recording
HD, Full HD
Rear Camera
Yes, 8 MP + 8 MP (Dual Rear Camera)
Front Facing Camera
Yes, 8 MP
INTERNET & CONNECTIVITY
Audio Jack
3.5 mm
Preinstalled Browser
Android, Chrome
Bluetooth
Yes, v4, Supported Profiles (LE, EDR)
4G
Yes
Navigation Technology
A-GPS, GLONASS, Beidou, with Google Maps
NFC
Yes
Wifi
Yes, 802.11 a/b/g/n
Internet Features
Email
EDGE
Yes, Class 12
GPRS
Yes
Tethering
USB, Wi-fi Hotspot
USB Connectivity
Yes, micro USB, v2, OTG Compatible
3G
Yes, 42 Mbps HSDPA; 5.76 Mbps HSUPA
OTHER FEATURES
Sensors
Proximity Sensor, Hall Sensor, Compass, Digital Compass, G-Sensor, Ambient Light Sensor, Accelerometer
Phone Book Memory
Yes
SMS Memory
Yes
Call Memory
Yes
Important Apps
POP3, IMAP4, HOTA, Gmail, Google+, Google Play Music, Google Play Books, Google Play Games, Google Play Movies and TV, Drive, Google Settings, Hangouts, Photos, Play Store, Play Newsstand, Voice Search, YouTube
Additional Features
4G LTE: Standby Time – 563 hrs, Talktime – 23 hrs, Certification: BQB, Wi-Fi, RoHS, REACH, Status Indicator, MMS Enabled, USB Mass Storage, USB Charging, Wi-Fi Direct, Wi-Fi WPS
WARRANTY
Warranty Summary
15 months manufacturer warranty for phone and 6 months for Battery and 3 months for Data cable/Charger
DIMENSIONS
Weight
165 g
Size
75.68×150.46×7.5 mm
DISPLAY
Resolution
Full HD, 1920 x 1080 Pixels
Other Display Features
Multi-touch, In-cell Display, Sensitive Screen
Type
TFT
Color
16.7 M
Size
13.97 cm
BATTERY
Talk Time
30 hrs (2G), 23 hrs (3G)
Standby Time
636 hrs (2G), 690 hrs (3G)
Type
3600 mAh
MEMORY AND STORAGE
Expandable Memory
microSD, upto 128 GB
Memory
3 GB RAM, 32 ROM
Internal
32 GB
User Memory
25 GB
PLATFORM
Operating Freq
GSM – 850, 900, 1800, 1900; WCDMA – 2100; 4G: LTE (FDD) – Band 1, Band 3, Band 7, LTE (TD) – Band 38, Band 39, Band 40, Band 41
User Interface
Huawei EMUI 3.0
OS
Android v4.4 (KitKat)
Processor
1.8 GHz + 1.3 GHz + Hisilicon Kirin 925 Cortex-A15 + Cortex-A7