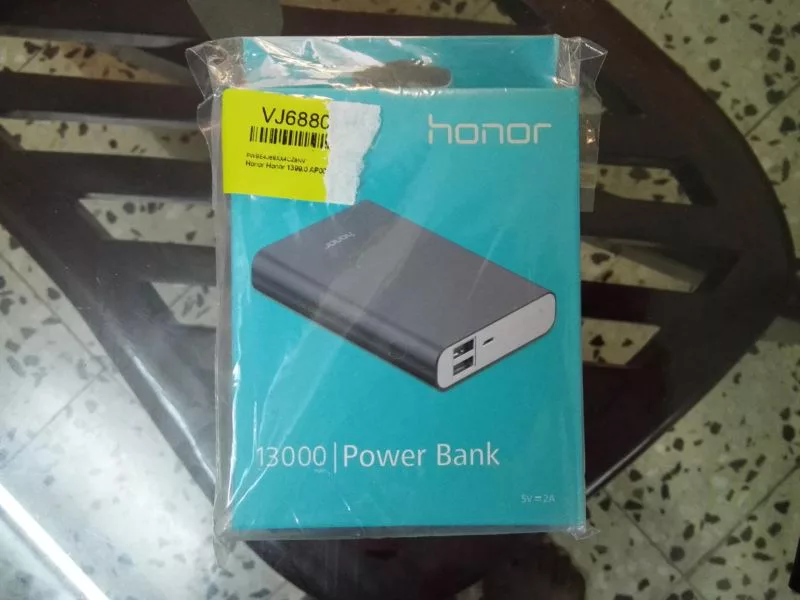 We want to do so much with our smartphone, but often have to compromise our workflow to keep our smartphone alive till the end of the day. It gets worse when we are travelling and we cannot arrange a stable power source to recharge our phones. This is where a efficient PowerBank comes to rescue – but finding a right one is not always easy thing to do.
Honor PowerBank AP007 is not only cheaper but if we believe their specs, it also offers a way more than its competitor — is that so?
Unboxing
In the box you'll find 3 items: 1 PowerBank, 1 USB cable (small), 1 user guide. There is no power adapter/charger provided out of the box.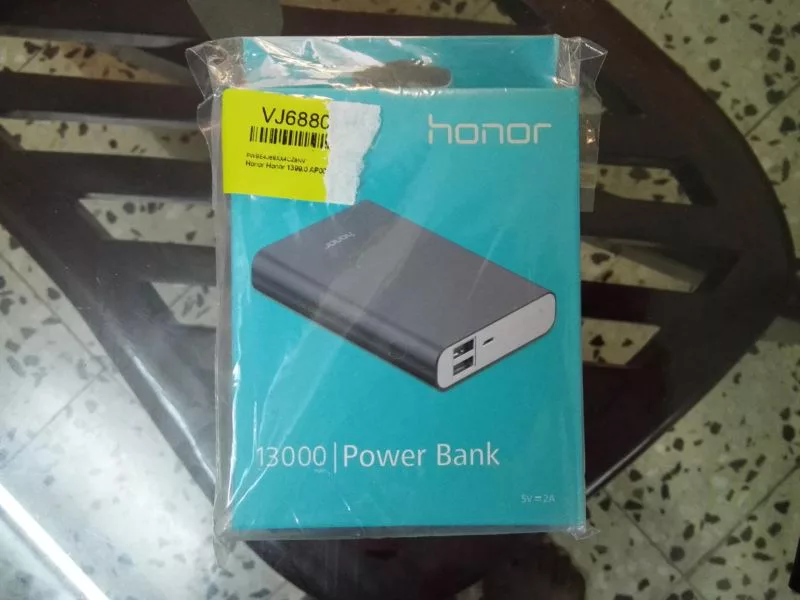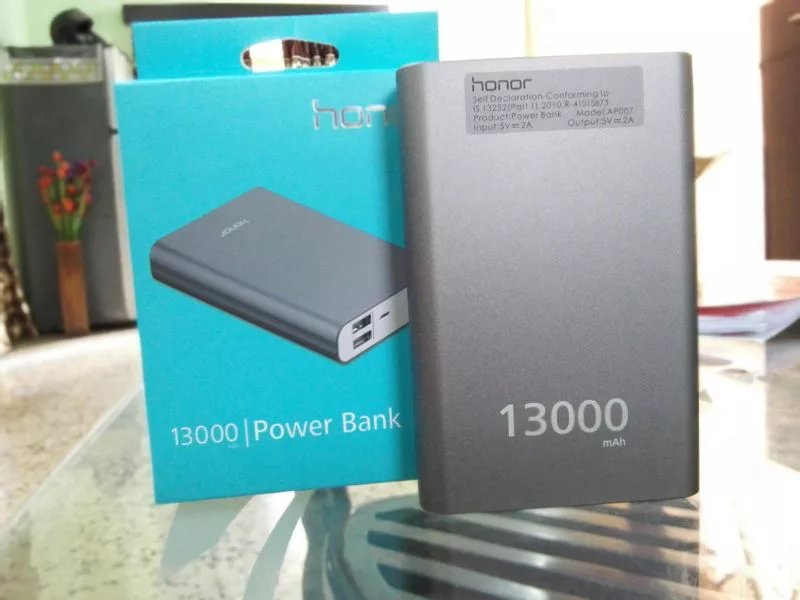 Build Quality & Design
The PowerBank is one solid rectangular desing, with plastic casing at the top and bottom. The device looks really sturdy and strong at the first impression, and is on the little heavier side. The full metal body is robust, and can take some hit.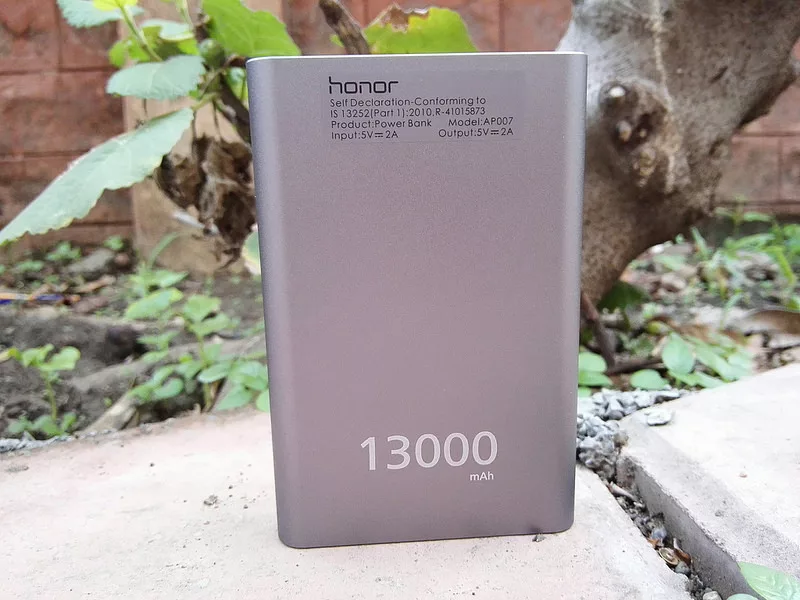 Top side has device specifications printed on it, which states that the PowerBank has Input and Output range of 5V — 2A. The capacity of the PowerBank is 13,000 mAh, which is manufactured in China by Huawei Technologies Co., Ltd.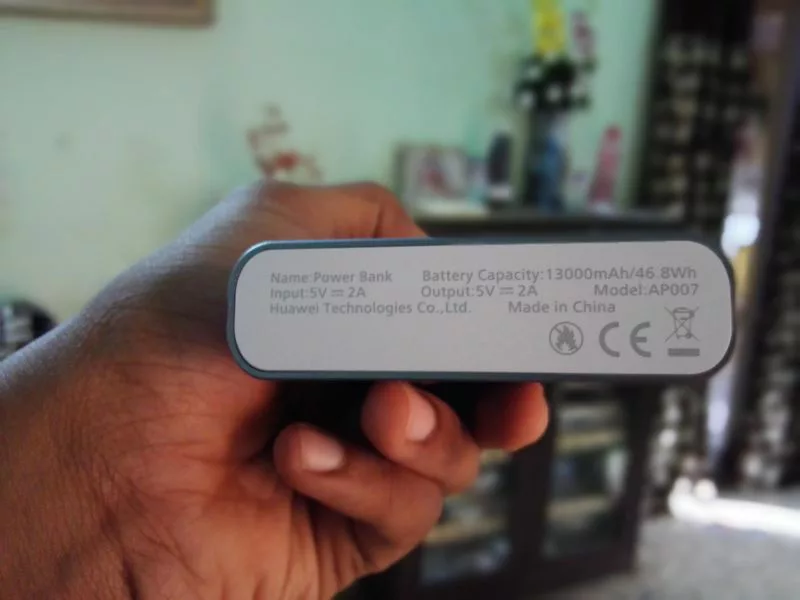 Bottom of the device is the part which will handle all the input/output operations. It has two output USB ports, which is capable of charging two phones simultaneously. There is a microUSB port to charge the PowerBank, so that it can be used when required.
A round Power button is located at the right side of the panel, with 4 LED lights to indicate the power level when Power button is pressed. The function is pretty similar to the "Mi PowerBank".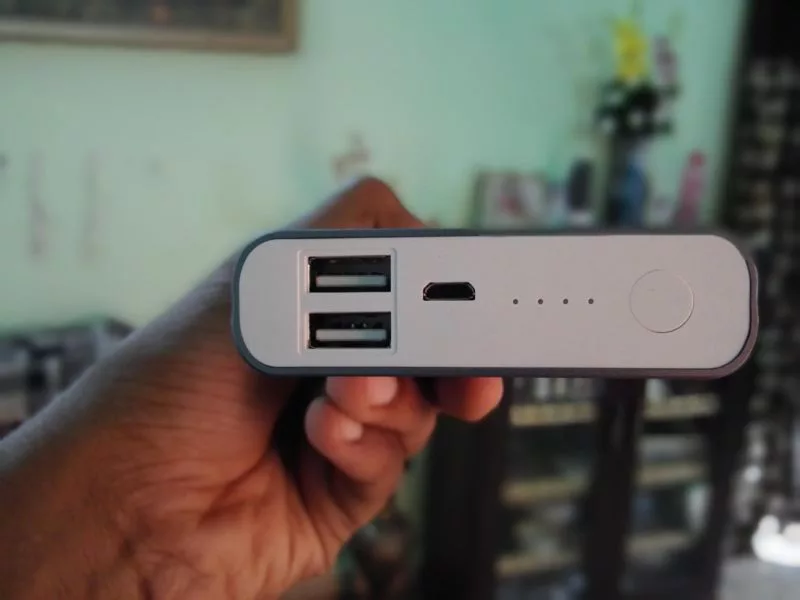 Operation & Ease of Use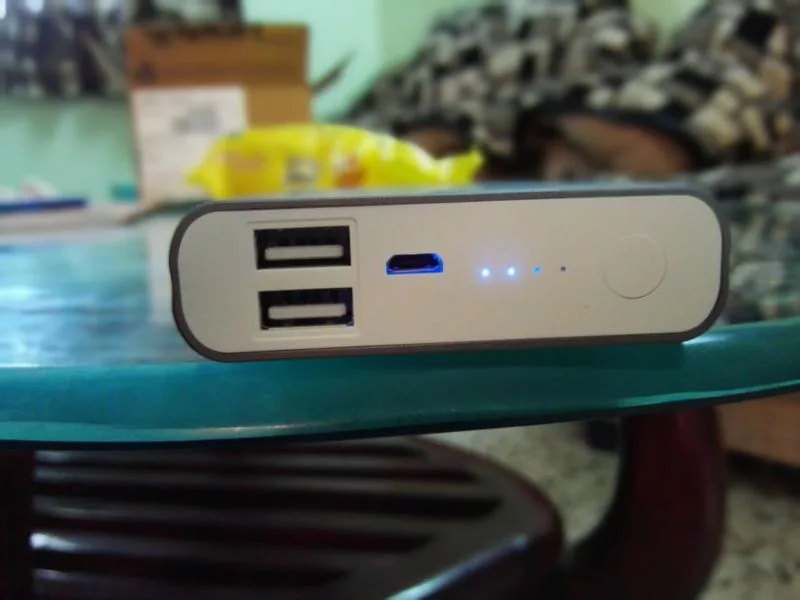 The PowerBank is very easy to use, thanks to the minimalistic design approach. Electric circuit has intelligent sleep and energy saving mode to ensure optimized power consumption. The power bank has two USB slot with 5V – 2A output that lets you charge two devices at a time. There is a power button and LED indicators to show the charge. The power bank has gone through Reliability Testing that includes 1 m Height Drop Test, Vibration and Shock Test, Salt Spray and Shell Pressure Test, says the company.
The LED lights at the bottom of the rectangular casing, lit up when a device is connected to it, and indicates the current power level of battery of the PowerBank. You can also see the power state, when no device is connected by simply pressing the Big circular Power button on the device.
During our test we could charge a BlackBerry Z3 with bundled USB cable without any issues, and it took the same time to charge the device as it would with the official blackberry charger that came with the mobile. However, it didn't faired well, when we tried to charge the mobile phone with other USB cable. We checked with other device connected simultaneously, and it worked great as well.
The device didn't state anywhere whether 2A is the combined output, or it is being devided between the two devices connected to the port. We didn't experienced slow charging or incompatibility issues during our test, so it doesn't really have direct effect unless your device support higher than 2A charging.
We also tested Huawei Honor 6 Plus with the device and it was slower than the official charger bundled with the smartphone. But, the smartphone doesn't really work well with any other charger — that is why it is bundled with Fast Charger.
See Also: [Review] We tested 5 Huawei Honor 6 Plus for a month, here's what we think!
What we think?
Honor PowerBank doesn't target high end consumers, but it does pack a massive backup option at considerably low price (Rs. 1,399 in India). The device works great, and does provide 90% conversion rate, given that we could charge our Blackberry Z3 upto ~4 times.
There are many other options available, but Honor has established itself as a brand that people has started to trust. The company is working hard to provide good after sale support, and is currently trying to win consumers who otherwise would choose other already established companies.
If you are looking for a PowerBank with bigger backup, you can go with it.
GENERAL
Brand
Honor
Model Number
AP007
Battery Capacity
13000 mAh
Model Name
Honor
Output Power
5 V
Battery Type
Li-Ion
Color
Grey
ADDITIONAL FEATURES
Reliability Testing (1 m Height Drop Test, Vibration and Shock Test, Salt Spray and Shell Pressure Test)
IN THE BOX
Sales Package
Power Bank