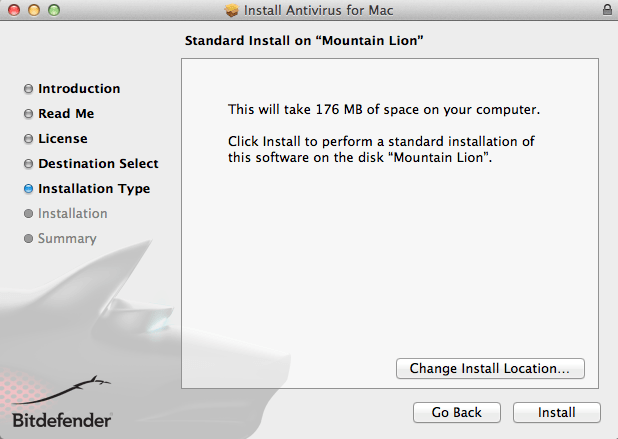 The Mac is marketed as a computer that's virus free. But this is 2013, where the Hackers want to get into as many computers as they can and the NSA's personal hobby is to collect everyone's private information. This is the time when you can never be too safe.
I've used my Macbook Pro without an Antivirus for a better part of a year now and not once have I encountered any sort of problem. No slowdowns, no infections whatsoever. Except that one time, it slipped from my hands and the Hard Drive got damaged (damn you brushed aluminum casing!). But after reading multiple reports about Mac security being compromised again and again I thought it might be time to safeguard myself from the ugly corners of the internet.
See Also: How we test security tools and malware blocking [A Brief overview]
Installation
The installation process is relatively easy for a Mac Software. If you have used the mac for more than an hour, you know how to Install an app. Before we get started, you'll need a Mac with OS X 10.7 or later installed. You'll also need to have 1 GB of RAM and 400 MB of empty disk space. And of course, a working internet connection to download the Antivirus and to keep it updated.
Just download the 176 MB DMG file from the official website, which is relatively smaller size. Your bandwidth will be thankful and it's also easy to install. Once it's installed, Bitdefender will update the virus database in the background automatically, you don't need to fiddle with any settings at all.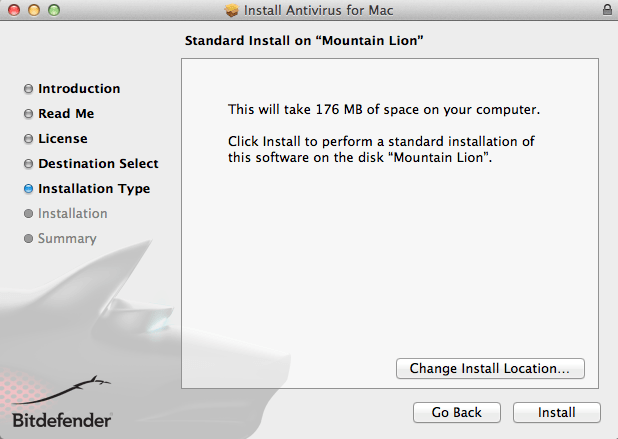 Once it's downloaded, open up the DMG file, it will decompress, and open up a new window. The installation window is remarkably close to what a windows installation looks like.
Usually just dragging the DMG icon into the Applications folder installs the application. Instead, here we have to press 'next' a bunch of times.
Interface
Mac is known for it's beautiful interface and its simplicity. Bitdefender Antivirus for Mac follows along on the same principles. While the Windows counterpart might look like it was designed by people wearing hipster glasses, leather jackets driving a Dodge Viper, BFM has a bit of sophistication to it.
Bitdefender's designer was probably listening to some Jazz, sitting on his upholstered turn of the 20th-century chair sipping some white wine.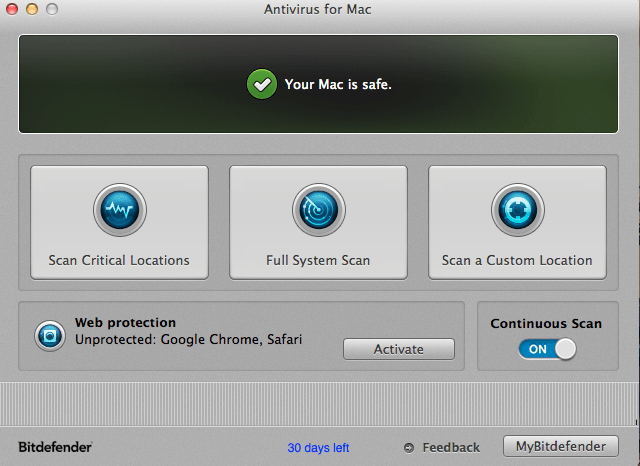 When you open the app you are presented with everything you might need from an Antivirus program. You don't have to mess about with bazillion menus and drop downs, nor do you need to press the right key four times to get anywhere (a common complaint with the Windows Version). You can perform a System scan, quick scan or a critical scan all from the main window!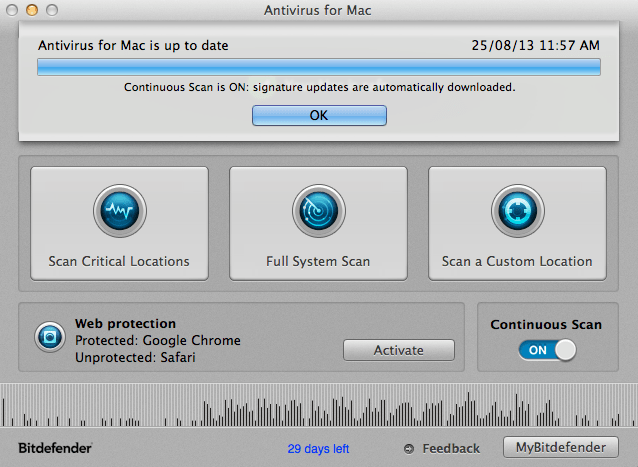 Right from the first boot, it updates itself in the background automatically, so you don't have to push any buttons to get there, there isn't even an Update option on the main screen, you'll have to dive into the menu's to find one. Rest assured, you'll rarely need it.
Simplicity comes at a cost
Although bitdefender for Mac works mostly in the same way as its Windows version, it's feature list is quite small. There is no Bitdefender Wallet which stores your login details and other important passwords securely. (Although I use Lastpass which in my opinion is way more powerful with its cloud sync service and multiple device support).
The BitDefender Widget is missing, But again it's something no Mac user would want to use. This one goes to Pro column instead of a Con.
See Also: Bitdefender Internet Security 2014 – the only security suite you'll ever need [Review]
When you look at it closely, a lot of features that you normally find in an Antivirus software like a Firewall are missing from Bitdefender for Mac. But do you even need it? The biggest source of infection in a Mac is virus infested program installs. And as you'll see later on, Bitdefender Antivirus works wonderfully there.
Scanning
The Bitdefender interface is incredibly clean and focuses only the important parts. So fittingly there are only three options for Scanning your Mac:
Scan Critical Locations: This will scan all your system files, your Mac installation and other programs that you may have installed. This scan was very fast for me. It was over in about 5 Minutes.

Full System Scan: As the name suggest, this will scan your whole system. This may take a long time, depending on the amount of Data you have.
Scan a Custom Location: If you want to scan a particular file or a USB from a friend you don't really trust, you know where to go.
Web Protection
I recommend you turn this on. Fun fact: you don't need BitDefender for Web Protection to work. I installed the TrafficLight Chrome Extension on my Mac and when I switched to my PC, lo and behold, it was installed and working on my PC! Props to Bitdefender there.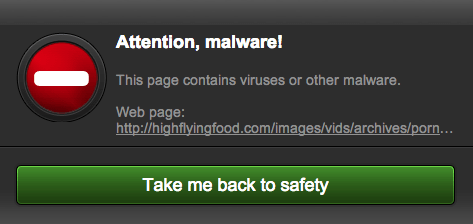 This will come in handy when you are tempted to browse those dark corners of the internet, out of curiosity or some definite purpose ( don't be shy now, we all do it). It blocks Malware and phishing sites very well.
Test
I ran the malware test, visited more than 10 blacklisted sites and Bitdefender was more than happy to block my mischievous activities. Full marks for Bitdefender there.
We like to test everything thoroughly here at DigitFreak and when it comes to security, there is no one we trust more than ourselves. Which why we put Bitdefender through our own rigidly designed test which has everything from Malware to deadly viruses. DigitFreak's Antivirus test performed flawlessly as you can see in the Screenshot below. A Bitdefender popup was flashing on the screen as soon as the rar file was done unpacking. When I say Bitdefender is really fast, I mean it.

What about scary Trojan horses and deadly Viruses you ask? Don't worry, we here at DigitFreak are just enough freaky to willfully inject deadly viruses into our system. And now for you to breathe out in peace, Bitdefender performed exceptionally well. Every deadly virus that we threw at it was caught and quarantined before it could even start spreading its legs ( just an expression). So as an Antivirus it works exactly like it should.
Verdict
Bitdefender for Mac works like it should. It keeps you out of danger and when you choose to willfully walk into it, it has your back. Although some might think it's too basic, it has everything an average Mac user would need to be safe on the Internet. Yes, a built in Firewall which many of it's competitors offer would have been nice, it but it's not a deal breaker. We'd recommend you turn on Mac's own Firewall from Security & Privacy in System Preferences if you haven't already. Overall we think that with Bitdefender, your prized possession is in safe hands.
Pros
Cons

Clean interface
Relatively Cheaper
Background monitoring keeps your Mac safe all the time

Not as many features as competitors
Missing Firewall