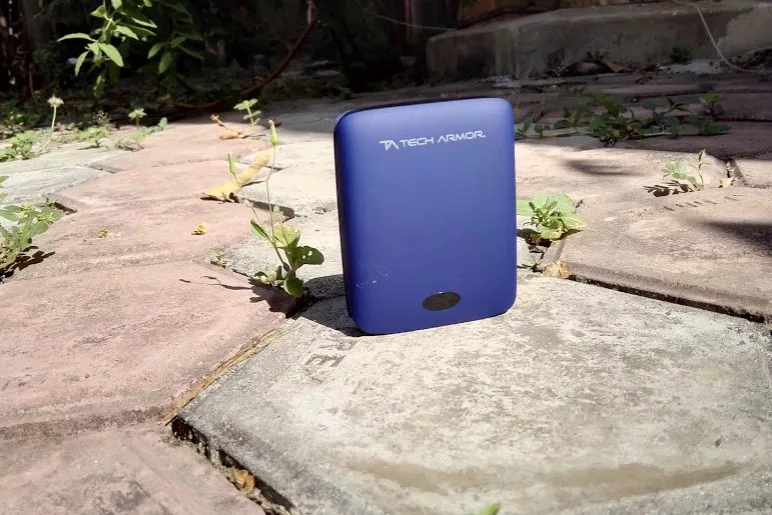 It is the age of gadgets, and one thing's for sure – with the ultimate power of the internet to accompany them, we've never been more plugged in than we're today. To stay connected, one need power, and in order to store power in those traditional rechargeable batteries, you'd have to experience an inconsistency in your work, especially, when you are traveling. So, what is the solution? A portable consistent power source, which can be easily carried around and has enough juice to recharge the gadget at least twice. This is where a power bank comes to the rescue!
Well, there is a huge list of companies that sell power banks, each varying just a little on specifications. In this case, it is really difficult to figure out which one can be a right investment. Fortunately, we were able to add one more power bank to our list of reviewed item. Tech Armor may be a stranger to most of you, especially if you're at the European or Asian Continents, and you'd be right about that. It is actually a company that sells the mobile protective case, power banks and other mobile accessories.
Unboxing
Inside the box, you'll find a 12,000 mAh Power Bank, a white USB cable, some manual and user guide. Nothing fancy, just usual stuff here. The packaging was alright. Guys at Tech Armor were kind enough to send me extra lightning cable along with the power bank in case I had an iPhone instead of a device with the microUSB port. I am pretty sure you'll have to buy the lightning port separately if you do not have one. The box only ships with microUSB port.
Build Quality & Design
The best thing about Tech Armor PowerBank is its Build Quality and design. The velvety finish on top, good quality plastic case and rounded body look and feel really good in person. It is actually smaller in size than it appear in the picture, which is another advantage over other PowerBanks.
There are two USB ports, ideally, one is for Smartphones and another is to charge gadgets with higher capacity batteries such as Tablets. My Samsung Galaxy S6 didn't appear to charge as quickly as it would with bundled charger. I ended up using Tablet port on the power bank for a faster charge, only to find out that it didn't dramatically speed up charging process. It clearly indicates that these two ports have a different power supply, but no fast charge capabilities. This is where things started to move downwards.
There is a power button on the side, which is the only physical button you'll find on the device. Holding the button for few seconds will trigger the 'torch' located at the top of the microUSB port. The power indicator on top has 4 LED lights, indicating the percentage of juice left on the PowerBank.
Performance & Ease of use
The TechArmor PowerBank doesn't appear to deliver the backup it promises. The 12,000 mAh capacity should be able to charge my Huawei Honor 6 Plus at least 2.5 times. However, during my test, I found that it would hardly go up to 1.8 times, which mean, the PowerBank itself would require me to charge before filling up my phones battery twice. It is a serious red flag right there.
Additionally, the PowerBank takes too long to recharge itself. It took 5-6 hours to charge up to 100%. Frequent travellers would really want to stay away from this as it is highly unreliable.
What do we think?
Tech Armor ActivePower 12000mAh External Battery Portable Dual USB Power Bank has great build quality and design. The small case is easier to hold in hands and carry around. However, the device has many drawbacks, given it is not cheap. The few minor bugs would've been acceptable if the device was made available at lower price. The Tech Armor PowerBank targets mid-market segment as it is available at $49.99 on their 
Official Website
. When recognized players such as
Huawei (AP007 Review)
, Xiaomi, Lenovo, and OnePlus has already settled with PowerBanks Prices around $20, I don't see a point going for this overpriced device.
If your priority is design, look and feel over the performance and reliability, you're in good hands. However, we would strongly suggest you look elsewhere.