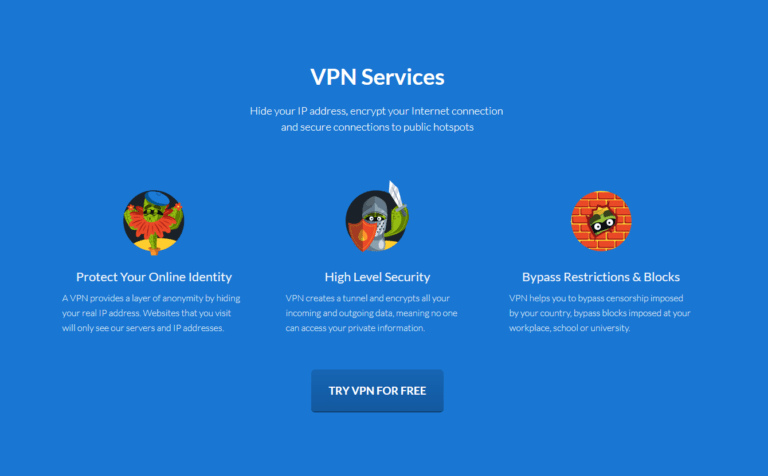 Today anonymity is the rational factor — there is no such thing as 100% privacy on internet. People like Edward Snowden and Jullian Assange has warned us about the current privacy state of a normal person and what "Privacy" actually means to our country.
See Also: BEWARE! Someone's watching you, NSA agent leaks info on secret surveillance program PRISM in US!
If someone is monitoring your every move, you must take the primary precautions to get you off the radar. There are multiple methods that makes sure you stay off the grid, but not all of them are equally effective. Also, it should be noted that efficiency of a given method varies according to the service provider and the way you implement them.
For example, if you are using a VPN service from Provider X and Provider Y – you may end up with different service quality and most importantly, the security of your identity over the internet. As mentioned earlier, not all service provides are honest and give you the total value for money.
You don't need to be worried about any fraudulent websites, because we constantly test these websites and review their services so that you don't end up being one of their victims.
By now most Internet users are well aware of the fact that pretty much every step they take on the Internet is logged or monitored.
To prevent their IP-addresses from being visible to the rest of the Internet, millions of people have signed up to a VPN service. Using a VPN allows users to use the Internet anonymously and prevent snooping. For instance, you may live in San Francisco, but with a VPN, you can appear to live in Amsterdam, New York, or any number of gateway cities.
We reviewed a popular VPN provider "VPN4ALL" – which offered tunneling your data through their secure military grade network and offering the anonymity of your IP address, both on your computer and mobile phones.
See Also: Secure your online identity by changing ip address and Geo-location with VPN4ALL [Review]
We also got our hands on the Smart DNS service "Unotelly" – which effectively unblocked all the websites on the internet, which couldn't be accessed otherwise, due to restrictions incorporated by different countries.
See Also: [How To] access Netflix and other Geo-blocked channels from anywhere
Both of the services mentioned above are effective and secure. Smart DNS is fairly new technology, which is capable of unblocking websites, that is inaccessible otherwise. Whereas, VPN is the masking service which hides your original IP address, which is almost untraceable. You'll usually have to subscribe to two different service providers if you want both of these services (VPN and SmartDNS), specially because popular websites like hulu.com started blocking all the IP addresses registered by these VPN service providers.
What if you can have both of these services under one roof? Yes, the VPN company that we are going to review in this article does exactly that. CactusVPN is one of the emerging company that I came across, when I was searching for the new VPN service providers with good reputation. Usually, new VPN companies provides better service because they have less crowded servers – which is why I always subscribe to these new companies to avail the best service quality while its still available.
I know cactusVPN is a established company and thousands of users are being benefited by their quality service, but despite of that they never clog their servers to overcapacity. I noticed unnoticeable speed drop while using either VPN service or Smart DNS service.
Lets jump to the in-depth review of the company and my experience with their services:
How I found CactusVPN:
When I first searched for a new and emerging vpn service providers, I got a list of dozens of websites. Most of them were established and most popular companies, while others were a internet buzz. I already used many of them, but I wasn't so pleased with their services. I was looking for a new VPN company, because they are the one who has less crowded servers and thus, providing faster internet speed than its competitor.
CactusVPN is not actually a new company. It was established in 2012 and it has thousands of subscribers, who are satisfied with the service they provide. Given that other top VPN companies has been around since a decade now, we can obviously keep the CactusVPN under the "newbie" category. I was little confused, if I should spend my hard earned cash on a comparatively new company but, I can assure you it was one of the best thing my money was spent on. I can confidently use their service for my subscribed period, which is "1 Year."
I quickly went to their website, to see how good they actually are. I was about to subscribe to their annual plan, but roaming through their website I picked up on their Customer reviews. I was amazed to see that most of them were positive reviews but, there were some negative feedback as well.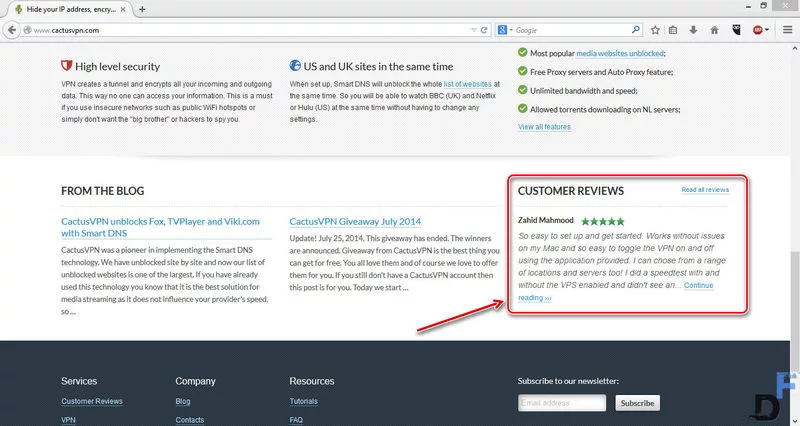 Some customers complained about the speed drop when connected to CactusVPN server, while most of them stated that the service was perfect and delivered the expected quality of service. The speed variation may occur depending on how far you are from the servers. The VPN service cannot be same, depending on the geographical variations.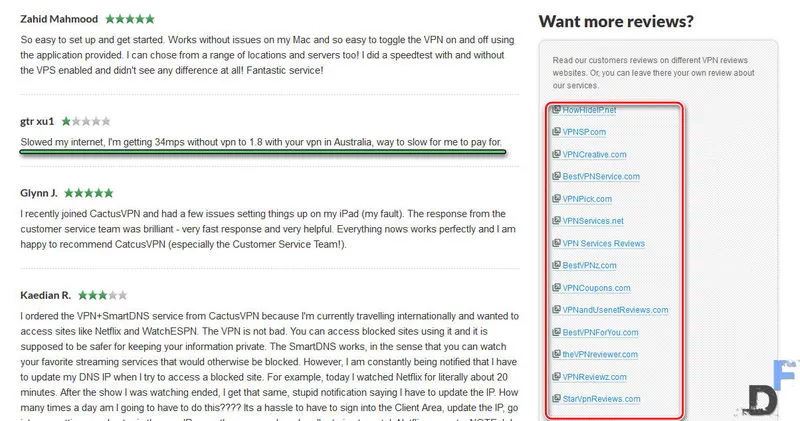 It is true that you cannot figure be 100% sure if they are actually the genuine comments. There is only one way to find out — "Test it yourself!" Don't worry, I got you covered here. I went straight up and registered to their service for 1 year.
Registration:
CactusVPN is simple and robust service that provides traditional VPN mechanism to hide your online identity and keeps your "privacy" safe from the intruders. The first thing you would need is to get an account on their website. The registration process is simple and you won't find any hassle while performing it. To make things clear, it is not a free service — you need to subscribe on the monthly, quarterly or yearly basis. (Register here).
Plans and Pricing: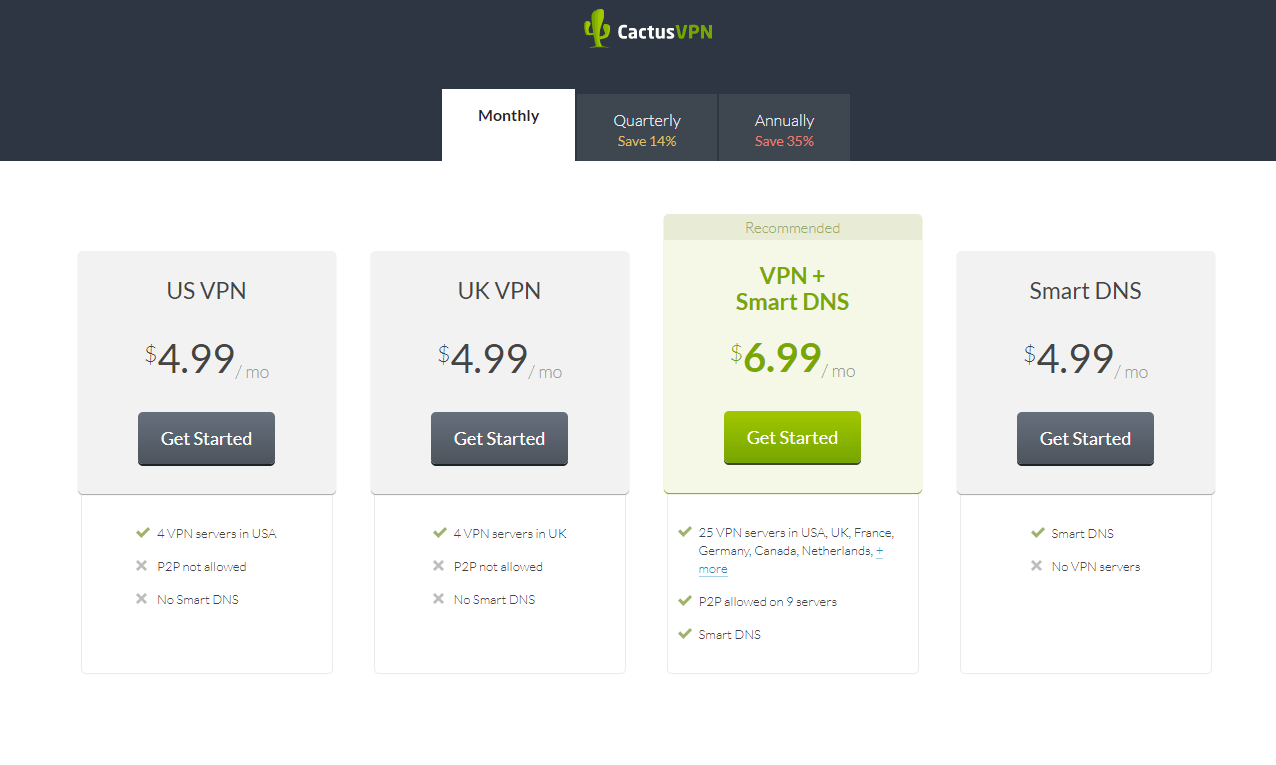 CactusVPN offers several exciting packages to choose from. You'll find that they sort their subscription options based on the country their servers are located. For US, UK and NL servers, it's $4.99/mo each. You can go for any of the package, based on your personal preference and why you want to get a VPN service at the first place. If you want to unblock websites based in US, you would go for "US VPN," if it is something related to UK or NL, you would go for other packages.
NL VPN package is quite popular along with US VPN, because CactusVPN allows torrent downloads over p2p network on NL severs only. If you are looking for a VPN service providers mainly because you want to unblock certain websites, you should go for their SmartDNS service. It unblocks dozens of websites, including popular US and UK based websites – Netflix, Hulu, Spotify etc.
There is a special package which includes US, UK and NL VPN servers + Smart DNS service all packed in one plan. The VPN+Smart DNS services costs $6.99/mo and if you ask me, it is total value for money. I have been using this package since 15 days now.
If you want to browse internet anonymously, but want to unblock websites as well — you don't have to lookout for two different service providers for VPN and smart DNS service. You can simply opt for their combined package, which is designed for users like us.
Moving forward to the registration of the account, you will be prompted to choose the billing cycle during the registration process. There is 4 billing cycle – Monthly, Quarterly, Semi-Annually and Annually. 
The company accepts almost all possible digital transaction methods. It is often very difficult for non-US resident to make online transactions outside their country. Fortunately, unlike other VPN companies CactusVPN is partnered with many payment gateways other than paypal and general credit card payments, like —CashU,  Alipay, Webmoney, Yandex.Money, Boleto Bancario, and Qiwi. If you live in any country where cashU is available, I'm sure you already know how this works. If not – it's really simple and you can find out how to use it on their websie.
Here are the lists of payment options available on their website:
Credit Card – All over the world
PayPal – 193 countries and teritories
Alipay – China
Webmoney – Russia
Yandex.Money – Russia
Boleto Bancario – Brazil
Qiwi – Russia, China, Brazil, India, South Africa, Romania, Panama, Peru, Chile, Malaysia, Vietnam, Argentina, Colombia, Serbia, Latvia, Ukraine, Georgia, Belarus, Moldova, Kazakhstan, Tajikistan and Kyrgyzstan
cashU – Middle East and North Africa region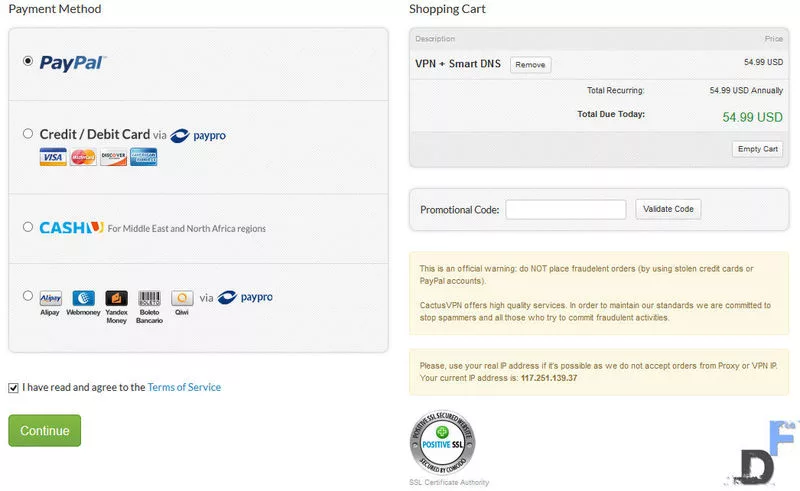 After successful payment, they sent several emails, which includes — payment confirmation, welcome email and my account details. There are 2 methods you can use to implement the anonymity on your system — manual implementation, or software based implementation. The account details I received, mentioned the easiest way to access their service, which turned out to be their VPN software.
Downloads: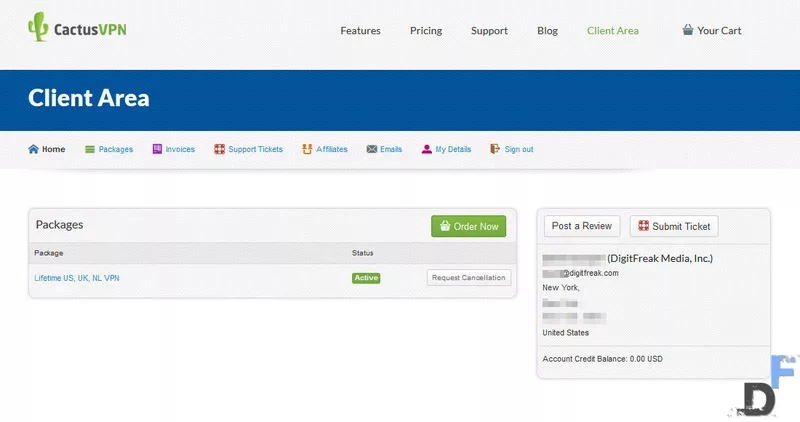 I found account details in my email, which helped me log into client area. You'll find details about your subscribed package and license key in your account. The email sent by them has full detailed information about the service and how to use it.
You can download the setup files and android application on their download page.
Using CactusVPN software:
The setup process is anything like installing other software — you just need to agree to the terms, click "next" several times and "Finish" at the end. There nothing you will have to take care of while installing the software. When installation completed, the VPN software will initialize. Click Yes, if prompted for administrator authorization.
You can manage your VPN as well as Smart DNS service through single software, which is very convenient and easy to use. The CactusVPN software is really easy to use and hassle free.
There are two tabs for VPN and Smart DNS, which is used to manage or connect to the service you need to use. If you subscribed for VPN+Smart DNS package, you can use either of the service at a time. The account details are provided in the emails sent by the company, when you first registered on the website. You can also find these details in client area when you sign in to their official website.
Please Note that Login details for client area and VPN service are different. Also, to access Smart DNS service you must have a unique key to login to the client area. You can find all these details in the client area.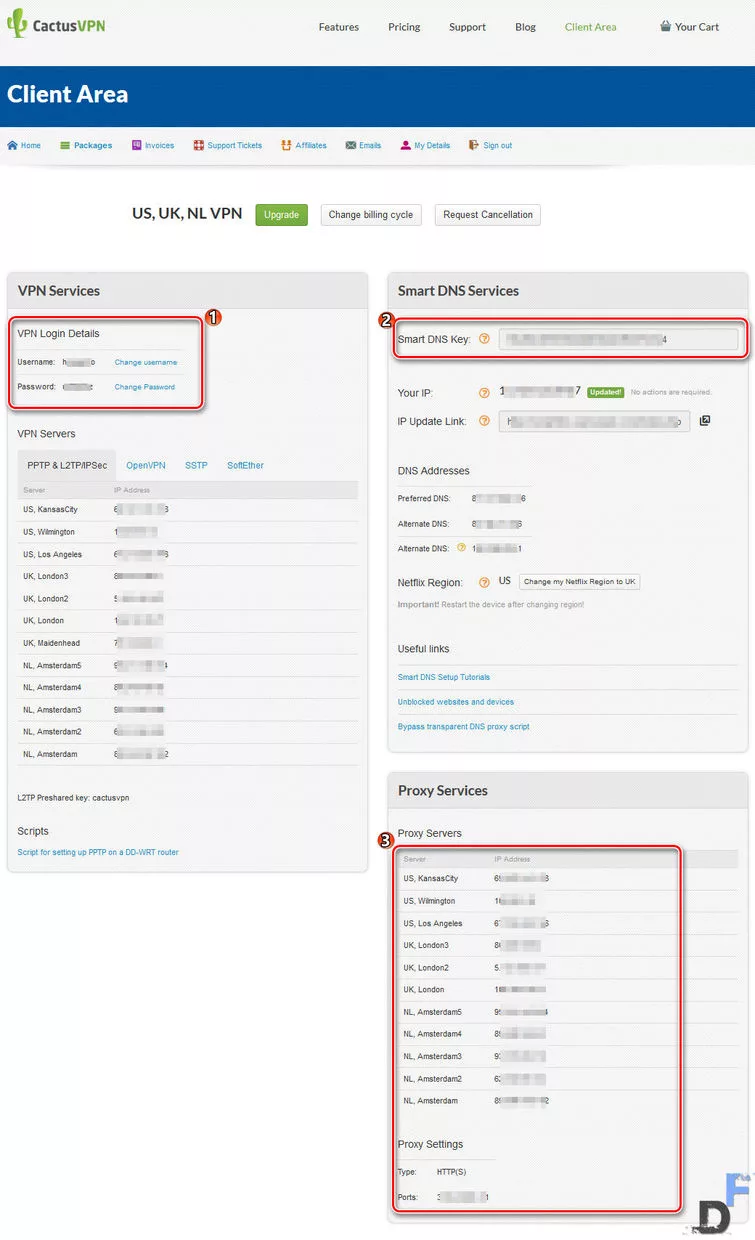 VPN Service:
To access VPN service on the CactusVPN software you have to provide username and password. These information can be found on your Client area, as shown in snapshot above. Once logged in, you'll be greeted by a sleek user interface, which will help you secure your internet connection and flip off intruders and snoopers.
Since, I subscribed for all three servers, I can connect to any one of them. To test our website accessibility, I connected to the US server and tried to access hulu and Netflix. I could easily use these websites, regardless of my geographical location.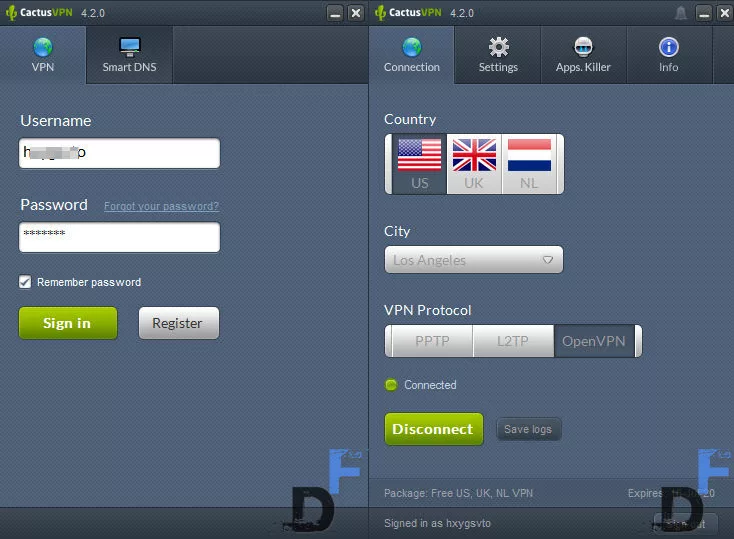 Maybe a late launch into the market has helped them understand the issues and pitfalls faced by existing VPN clients while accessing blocked content over the net. This is clearly evident in the way the CactusVPN platform runs and works.
As is the case with other VPN service providers, CactusVPN offers PPTP, SSTP, L2Tp/IPSec and OpenVPN security protocols. No surprises here, but what is outstanding to note is that CactusVPN has gone ahead and implemented a new VPN protocol.
The SoftEther VPN protocol is new in its concept and offers high speed connectivity over extra layers of security. SoftEther VPN protocol is only offered by a handful of VPN providers, and CactusVPN is one among them. Unfortunately, you cannot implement the softEther technology using their official software. If you want to use the latest softEther protocol to secure your network, you have implement it manually. To help you do so, there is a knowledge base that outlines the detailed step-by-step information to implement the protocol on your system.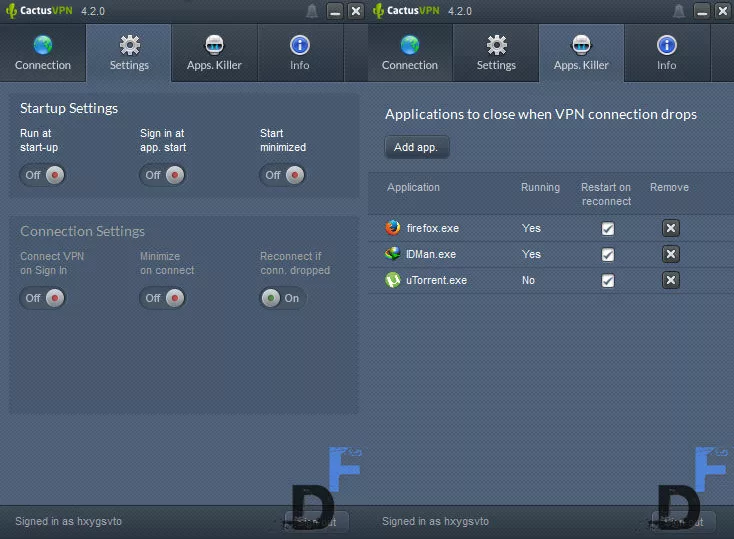 There are also a handful of settings, which comes really handy while using the software to connect to the VPN servers. You can manage the startup behavior and connection settings on this tab, which governs the behavior of the software under these conditions.
The truly useful feature of the software is the new revolutionary App Killer option, which is built into the application. You can add the software on this tab, which makes sure that the software included here are terminated when connection to VPN server drops due to some reason. The CactusVPN application will terminate the software included in this list and restart them once reconnected to the server. This is really useful feature for those who take security very seriously.
It is true that it is only a matter of time, when other VPN companies will implement the similar feature to their software as well. But, until then CactusVPN is one of the first company to introduce the App killer to protect you from any possible security exploits.
Speed is another feature that truly works in favor of CactusVPN. Time and again, we have faced streaming issues with various VPN service providers. We couldn't really complain about the loss of speed, because we understand that speed and bandwidth will be lost while rerouting traffic through different servers located around the world. But CactusVPN has given us what we had always hoped.
Instead of the standard 40-80% customary drop in available ISP speed with other VPN companies, CactusVPN was able to tap into almost 80-90% of the available ISP speed. Even we were surprised to find this was possible. This ensured that all streaming media could be viewed without trouble.
CactusVPN also offer unlimited bandwidth across the board, and there are no bandwidth restrictions. Good speed and unlimited bandwidth mean users with P2P traffic preference will certainly choose CactusVPN over other service providers. This does have its own disadvantages, as the NL server faces a few serious downtime issues, and at peak hours, there are issues of server outages. This trouble is not really that prevalent in the servers from US and UK. Adding a few servers will certainly solve this issue.
SmartDNS: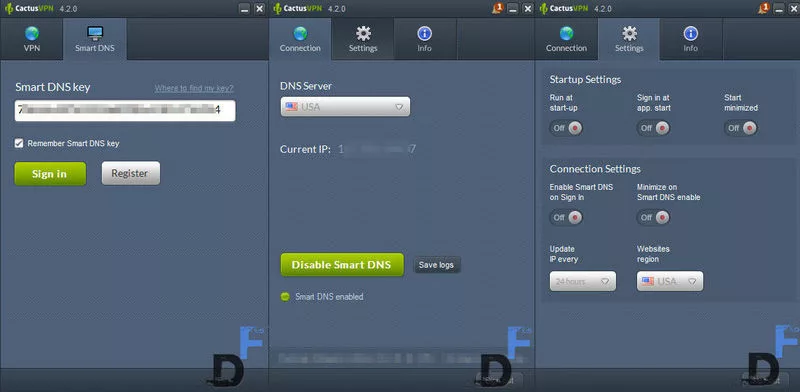 Using smart DNS to unblock websites is a noob friendly process – you just need to provide the unique key you received after subscribing for the service and then you can enable smart DNS service from the sleek interface. There is nothing much here — it is more like a connect and play kind of thing. On settings tab, you can change the website region to be blocked. For instance, if you want to unblock UK websites, you need to select UK from the drop down menu.
Smart DNS is comparatively new technology, which is unused to unblock website by changing the default DNS provided by your ISP, which makes your internet connect appear as the one of those country you are trying to access the website from.
Customer Support:
This is the area I would say is prompt and user friendly. I faced some issues while using their VPN and SmartVPN service. First, I couldn't Unblock hulu.com using their VPN service, as hulu detected my VPN IP address and blocked the access to the website. It turned out that you can only access hulu and hulu plus on their "Los Angeles" server.
It is not something you should be really worried about. You can access all other websites on any US servers. Hulu.com has been blocking the anonymous IP addresses recently and they implemented the script that detects the VPN tunneling.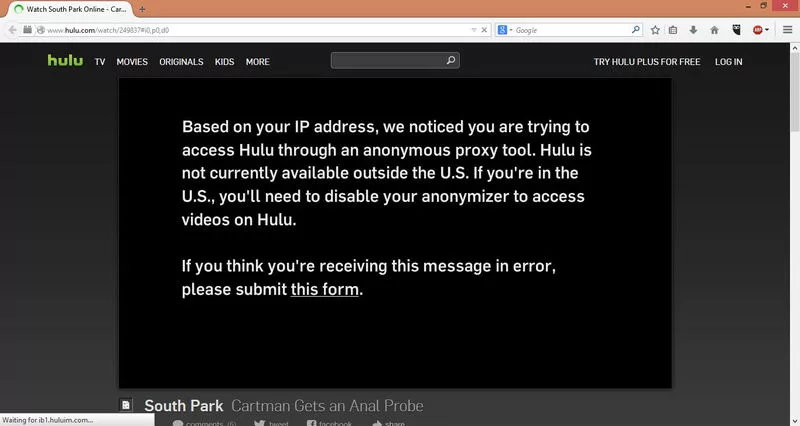 Second, I couldn't get Smart DNS working on my computer. The customer support team asked for the log that you can save within the software they provided and within few minutes they came to the conclusion that my ISP is using transparent DNS, which prevents us to use any other DNS other than default one implemented by the ISP.
On their suggestion I tested the service on different ISP and I could connect to the DNS service without any problem.
During the resolution period, I found the customer support to be prompt and friendly. They always tried to help me as much as possible, which gave you an expression that you mean something to them.
Speed Test:
I tested my internet connection before using the CactusVPN and after connecting to their US, UK and NL servers. The result was really impressive and there were minimal speed drop compared to other VPN services I used. If we had to give some sort of stars or ratings, we would give them 8/10 for fabulous speed. Here are the test results:
1. Before Connecting to CactusVPN service (My normal Speed):
2. After Connecting to US server (Kansas):
3. After Connecting to UK server (London 2):
4. After Connecting to NL server (Amsterdam 3):
Torrent/P2P and Copyright issues:
As you know, DigitFreak has been and always will be the supporter of p2p Community. Torrent downloads has been a real concern recently, specially when agencies like NSA and PRISM are tryng to monitor your every move. There is no privacy on the internet anymore. I was little concerned about the copyright issues and how the company will comply with the government, when they ask for their customers details. So I went forward and asked them directly about these points of concern. Here are the reply, that I received from their end:
1. Do you keep ANY logs which would allow you or a 3rd party to match an IP-address and a time stamp to a user of your service? If so, exactly what information do you hold and for how long?
For our VPN and Smart DNS users we keep only connection logs* for 3 days for troubleshooting. But we assure you:
we do not track and do not know about what you're uploading/downloading while using our services, and there are no logs including this information;
we don't know or register sites you are visiting;
we do not track which applications you use.
All our customers personal data is totally confidential and is not shared, shown, used or given to any other party under no condition and no exceptions.
* Connection logs is information about your connection time and does not contain anything about what kind of traffic did you do and what did you visit.
2. Under what jurisdictions does your company operate and under what exact circumstances will you share the information you hold with a 3rd party?
Our company is based in Republic of Moldova as it offers pretty good level of Internet security and nice business opportunities. We respond to subpoenas, court orders or legal processes which require us to disclose information. But as we don't keep the logs there is no much we can disclose.
3. In the event you receive a DMCA takedown notice or European equivalent, how are these handled?
We send them a standard reply that we cannot identify the client who downloaded the torrent as all our clients share the same ip.
4. Do you support p2p protocol transfer? If no, why? If yes, how it can be accessed and what security mechanism you have in place to protect your customers?
We allow torrents downloading only on our NL servers. If you use P2P applications with our service on US or UK servers you will be warned and if you continue to ignore our TOS we reserve the rights to suspend your account without any refund. CactusVPN offers unlimited bandwidth across the board, and there are no bandwidth restrictions. Good speed and unlimited bandwidth mean users with P2P traffic preference will certainly choose CactusVPN over other service providers. we have an app killer which shuts down any software you choose when the VPN connection drops.
5. What steps are taken when a valid court order requires your company to identify an active user of your service?
Never happened something like that before.
6. What is the most secure VPN connection and encryption algorithm you would recommend to your users?
OpenVPN and Softether VPN protocol.
7. You Emphasize on SoftEther protocol. Can you explain how a normal user can be benefited by this protocol and what it really means for end users when security and anonymity is concerned.
At this moment you can set up this protocol just manually. We have tutorials for that. The real advantage of this protocol is that it is not only as safe as open VPN but also very fast and stable.
Verdict:
The simple and robust service provided by them works well on windows and android atmosphere. Both platform has simple user interface and lets you switch between VPN and unprotected connection easily. You can access restricted and geographically blocked internet services within minutes — protecting your online identity.
This is a no-brainer. For under $5 and with an all-inclusive package available, this is certainly something that will get all the anonymous web users excited. It is true that this small fee cannot guarantee your 100% security over the internet, but it is definitely a concrete wall infront of the intruders to break into your house of sensitive information.
It isn't as if CactusVPN were conservative with their features. There are unique and standard features on offer, and for this price, CactusVPN is a good choice. We can certainly ignore a few shortcomings, and seeing the way CactusVPN are making changes to their services, we expect most of the issues to be sorted out at the earliest.
If you are looking for the anonymous and secure internet access, you should go for it.
| | |
| --- | --- |
| Name | CactusVPN |
| Website | http://www.cactusvpn.com/ |
| Based | Moldova |
| Established | 2012 |
| Countries | 4+ Countries with Servers |
| VPN Protocols | OpenVPN, PPTP, L2TP/IPSec, SSTP, SoftEther |
| Platforms | Windows, Android, Mac OS/X, iPhone, iPad and iPod Touch, Linux |
| Key Features | Torrents/P2P Allowed, Unlimited Data Usage, Unlimited Download Speed, Good Customer Support, Highly secure SoftEther Technology |
| Dislike | No customer support Hotline, Manual implementation of SoftEther protocol, Poor speed for some Asian Countries |
| Money Back Guarantee | 30 days |