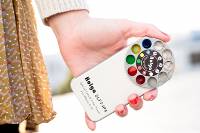 This is a "Valentine's day" week, and DigitFreak is celebrating. We are trying to help you by sorting out the 10 best gadgets for your friends (we do your work to makes your life easier).
So what are you planning to gift your Girlfriend this valentine's day? is it something which is too formal? don't you think you should do something which doesn't falls in the category of "similar" or "common" block?
Folks, gone are the days where people used to gift only flowers and confectioneries, now we are living in 21 Century, the age of state of the art technology where almost everything has been made easy, thanks to the small to big gadgets and gizmos.
Here are the 10 Gadgets which you can gift your Girlfriend(s) (oops!) on this occasion:
1. Holga iPhone lens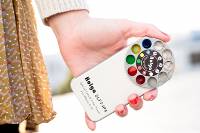 A fun and quirky iPhone accessory perfect for mobile photography lovers, the Holga Lens has nine different toy camera lenses that give you a range of effects, like
vignettes and vibrant colours.
Price: ~ $29 Get it now!
2. Pebble Smartstick
The Pebble Smartstick is a super compact gadget for keeping all kinds of devices charged on the go and comes with five different adapter tips. There are plenty of backup battery packs on the market, but this one is cute, compact and look, look it comes in pink…
Price: ~ $30 Get it now!
3. Jawbone Jambox Speaker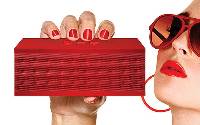 This powerful wireless speaker from Jawbone allows you to stream tunes via any Bluetooth connection from your phone, computer or any other source and play your music LOUD. You can also add apps, change settings and update the software via the My Talk website.
Price: ~ $174 Get it Now!
4. Heartbeat Headphones by Lady Gaga
The 'Paparazzi' singer has collaborated with Monster and came with Heartbeats headphones. These headphones are specially made to offer high-end sonic clarity and also a lively bass that will do justice to any track. This can be an ideal gift for your women if she is a music enthusiast.
Price: ~ $70 Get it Now!
5. Electrolux Laptop Kitchen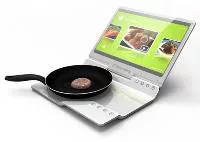 Do your Girlfriend manage home and you both? If yes the newest state of the art Electrolux Laptop Kitchen is the best one for your Girlfriend. This new technology will let your girlfriend cook and do office work together, how? Simple, the kitchen stove has touchscreen display that has in-built Wi-Fi, 3G with stove attached to it. Great isn't it!
6. Brookstone Wifi and 2GB USB Cufflinks
If you and your Girlfriend regularly attend formal parties, travel and love technology, you need these swanky cufflinks in your lives. Beneath the polished silver veneer, you'll delightfully discover that one piece hides 2GB of USB storage, and the other can be used as a Wi-Fi hotspot for multiple devices. All you have to do is download and install the companion software on your computer. Afterward, you'll be able to connect your smartphone, iPad or any other wireless device to the available network.
7. iNecklace
The iNecklace from Adafruit is a quirky little flashing on/off button pendant, which
would make a cute novelty gift for geeks.
The iNecklace is completely open source too, meaning the circuit board and CAD
files can be hacked and altered, so you can play around with how the light flashes.
Price: ~$75 Get it now!
8. Sony DPF-D810 8-Inch SVGA LCD Digital
Looking for a simple digital photo frame to show off pictures of you and your Girlfriend as a happy couple? This Valentine's day, the Sony DPF-D810 is your best bet. The 8-inch device sports a 800 x 600-pixel display and delivers clear, crisp and bright photographs. You can exhibit photos either one by one, or as a slideshow with your choice of time interval (anywhere from three seconds to 24 hours) and your choice of six transition effects. You can even display a clock or calendar along with your pictures.
price: ~$130 Get it now!
9. Smart Candles
To appeal to her romantic side (or to appease those with OCD tendencies) scoop up some Smart Candles. Fragrance, heat, and wax-free, the battery-operated LED lights will glow for up to 50 hours.
Price: ~$22 Get it Now!
10. Sound Asleep Speaker Blanket
A blanketed fleece with sleeves and a hood that houses two removable speakers connected via a 3.5mm jack to plug into your MP3 player of choice, radios or televisions. Do you want to sleep now? i don't think you will find it hard not to. !
---
do you have any more ideas or something unique for your relatives or Girlfriend this Valentine's day? Share it here!